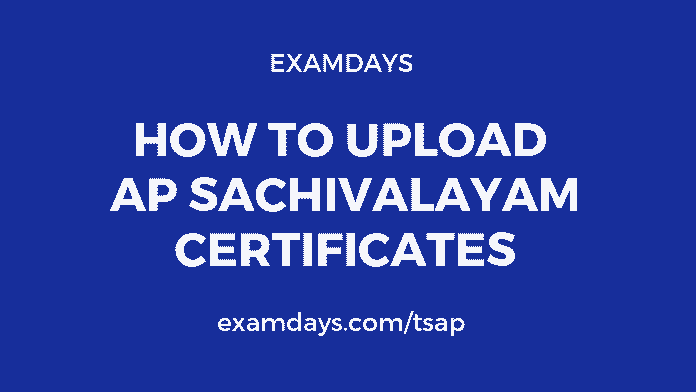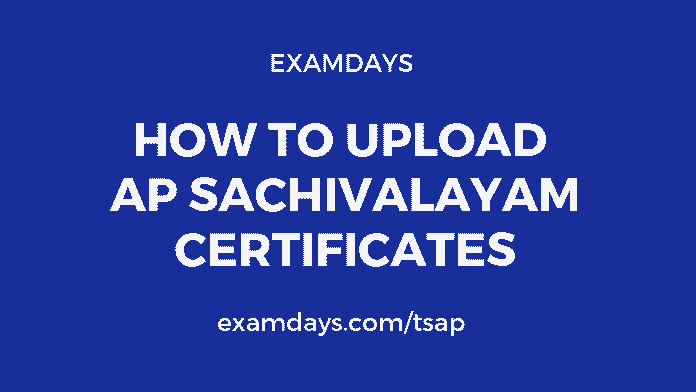 AP Sachivalayam Certificates Upload Link: Andhra Pradesh Sachivalayam application form submitted candidates should aware of Grama and Ward Certificates upload. Those who are shortlisted in the merit list, they have to upload the original scanned copies into Sachivalayam website for call letter and attend the Document Verification (DV) in person for formalities completion.
Candidates can check the detailed educational documents before upload the documents and don't forgot to take the reference document/print after completion of upload task.
సచివాలయం ర్యాంకుల ఆదారంగా మాత్రమే రూడి ఎంపిక జరుగుతుంది.
జిల్లా ఎంపిక కమిటీ (డి‌ఎస్‌సి) ద్వారా మాత్రమే ఎంపిక ఉంట్టుంది.
జిల్లాలోని ఖలాల్ భర్తీకి కలెక్టర్ మెరిట్ లిస్ట్ ప్రకారం అర్హులైన అబ్యర్డులకి రూల్ ఒఫ్ రిసర్వేషన్ అండ్ రొస్టర్ ప్రకారం మాత్రమే ఎంపిక చేస్తారు.
ఎంపిక చేయబడ్డ అభ్యర్డులకు సెలెక్క్షన్ లెటర్స్ పంపుతారు.
15 మార్కులు ఇన్ సర్విస్ అబ్యర్డులకి కలుపుతారు, ఆ తర్వాత పోస్టులకు తుది నిర్ణయ ప్రక్రియ జరుగుతుంది
ఎంపికైన అబ్యర్డులు సర్టిఫికేట్ వెరిఫికేషన్ కి రావాల్సి ఉంట్టుంది.
AP Sachivalayam Certificates Upload
Those who are not uploaded educational certificates for Animal Husbandry post, they have to finish certificate upload as soon as possible, the link is activated from November 2020 onwards. No final date is given by the Sachivalaym team but we suggest doing an upload asap.
Upload the Sachivalayam documents from time to time, the complete details are listed below. Make sure that, al important should upload in colour farmat only.
AP Sachivalayam Certificate Verification Date 2020
09.11.2020 Update: AP Sachivalayam Certificate Verification will be held from 02.11.2020 onwards, the details will be shared soon for the qualified candidates' reference purpose.
Selection list prepared as per the Sachivalayam ranks and which is prepared by District Selection Committee (DSC)
AP Sachiavalayam Certificate Verification date will commence from November 2020 1st week onwards
Candidates can prepare the list of available and supported documents with originals and 2 sets of xerox copies.
Selected candidates have to upload the original scanned copies to the online Sachivalayam website, once the upload link activated.
Important Points
Inservice candidates will get additional 15 marks and those marks will be added in the final marks, which helps in the selection list.
Vacancies ate increased from 16,208 to 18,048 posts in all posts.
Selected candidates can upload the original xerox copies only in Sachivalayam online website on or before deadline.
Make sure that, candidates should have all original at the time of certificate verification time.
Female candidates are more than male candidates for FY 2020-21 merit list
If candidates failed to upload the Educational document before link expire, they are not allowed for the exam and hall tickets are not available/provided/generated.
Sachivalayam Merit List Rule
The selection process is 40% (60 Marks) for OCs, 35% (52.5 Marks) for BCs and 30% (45 Marks) for SCs, STs and PHs.
AP Sachivalayam Certificates Upload Link Activated
The Sachivalayam certificate upload date is given already, which is scheduled from 21.09.2019., Those who are crossed above merit list rule, they have to ready with Original Scanned documents.
AP Sachivalayam Certificates Upload Link
OLD DATES
Certificate upload to website date: November 2020 onwards
AP Sachivalayam Document Verification Call Letter Date: November 2020 onwards
Document Verification Date : November 2020
Issuing Joining Orders Date: November 2020 only
Facilitating & Introduction Date: Followed
Grama & Ward Sachivalayam Openings Date: Available Soon
AP Sachivalayam Certificates Upload Procedure
The AP Sachivalayam Certificates upload link is activated on 03.03.2020 at 01:00 PM onwards.
Candidates have scanned the original documents (Colour mode) and upload the same as per the request mode in the upload link.
Each certificate size should be 400KB (supported format: pdf/jpg/jpeg/png).
Once the upload completed, then download the uploaded certificates in ZIP Format (all certificates in one place) and then take the same downloaded certificates with Sachivalayam link address in the footer in each certificate.
Enter the Hall Ticket number, DOB, and security code (displayed on the screen).
AP Sachivalayam Certificates Upload Link (updated on 09.11.2020)
Download AP Sachivalayam Upload Certificates Link
Any issues while uploading certificates, comment in the below comment box for assistance.
Note: Make sure, you should upload the appropriate documents only.