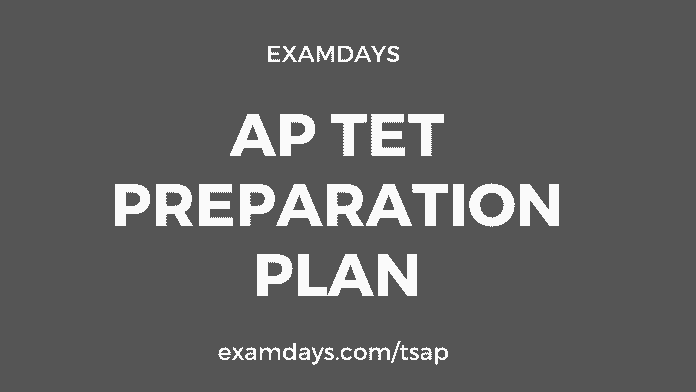 AP TET Preparation Plan: For cracking any Examination first, you have to know fully about it. Before diving into the water, how you must know how deep it is the same is with the examination. If you blindly apply for the exam and go and sit, its just a waste of time and even money. Suppose you have the zeal to teach and lead the ship of the future of the country from the roots. The APTET that is the Andhra Pradesh State Teacher Eligibility test is one of the best opportunities you can grab for. The Commissioner of School Education conducts the exam. The exam is for teaching jobs for class 1st to 8th standard in schools like government schools, zillah Parishad, municipal, recognized private aided and private unaided, and many more.
So for sure, you don't want to leave the opportunity. For making it possible, you must go through a lot of hard work and more than that smart work. You must plan and manage your time to give proper timing to all the sections. And know that you are healthy and have to provide more time to the weakest area. For all the thing, you have to go through the syllabus and pattern of the examination. Its is in 3 step examination. So once you are confident that you will crack the prelims, than you should check is it done, or more way you have to cross. If further hurdles are there like interviews and more, just made up your mind and get prepared for it too.
AP TET Preparation Plan
| | | |
| --- | --- | --- |
| Section Wise | Questions | Marks |
| Child Development & Pedagogy | 30 | 30 |
| Language 1 | 30 | 30 |
| Language 2 English | 30 | 30 |
| Mathematics | 30 | 30 |
| Environmental Studies | 30 | 30 |
| Total | 150 | 150 |
AP TET Preparation Plan
Let's discuss stepwise the planning and tips for preparation of the AP TET.
Tips and planning for Andhra Pradesh State Teacher Eligibility Test
To crack an exam first you should know where it is going to take you, are you willing to do that job or not. After that the syllabus, then pattern. Then when the exam is, how many days left to do the preparation? Which subjects are there, from where you will get the books, what books are good, which mock test is excellent, and many more? So, let's go in deep and know how we can crack the exam stepwise.
Set your target
The clearer you are about the target, the easier is to clear it. If you love teaching, then you will try to know what and which subject you are willing to teach. And once you are evident, then you will search for the perfect way to reach your destiny. This exam is one of the methods if you are willing to go for the teaching field and you are in Andhra Pradesh. So as you get your clarity. Let's get to know what exams and which zone you need to prepare for.
As you now have full clarity, you will be satisfied with being respected as a teacher. Now you have to select your destiny, which set of classes you want to teach, as the exams are distributed in 3 zones from 1st standard to 5th standard and one more from 6th to 8th standard and another physical trainee. This decision only will let you go to another step in which a preparation strategy can be planned.
Know about the pattern and subject
You are clear about the exam and destiny where you want to reach. Its time to execute the exam pattern and syllabus. Any negative marking is there or not. How much time the examination is of. How many questions are there? Subjects and design are it favorable for you or not. Are you able to cover all the issues if not is it acceptable to leave some parts or not. Even in pattern, sectional time is to be seen. Let me explain to you with quick points what you have to see while tracing the pattern and syllabus.
For pattern:
Several questions.
Negative marking.
Duration of time.
Marks allotted.
Most important subject.
In syllabus:
How many subjects are there?
Your healthy subject.
Chapters in every subject as topic vary from post to post.
The subject you can cope up or not.
Language as English is mandatory in the 2nd language.
In a language, I, which language will be in your comfort zone, means which subject you can score more.
Know your subject
First need to know about the weapons. Just like that, before going to plan anything, you should know which subject you are going to deal with. How much weightage that holds. Is section cutoff is there or not. If there how to get through the issue. Whom you can approach, like any person who is good with the subject or any coaching you need or not, self-study is enough or not, all these points needed to figure out and according to that you should work.
Time is an essential factor for everything. Managing is only taking you forward to success. So if you want to crack this exam how smartly you work that fruitful, the result will be. To start managing time, the best thing is to check how many days you are left with the examination. If you have a lot of time than in creating two weeks, try to polish your subject if less time goes for tests and practice, so that you can know how to manage time in the examination.
One of the critical point before going to the exam just check out is section timing is there or not. Because it makes a lot of difference and experiencing directly in the exam is going to be horrible.
AP TET preparation books
After all the planning and preparation, you should give the test daily. If you are prepared, if you are not ready, but giving a mock is a must. It will let you know where you are standing. What are your weak points? And, before going to the exam better don't go for mock, it might disturb your confidence.
Before going to the exam, be calm, keep all the mandatory things like call letter and pen. Whatever it asked for.
Conclusion
If you think you want, you can do it for sure. Cracking exam is not a big deal; all you have to be consistent and keep practicing. We wish you to overcome all the hurdles and make experience your dream job in reality.