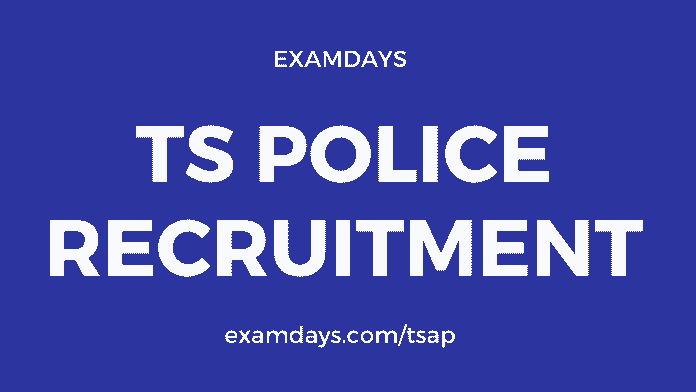 TS Police Notification 2021: Telangana State TS Police Recruitment Board TSLPRB team scheduled to release the 23,810 vacancies for FY 2021-22 year. These posts are recruited under the contract and outsourcing method. In that 296 posts in the contract and 1796 posts are in the outsourcing process. The selection process is purely on a merit list basis.
earlier those who are not selected TS police selections, here is the another good chance for them. Fill the TS Police online application form and prepare for the Exam, Events and Certificate Verification process.
Upcoming TS Police Notification
The government of Telangana State has decided to place the Police Constable, SI from December 2020 onwards or after. TSLPRB will take responsibility for this recruitment process and along with the training process. Currently, TSLPRB is preparing for the training venue for the Special Police candidates billion, Which may commence from February / March 2021 onwards.
దేశ వ్యాప్తంగా పరిశీలిస్తే తెలంగాణ రాష్టంలో అత్యధికం కానిస్టేబుళ్లు 23,810 ఖాళీలు ఉన్నాయి, వీటిని వీలైనంత త్వరలోనే భర్తీ చేయాలని సన్నాహాలు చేస్తున్నారు. దేశవ్యాప్తంగా 2020 జనవరి గాను 5.31 లక్షల ఖాళీలు ఉన్నట్లు పోలీసు పరిశోధన అభివృద్ధి మండలి(బీపీఆర్‌డీ) పరిశీలన తేల్చింది. ఆయా రాష్ట్రాల పోలీస్‌ శాఖలతో పోల్చి చూస్తే తెలంగాణ రాష్ట్రం ఖాళీల్లో అయిదో స్థానంలో ఉండగా, ఉత్తర్‌ప్రదేశ్‌, పశ్చిమబెంగాల్‌, బిహార్‌, మధ్యప్రదేశ్‌ తెలంగాణ కంటే ముందు స్థానాల్లో ఉన్నాయి.
అయితే ఖాళీల శాతంలో మాత్రం తెలంగాణ దేశంలోనే ప్రథమస్థానంలో ఉండడం గమనార్హం. అయితే ఏ ఖాళీలను ఏకకాలం లో భర్తీ చేస్తారా, లేదా వాయిదా పద్దతిలో భర్తీ చేస్తారా అనేది తెలల్సి ఉంది. ఏది ఏమైనా 23,810 పోస్టుల పోలీసు కానిస్టేబుల్ నోటిఫికేషన్ మాత్రం తొందరోనే వెలువడే అవకాశాలు ఉన్నాయి.
TS Police Recruitment 2021
29.03.2021 Update: As per the latest News, Telangana Chief Secretary Somesh Kumar has submitted a vacancies file to CM KCR, which has more than 55,000 vacancies including Police, Health, Education, DSC, Gurukul, Municipalities, Revenue, Agriculture, Irrigation dept.

New notifications will be scheduled to releases in the month of April 2021 once the elections are completed.
Mostly expecting in April 3rd Week 2021 for 1st notification from TSPSC and another related Govt dept.

Total 23,810 vacancies in the Telangana police department. and 5.31 Lakhs vacancies across the country.

Telangana = 23,810 Vacancies
Uttar Pradesh = 31,488 Vacancies
Bihar = 47,099 Vacancies
West Bengal = 55,294 Vacancies
Uttar Pradesh = 1,11865 vacancies

TS Police Vacancies are OUT Today, Total of 19,453 vacancies are available (SI = 425 Vacancies and Police Constable = 19,028 vacancies).

Good News for the TS Police Aspirants, the vacancy information was confirmed yesterday (22.12.2020). Total 19.453 vacancies are roll out and these posts to filled under the TSLPRB department (same as earlier recruitment board).
Complete recruitment is done under the DIGITALIZATION procedure.
The selection procedure is followed by Preliminary, Events (PET and PMT), and Final Written Test.
Expected online application from candidates, which is around 6 to 8 lakhs this time.

60% of candidates will be disqualified in the exam, which means only 40% of candidates are in Job race.

The competition for each post is 32 candidates.

Telangana Chief Minister KCR has given a green signal for the TS Police 20,000 vacancies and for Teaching 15000 vacancies, and finance department will be 4000 vacancies.

TS Police = 20,000 vacancies
TS Teaching = 15,000 vacancies
TS Finance Departmenet = 4,000 vacancies

We have not received any New updates on the police jobs in Telangana 2020 information. Once we received the information, this page will be updated soon.
20,000 vacancies to be filled in next FY 2020-21, the official announcement by TS Home Minister Mahmood Ali on 23.10.2020 Paper Notice
TS Government Finance team has approved and commenced the 2092 posts for the immediate requirement.
TS Government has urgent police recruitment for certain areas. This is the contract and outsourcing recruitment.
These 2092 posts will be filled on or before December 2020.
Those who are not selected earlier Police recruitments, Apply for this once again and start the preparation.
TS Police Recruitment 2021
| | |
| --- | --- |
| Name of the Authority | Telangana State Police Recruitment Board TSLPRB |
| Post Name | Police Constable & Sub Inspector Posts |
| Number of Posts | 19,453 Vacancies |
| Qualification | Intermediate / Degree |
| Age Limit | 18 to 40 years |
| Last Date of Apply | Available Soon |
| Selection Procedure | Written, Events, CV. |
| Official Website | tslprb.in |
TS Police Recruitment 2020
Earlier recruitment Vacancies
| | | | | | |
| --- | --- | --- | --- | --- | --- |
| Recruitment Year | SI | PC | Police Constable IT & C | SI IT & C / ASI FPB | Total Posts |
| 2021-22 | 425 | 23810 | ## | # | 29,492 |
| 2019-20 | # | # | # | # | 15454 |
| 2018-19 | 1217 | 16925 | 231 | 55 | 18428 |
| 2016-17 | 539 | 9281 | 332 | Not recruited | 10152 |
# Updated Soon for 2020-21 FY
TS Police Vacancies
Post Name
Vacancies
Stipendiary Cadet Trainee

SCT Police Constable

Civil
7664
AR
6783
TSSP (Men)
3700
15th Battalion
561
Communications
320
SCT Sub Inspector of Police
Civil
368
AR
29
Communications
18

Total Vacancies

23,810+ Posts
TS police recruitment 2020
TS Police District Wise Vacancies
Telangana police constable salary
Selected candidates are eligible for the Telangana police constable salary is, Also check the Telangana state police constable pay scale,
For TS Police Constable Salary is 3 Lakhs per annum
For TS Sub Inspector of Police Salary is 8.9 Lakhs per annum.
TS police recruitment 2020 releases soon
Complete TS Police Salary in Details
The Telangana police salary has increased every year as per the government norms and conditions. Candidates should aware of the notification increment details and other allowances and benefits services. Also, check the Telangana police constable salary slip from in this candidates will get Telangana police constable salary details.
TS Police Exam Marks Weightage
Telangana state police constable age limit
The Age limit for the Telangana Police Constable and Sub Inspectors based on the current year of the notification, the age limit is decided by the TSLPRB recruitment team as per the requirement and expectation of online applications from the candidates.
Minimum age for the Police Posts – 18 Years
Post Code 21 to 25 – 22 Years
Post Code 26 to 28
Post Code 21, 22 & 28 – 40 Years (Women Candidates)
Home Guards – 40 Years.
Complete TS Police Age Limit Details
TS Police Events
Biometric Capture
PET Events
PMT Events
Check Out TS Police Events Marks
TS Police Vacancy 2021
The TS police vacancy is as per the 2020-2021 recruitment year, the complete vacancies to be filled around 19,453 vacancies. It may increment or decrement as per the recruitment requirement.
Activation Link available Once the Official Note Released – We will Update here
TSLPRB notification 2021 district wise posts
The Telangana police notification 2021 district-wise posts are soon to available on the official website for the various districts. candidates should check the various posts as per the district wise recruitment vacancies.
Important Dates
TS Police recruitment paper notice: Feb/March 2021
TS Police online application form: Available Soon
TS police application form last date: NA
TS Police Online Application Form
Those who are eligible for the TS Police, have to fill the online application form at tslprb.in
Download the official notification and read the notification instructions and submit the online application form accordingly.
After submission of application form, take the print out for the future reference.
TS Police Application Edit Option
TS Police Exam Date
Telangana Police exam date is not yet scheduled, candidates have to wait for the official update from TSLPRB recruitment team.
TS Police Hall Ticket
Telangana TS Police hall ticket for Police Constable and Sub Inspector of Police is available 10 day before exam date. Those who are applied for the TS Police Constable and Sub Inspector of Police, have to download the hall ticket 10 days before from below given link.
Download TS Police Hall Ticket
Once the notification releases from TSLPRB, this page will be updated accordingly.
When TS Police Recruitment 2021 notification will release?
Expected in December 2020 / Jan 2021
TS Police recruitment official website?
https://www.tslprb.in/ for police recruitment
How many posts to be filled in this 2021-22 recruitment?
23,810 vacancies
Is this posts are permanent?
No, These posts are filled under contract and outsourcing process.
What is TS Police selection process?
Test, Events and followed by certificate verification process.