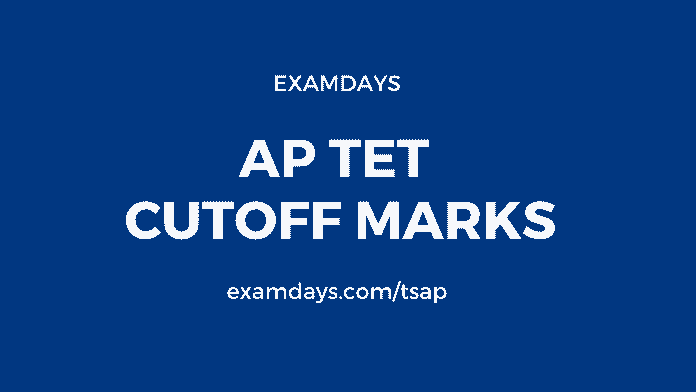 AP TET cutoff Marks: The country youth is molded by what they experience and taught in the classroom. The teacher plays a significant role in the life of every child. And it's a big responsibility, which a person chooses when they choose a profession called teaching. To reach that part, it's not that easy, exams needed to be qualified, and many hurdles require to be crossed. The APTET that is the Teacher Eligibility test is one of the golden opportunities a candidate can ask for.
For AP TET Cut Off Marks 2023, the exam is for teaching jobs for different categories like class 1st to 8th standard in various schools like government schools, zillah Parishad, municipal, recognized private aided, and private unaided, and many more.
AP TET Cut Off Marks
APTET is an Andhra Pradesh State Teacher Eligibility Test, which is conducted by Commissioner of School Education, Government of Andhra Pradesh. The test is conducted for two different categories.
Paper I for teachers who are willing to teach a class I to V.
Paper-II for candidates who are willing to teach class VI to VIII.
The exam will be of 150 marks and is of 150 questions. Exam dates where yet to be announced.
AP TET Cut Off Marks is very important for the selection for the TET exam, the DSC has prefer the candidates, those who have AP TET marks, DSC selection is based on the TET marks and it also added advantage for the AP TET cut off marks crossed candidates.
AP TET Cut Off
The cut off of any examination is based on many factors. The previous year cuff off doesn't make sense much, as every year candidates applying for number varies, pattern varies and many more. Below are some of the factor enlisted on which cut off will be dependent.
The Andhra Pradesh Teacher Eligibility Test depends up to:
A total number of students appeared or can say the total number of applications registered for the examination.
The level of the question paper. If the exam level is difficult, eventually cut-off will go low. If shift-wise varies, then authority goes for normalization.
The number of seats or vacancies plays a significant role.
The Previous Year Cut Off
As said before the previous year doesn't play a significant role in the current year, the given one is just for your reference. It can vary from year to year.
| | |
| --- | --- |
| Category | Passing marks (calculate out of full marks) |
| OC | Sixty per cent or more than that. |
| OB | Fifty per cent or more than that. |
| SC | Forty per cent or more than that. |
| ST | Forty per cent or more than that. |
| PwD | Forty per cent or more than that. |
AP TET cut off 2023
To check the cut off the following steps needed to be followed:
The practice makes a man perfect. If you work hard and focus on cracking the exam with maximum marks, then cut off is not an issue for you. But for reference, it is one of the best things which can be used while making a strategy. So work hard, and achieve all your dreams. All the very best from our side.