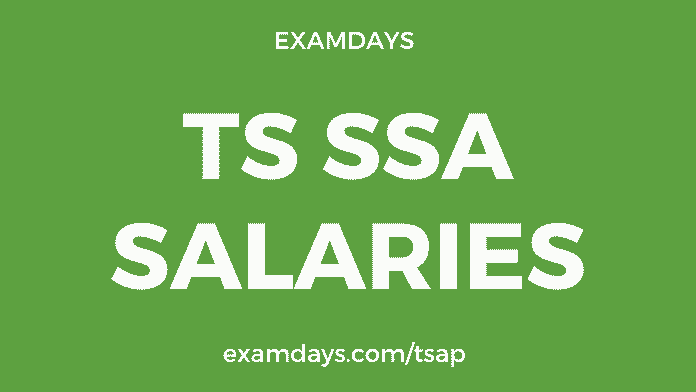 TS SSA salary is varied based on the post wise; the selected candidates are eligible for the SSA Telangana Salary payout 2022, the detailed information was given in below. The TS SSA salary information has for candidates reference purposes only, which is not final.
SSA Telangana's salary is varied as per the new salary norms by the Telangana State government, which is decided by the finance department (revised salaries G.O). Telangana State Samagra Shiksha Abhiyan SSA salaries are given below,
SSA Telangana Salary
The below salaries is effective from 01.08.2017 onwards, if any salaries revised then the below payment information will be effected.
DPO LEVEL
Data Entry Operator (DEO)
Basic Pay: Rs.15,000/- + EPF (13.61) Rs.2,042/- + ESI(4.73) Rs.713/- = Rs.17,755/-
System Analyst
Basic Pay: Rs.17,500/- + EPF(13.61) Rs.2,042/- + ESI(4.73) Rs.713/- = Rs.20,255/-
MANDAL LEVEL
Data Entry Operator (DEO)
Basic Pay: Rs.15,000/- + EPF (13.61) Rs.2,042/- + ESI(4.73) Rs.713/- = Rs.17,755/-
MIS Coordinator
Basic Pay: Rs.15,000/- + EPF (13.61) Rs.2,042/- + ESI(4.73) Rs.713/- = Rs.17,755/-
IERT
Basic Pay: Rs.17,500/- + EPF(13.61) Rs.2,042/- + ESI(4.73) Rs.713/- = Rs.20,255/-
PART TIME INSTRUCTOR
Basic Pay: Rs.12,000/- + EPF(13.61) Rs.1,633/- + ESI(4.73) Rs.570/- = Rs.14,203/-
KGBV LEVEL
ANM
Basic Pay: Rs.15,000/- + EPF (13.61) Rs.2,042/- + ESI(4.73) Rs.713/- = Rs.17,755/-
PET
Basic Pay: Rs.12,000/- + EPF (13.61) Rs.1,633/- + ESI(4.73) Rs.570/- = Rs.14,203/-
ACCOUNTANT
Basic Pay: Rs.15,000/- + EPF (13.61) Rs.2,042/- + ESI(4.73) Rs.713/- = Rs.17,755/-
CRT
Basic Pay: Rs.19,000/- + EPF (13.61) Rs.2,042/- + ESI(4.73) Rs.713/- = Rs.21,755/-
SPECIAL OFFICERS
Basic Pay: Rs.25,000/- + EPF (13.61) Rs.2,042/- + ESI(4.73) Rs.713/- = Rs.27,755/-
COOK/ATTENDERS/SEEPERS/WATCHMEN
Basic Pay: Rs.12,000/- + EPF (13.61) Rs.1,633/- + ESI(4.73) Rs.570/- = Rs.14,203/-