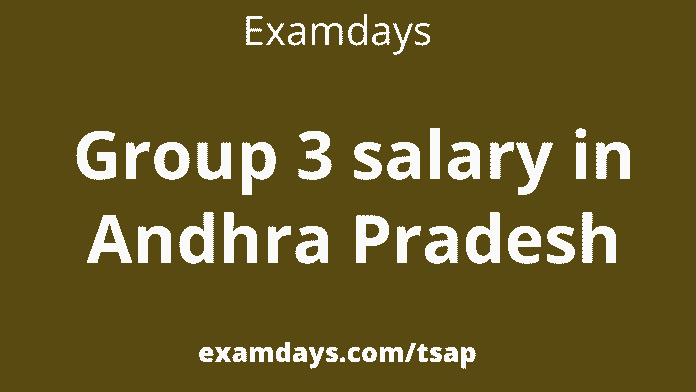 Group 3 salary in Andhra Pradesh: The APPSC Group 3 Panchayat Secretary position is important for developing Panchayats and Villages. Due to his or her position, they are respected by the general people. There are two papers on the test. The first one serves as the standard application for all APPSC Recruitments.
Andhra Pradesh Public Service Commission APPSC holds exams. Candidates for Panchayat Secretary Grade, Horticulture MPEOS, Assistant Statistical Officer, VRO, Extension Officer, etc., are recruited through the APPSC Group 3 test. If they pass the test, qualified applicants can work for the Government of Andhra Pradesh in various departments by applying for the APPSC Group 3 positions.
Group 3 salary in Andhra Pradesh
Online applications are accepted for the APPSC Group 3 recruitment. The formal notification's issuance will signal the beginning of the APPSC Group 3 Recruitment process in 2022. Dates for the APPSC Group 3 online application process will also be made public. A Screening test and a Mains exam make up the APPSC Group 3 examination process.
| | |
| --- | --- |
| Name of the Exam | APPSC Group 3 Exam |
| Conducting Body | APPSC Commission |
| Official website | psc.ap.gov.in |
| APPSC GROUP 3 Vacancy 2022 | 1000+ Vacanices (Expected) |
| APPSC GROUP 3 Age Limit | 18-42 years |
| APPSC GROUP 3 Salary | Rs. 16,400-49,870 |
| APPSC GROUP 3 Selection Process | Screening Test, Mains Exam, and Certificate Verification. |
AP Panchayat Secretary Salary
The APPSC Group 3 Salary is pretty generous and is set by the Tamil Nadu Public Service Commission following governmental standards. Candidates who take the APPSC Group 3 test in 2022 will be chosen for several regulations relating to rural development. Understanding the APPSC Group 3 employment list and remuneration is crucial for determining future goals.
The APPSC Group 3 compensation structure and jobs list are available to those interested in the test.
APPSC Group 3 Pay Scale
The APPSC Group 3 salary structure is established following the government's 7th Pay Commission. It consists of the candidate's ultimate compensation after combining all benefits and subtracting taxes. For the chosen candidates, the APPSC Group 3 in-hand salary typically ranges from Rs. 16,400/- to Rs. 49,870/-.
APPSC Group 3 Compensation
Candidates also earn APPSC Group 3 allowances, which go toward their salaries and basic pay. Employees receive certain benefits which increase their pay of employees;
Travel reimbursement(TA)
The employee pension fund,
Dearness payments (DA),
Allowance for housing rent (HRA),
Medical Costs