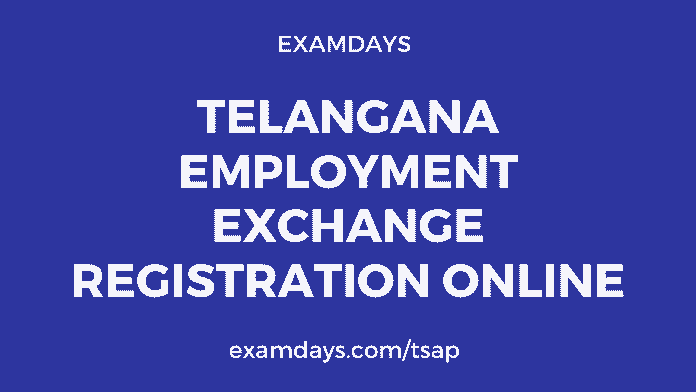 TS Employment Exchange Registration: Telangana State Employment Exchange TSEE has scheduled to release the huge vacancies notification in State to fill the various vacancy positions. Candidates who completed 10th / Intermediate / Degree / Engineering /Medical / B.Sc (Nursing) / Law / Polytechnic / Diploma and other courses have to register at TSEE on or before the link closing date.
The employment vacancies will be filled by December onwards, The Job Mela will be conducted as per the vacancies availability wise once the COVID-19 pandemic is completed. It may be expected from December 2022 onwards.
Latest Update: Use the below registration form and register for the TS Job Mela online portal and receive regular job notifications.
Attend the Free Webinar for the "How to Join in Defence" online program on 14.08.2020 – Register here (Time 11:00 AM to 12:30 PM)
New upcoming event information will be posted on this page.
TS Employment Exchange Card Registration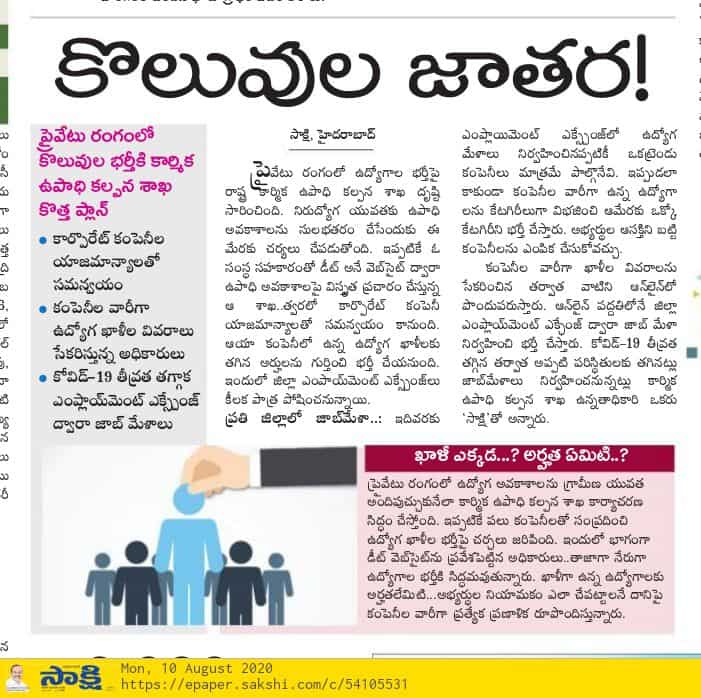 Telangana employment exchange jobs
The below jobs are available on the Telangana Employment Exchange Job mela;
Software Engineer (various domains)
Sale Executive
Aerospace CNC Programmer
Formulation-API and Production Associate – OSD
Executive Analyst
Relationship Executives / Sales Executives (Domain: General Staffing)
Customer Care Representative (domain: E-Commerce)
Sales, Business Development (Domain: Digital Marketing)
Associate Campaign Manager (Domain: Digital Marketing)
Sales Consultants & Bank End (domain: sales)
Graduate Engineer (domain: Software)
Management Trainee (Inside sales) (domain: Marketing)
Trainee Software Engineer (Domain: Software Development)
Associate Developer (Domain: Software Development)
Admission Counsellor (domain: e-learning company)
Trainee Process Consultant (Voice) (domain: BPO)
Trainee Process Consultant (Non-Voice) (domain: BPO)
Trainee Engineer (domain: testing)
Medical Coder Trainee (domain: Medical Coding US Health Care)
AR Associate (Domain: US Healthcare calling)
Associate Business Development Executive (Inside Sales)
Medical Coder Trainee/Process Associate Trainee (domain: Healthcare)
Programmer Trainee (domain: application services)
Operations Executive / Testing Executive (domain: Infrastructure Services)
Systems Engineer (domain: IT)
Content Writers (Domain: Digital Marketing)
Office Assistant
Office Boys
Cleaners
House Keeping lady
Supervisors
Many more opportunities.
Important Notes
No application fee for Job mela.
No broker or no third party involvement
Online Registration -> Get Employment Card -> Attend the Job Mela -> Get Job.
Telangana Employment Exchange Registration Online
Those who are eligible for the Job Mela, have to register at https://employment.telangana.gov.in/LoginPage.aspx
Click on the "Job Seeker" or click on the https://www.employment.telangana.gov.in/NewSignup.aspx
Click on the "No" for new registration.
Now, Enter the Candidates name and working email ID, Phone Number, Aadhar card number and then click on the Submit button.
Next page, enter the educational info and then submit the application form.
After submission completed, then use the below Card link and download the Employment Card.
Use that card at the time of "Job Mela 2020".
TS Employment Exchange Card Download
Enter the Aadhar Card number and Date of Birth (DOB)
Click on the Get data and download the PDF card
Take the print out and carry the card for all type of Job mela.
Telangana employment exchange office address
4th Floor,BRKR Bhavan
Tank Bund Road,Hyderabad-500029
Phone Number / Contact Number: 040-23228057
employment exchange online registration form
When TS Employee exchange announce Job Mela.?
Expected date is September 2020 (after COVID19 pandemic)
Telangana employment exchange official website?
https://www.employment.telangana.gov.in/
How to register for TS Employee exchange Job mela?
Follow the above instructions and get the employment card for Job mela.
Is employment card is compulsory?
Yes, it required to attend the all Job mela events.