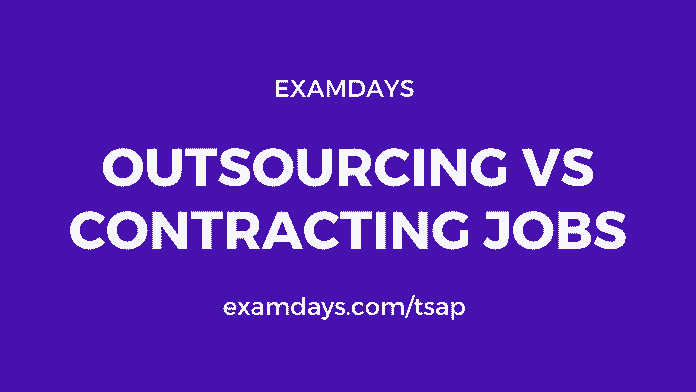 Have you ever thought about Outsourcing and Contract based jobs in India?. Are you seeking more information Outsourcing and Contract jobs, If Yes.! then read the article for complete get to know the difference between outsourcing and contracting jobs in India.
Those who are preparing for the Outsourcing jobs in India, get to know most of the important information regarding outsourcing and contract type jobs.
Outsourcing Jobs
Outsourcing is nothing but a company is looking for product-oriented assistance or work from cheap resources, which may be recruitment by own team or contract with any known consultancy and the recruitment to be done under a stipulated time period.
Most of the companies recruit/hiring the resources in less time to finish the pending projects under scheduled time. Companies offered less salary as they hired cheap laborers as per their budget targets.
Most of the time, Government sectors or Private sectors are involved in such outsourcing jobs, like Indian companies in the USA hire Indian resources instead of US resources because the company wants to reduce the cost-cutting and other benefits.
Contract Jobs
Mostly private sector companies involved in contract-based work to accomplished service-oriented works. Like once the company service-oriented work done then resources may be removed from the company.
Difference Between Outsourcing and Contracting
The difference between the both contract and outsourcing jobs information were given below for the better understanding level for the candidates, If you're preparing for these jobs then it easy for you.
| | |
| --- | --- |
| Outsourcing | Contract |
| Non Core Operations | Core Operations |
| Consumes Company Internal Stuff | Consumes Company External Stuff |
| Product Oriented Work | Service Oriented Work |
| Offshoring Resource | Onshoring Resources |
| Based on Service | Based on Time Period |
| No control on Contract Jobs | Control on outsourcing jobs |
| Govt & Private Sectors Involved | Private Sectors Involved |
| Less Salary | More Salary |
| No Employee Benefits | Employee Benefits |
| Temporary Post but not all time | Temporary (service bond) |
| No service bond | Service Bond |
| Work targets | Project targets |
difference between outsourcing and contract employee
Who is better.? Which job is better from both?
Not much, any job which candidates like then go with them but not stick with them. Shift the job is very important nowadays for the career goal implement.
outsourcing and contracting definition?
There is n such a definition, employee/resource can understand based on the experience level.
Difference between the outsourcing vs subcontracting?
As we described above.
Difference between the outsourcing or contracting out?
Same as above.
If candidates have any more questions on contract Vs Outsourcing then use the below comment section to reach us for doubt clarification.