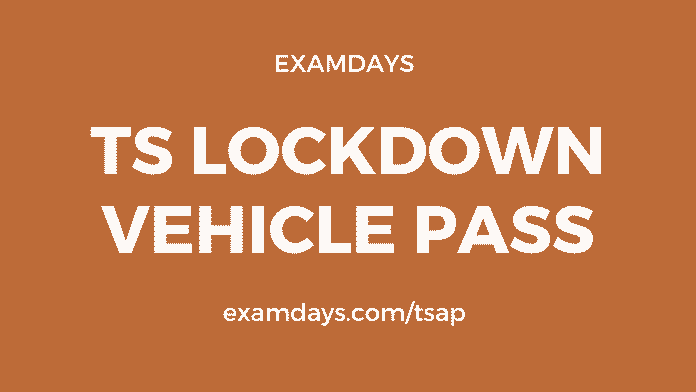 TS Lockdown Pass 2021: Telangana State TS Government has providing ePass for the residents of TS for various requirements essential work purposes, the ePass is provided based on Emergency, Urgent, Essential works purpose. The online AP lockdown pass will be approved after manual verification/scrutiny of Grama and Ward Sachivalayam team.
Applicants who are required for the TS lock pass have to follow the below instructions and guidelines to get the lockdown pass with a stipulated period. TS Lockdown Vehicle Pass is now available for those who want to travel after 10 AM in Telangana for emergency or important work.
Lockdown extended to June 12th, 2021 (Not Confirmed yet)
Candidate details
Address for communicatin
Mobile number for OTP verification
Photo JPG Upload
Aadhar Card Upload
KYC Document Upload
Purpose Document (Like medical recceipt, Medical report, emergency report, vaccination report, or any other document which support for ePass).
Use the below official website for the Telangana ePass 2021, and apply for ePass and then check the present status information.
TS Lockdown Vehicle Pass
| | |
| --- | --- |
| Name of the Authority | Telangana State Government |
| ePass Name | Travel Pass |
| Mode of Apply | Online |
| Approval Process | Manual Verification |
| Age Limit | No such a limit |
| Approval State | Telangana State |
| Validity | Assigned Time |
| Official Website | ts.gov.in |
TS Lockdown Vehicle Pass
తెలంగాణ రాష్ట ప్రభుత్వము ఆన్లైన్ లో ఈ-పాస్ ఇవ్వడానికి సచివాలయం టీమ్ ఆన్లైన్ పద్దతిని విడుదలా చేసింది. అయితే తెలంగాణ రాష్టంలో ఎప్పటి వరకు ఎలాంటి ఆన్లైన్ సదుపాయం లేదు కానీ email రూపం లో ఒక సదుపాయాన్ని అమలులో ఉంచింది.
మోటారు ప్రయాణానికి పాస్ కావలిసినవారు, ఈ క్రింది సమాచారంతో email చేయవలసి ఉంట్టుంది.
వ్యక్తి పేరు
మొబైల్ నెంబర్
E-mail ఐ‌డి
చిరునామా
అవసరము (దేనికోసం)
తేదీ మరియు సమయము
ఈ పైన చూపించిన/కేటాయించబడిన సమాచారము తప్పకుండ email లో ఇవ్వవలసి ఉంట్టుంది. అయితే Appoved / ఆమోదం పొందితేనే ఆ వ్యక్తి బయటికి వెళ్ళే అనుమతి లబిస్తుంది. పాస్ లేకుండా బయటికి వెళ్ళితే పోలీసు శాఖ వారిచే కేసులు అమలుచేసే అవకాశాలు ఉన్నాయి.
TS Lockdown Pass Online Apply
Those who are need of TS lockdown pass for emergency, urgent, essential works then apply for the TS lockdown ePass.
After manual verification from the Sachivalayam team, your ePass will be approved.
After approval of ePass, the applicant will get confirmation Mail. Use that SMS, and utilize the ePass requirement.
Travel pass during lockdown
As we discussed above for lockdown pass, the same pass is useful for the travel pass during lockdown. Applicants should check the detailed information and vehicle information during lockdown ePass registration.
The vehicle pass during lockdown registration compulsory at the time of online ePass registration.
No other mode is applicable for lockdown pass registration.
how to apply for epass during lockdown
TS lockdown ePass Registration Email ID: [email protected]
How to Get ePass in Telangana
Visit the official website https://policeportal.tspolice.gov.in/ and click on the ePass option and follow the screen instructions to get the Telangana ePass for the vehicle during the lockdown period.
How to get epass for telangana state?
We have listed the above Police webportal for the ePass approve upon verification of official and real documents by police persons.
How to get purpose document for e pass telangana?
For example:, If anyone in a hospital visit,, then show the doctor or medical document, it helps to approve the instant for Telangana Vehicle ePass.
How to apply for telangana e pass?
Follow the official website https://policeportal.tspolice.gov.in/ and click on the ePass document and submit the accurate information and get the ePass in 1 day.
What is the Eligibility to get vehicle travel pass in Telangana.?
Emergency, Urgent and grocery requirement.
How to apply for TS lockdown pass?
As of now, no official link is provided by TS State but email service available.
Is TS lockdown pass required for the travel in State.?
Yes, without vehicle pass police will right to lodge the case against you.