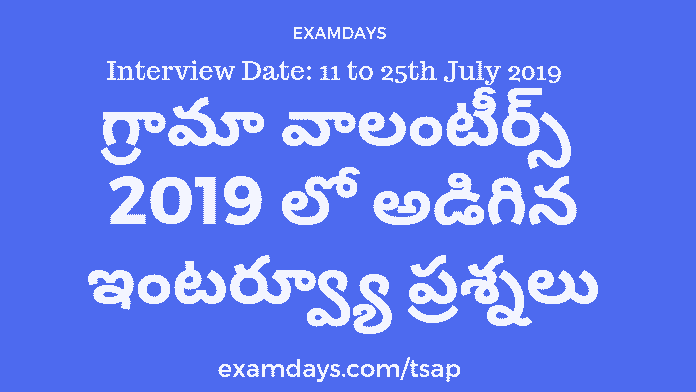 AP Grama Volunteers Interview Asked Questions
AP Grama Volunteers Interview Asked Questions: Andhra Pradesh State Panchayati department scheduled to recruiting Grama Volunteers 4,33,126 posts across the AP state. As we know, the AP Grama Interview is scheduled to conduct the from 11th July to 25th July 2019 at respected Village Panchayat offices.
Those who have given the Interviews have to update the number of questions in this post, and further questions will be updated in this post accordingly. All the Grama Volunteers questions are updated here.
AP Grama Volunteers Interview Asked Questions
Candidates should check out the asked questions here
Name of the Authority
Andhra Pradesh Grama Volunteer Recruitment Board (APGVRB)
Name of the Posts
Grama Volunteer
Number of Posts
4,33,126 Vacancies
Qualification
10th / Intermediate
Age Limit
18 to 39 Years

L

ast Date to Apply Online

10.07.2019 (Closed Date)
Selection Procedure
Merit-based
Official Website
ap.gov.in
Today (11th July 2019 Interview Experience)
They collect 1 sets of Xerox copies
4 passport size colour photos
They verify originals
Interview Time: 3 minutes to 15 minutes (based on the candidates)
A lot of competition in Interview, per day they called 60 candidates in Ongole region and maximum 100 candidates as per the Interview panel available and pre-planned.
MPDO office means
MPDO – Mandal Parishad Development Officer
MPDO Office
Mandal Parishad Development Officer Available in each and every district and ward locations
AP Grama Sachivalayam Syllabus 2019
Which available in the sachivalayam post soon, we intimate you
AP Grama Volunteers Status Official Website
gramavolunteer.ap.gov.in
AP Grama Volunteers Interview Asked Questions
Grama Volunteer Interview Questions in Telugu
మీ గ్రామం లోని సమస్యలు ?
ఇది వరకు సమస్యలు పై ఎప్పుడు అయినా స్పదించారా?
గ్రామ వాలంటీర్ జాబ్ మీకు ఎందుకు?
మీకు స్వంత వెహికల్ ఉందా?
నవరత్నాలు మీద ప్రశ్నలు ?
వికలాంగులకు గ్రామా వాలంటీర్స్ గ ఎలా సహాయం చేస్తారు?
ప్రస్తుత మీ పోసిషన్ ఏంటి?
enduku గ్రామా వాలంటీర్ పోస్ట్ ను ఎన్నుకున్నారు?
డ్రైనేజీ వ్యవస్థ బాగా లేనపుడు ఎవరిని సంప్రదిస్తారు?
మీ సేవకు మెచ్చి గ్రామంలో ఎవరన్నా 100 రూపాయలు ఇస్తే ఎం చేస్తారు?
మీకు ఇచ్చే జీతం మీకు సరిపోతుంది అని అనుకుంటున్నారు?
More questions updated soon on this page.