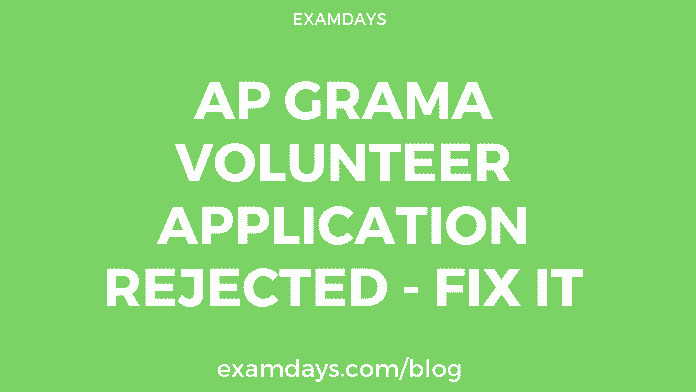 AP Grama Volunteer Application Rejected
AP Grama Volunteer Application Rejected: ఆంధ్ర ప్రదేశ్ గ్రామ వార్డ్ / వాలంటియర్ ఆన్‌లైన్ అప్లికేషన్ ఫార్మ్ తిరస్కరించ బడిందా, మళ్లీ అప్లై చేయాలా, అయ్యీతే ఈ పోస్ట్ పూర్తిగా చదవండి.
ఒక ఆధర్ కార్డ్ తో అభ్యర్డీ డాటా సబ్మిట్ చేసిన తర్వాత, మళ్లీ సేమ్ డాటా తో అప్లికేషన్ సబ్మిట్ కాక్‌పోవచు, దానికి దానికి ముందు, సబ్మిట్ చేసే టైమ్ కంటే వెరిఫై చేసి అప్లై చేయాల్సి ఉంట్థుండి.
If candidates have any specific reason for the Application form rejections, then they have to modify the online application form before the last date OR specified date.
పూర్తి వివరాలు:
Those who have submitted an application with incomplete data or inaccurate data, those Grama Volunteer application form rejected due same reasons on the same day of application or after 2 days of application form submission.
AP Grama Volunteer Edit Option for Rejected & Pending Applications
ఆంధ్ర ప్రదేశ్ గ్రామ వాలంటియర్ రెక్రూట్‌మెంట్ అండ్ నోటిఫికేషన్ విడుదల.
అర్హులైన అభ్యర్డులు ఆన్‌లైన్ లో అప్లికేషన్ ఫోర్‌మ్ ని సబ్మిట్ చేయాలి,
చివరి తేదీ 5th జులై 2019. July నెల నుండు అభ్యర్డులకు మౌలిక పరీక్షలు (ఇంటర్‌వ్యూ) చేపడతారు, అః తరవత్ మెరిట్ లిస్ట్ ఆదారంగా ౩ రోజుల పాటు ఉచితంగా ట్రైనింగ్ తో రెడీ చేసి, ఆగస్ట్ 15th న జాయ్న్ఆర్డర్ ఎవ్వడం జరుగుతుంది.
reject grama volunteer application
AP Grama Volunteer Rejected
The AP grama volunteer rejected application form with various reasons. ap grama volunteer rejected list is available in below sccenario list.
AP Grama Volunteer Application Rejected
Candidates should fill the online application without any errors or any incomplete application data.
Reverify the Grama Volunteer application form until application gets success pop up a notice on the screen.
Never submit application too early.
Wait until verification done by you before submission of the application form.
AP Grama Volunteer Application Rejected Reasons
Incomplete Data Filled. / అసంపూర్ణ డేటా నింపబడింది
Inaccurate Data, Which not matching with Aadhar Card Data. / సరికాని డేటా, ఇది ఆధార్ కార్డ్ డేటాతో సరిపోలడం లేదు.
The photo clearly not visible. / ఫోటో స్పష్టంగా కనిపించదు.
Name different in Aadhar Card and application form. / ఆధార్ కార్డు మరియు దరఖాస్తు ఫారంలో వేరే పేరు.
reasons for reject grama volunteer application
Date of birth miss match with Aadhar Card. / పుట్టిన తేదీ ఆధార్ కార్డుతో మిస్ మ్యాచ్.
Residence certificate not selected. / నివాస ధృవీకరణ పత్రం ఎంపిక చేయబడలేదు.
Educational Qualification not meet as per Grama Volunteer notification. / గ్రామ వాలంటీర్ నోటిఫికేషన్ ప్రకారం విద్యా అర్హత కలుసుకోలేదు.
Application form not submitted (final Submission) / దరఖాస్తు ఫారం సమర్పించబడలేదు
AP Grama volunteer rejected list
AP Grama Volunteer Edit Option for Rejected & Pending Applications
Date & Time: 01.07.2019 / 01:30 PM
Number of applications Registered: 4,35,529 Total Registered
Total number of applications verified: 1,02,241
Total Approved applications: 88,134
Total Rejected applications: 14,107
Total Pending applications: 2,93,288
AP Grama Volunteer Registration
District Name

Total Registered

Today

Cumulative

ANANTAPUR
774
31874
CHITTOOR
712
28209
EAST GODAVARI
1053
37890
GUNTUR
736
28533
KRISHNA
505
23549
KURNOOL
1281
48526
PRAKASAM
806
26127
SPSR NELLORE
563
17313
SRIKAKULAM
1525
36462
VISAKHAPATANAM
1122
39901
VIZIANAGARAM
1633
30056
WEST GODAVARI
409
23002
Y.S.R KADAPA
597
24087
Total
11716
395529
AP Grama Volunteer Verified
District Name

Total Verified

Today

Cumulative

ANANTAPUR
646
3773
CHITTOOR
472
5386
EAST GODAVARI
1639
21531
GUNTUR
536
3651
KRISHNA
406
3594
KURNOOL
2186
20471
PRAKASAM
514
3253
SPSR NELLORE
347
8182
SRIKAKULAM
3239
5130
VISAKHAPATANAM
589
5928
VIZIANAGARAM
1528
10372
WEST GODAVARI
442
5155
Y.S.R KADAPA
620
5816
Total
13164
102242
AP Grama Volunteer Approved
District Name

Total Approved

Today

Cumulative

ANANTAPUR
568
3306
CHITTOOR
393
4529
EAST GODAVARI
1290
17559
GUNTUR
520
3321
KRISHNA
346
3023
KURNOOL
1988
18761
PRAKASAM
455
2806
SPSR NELLORE
321
7067
SRIKAKULAM
2953
4617
VISAKHAPATANAM
510
5341
VIZIANAGARAM
1337
8651
WEST GODAVARI
354
4240
Y.S.R KADAPA
554
4914
Total
11589
88135
AP Grama Volunteer Rejected
District Name

Total Rejected

Today

Cumulative

ANANTAPUR
78
467
CHITTOOR
79
857
EAST GODAVARI
349
3972
GUNTUR
16
330
KRISHNA
60
571
KURNOOL
198
1710
PRAKASAM
59
447
SPSR NELLORE
26
1115
SRIKAKULAM
286
513
VISAKHAPATANAM
79
587
VIZIANAGARAM
191
1721
WEST GODAVARI
88
915
Y.S.R KADAPA
66
902
Total
1575
14107
AP Grama Volunteer Pending Applications
District Name

Total Pending

Today

Cumulative

ANANTAPUR
753
28101
CHITTOOR
693
22823
EAST GODAVARI
955
16359
GUNTUR
722
24882
KRISHNA
497
19955
KURNOOL
1204
28055
PRAKASAM
796
22874
SPSR NELLORE
532
9131
SRIKAKULAM
1413
31332
VISAKHAPATANAM
1114
33973
VIZIANAGARAM
1539
19684
WEST GODAVARI
401
17847
Y.S.R KADAPA
580
18271
Total
11199
293287
source: http://gramavolunteer3.ap.gov.in/GRAMAVAPP/VV/index.html