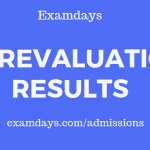 OU Revaluation Results OU Revaluation Results 2019 Manabadi: Osmania University has scheduled for the Degree Revaluation results for 2nd 4th 6th Semester of OU U.G.(BA/ B.Com./...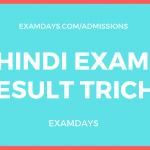 Hindi Exam Result Trichy Hindi exam result trichy: Those who are given examination for Parichay Exam 2019 and waiting for the Parichay Exam result. The candidates have to download the...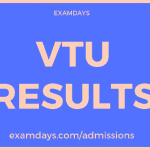 VTU Results VTU Results 2019 Semester Wise Download: Visvesvaraya Technological University (VTU) has scheduled to release the even semester results 2019 for undergraduate and Post graduation...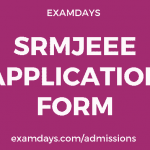 SRMJEEE Application Form SRMJEEE Application Form 2020: Sri Ramaswamy Memorial Institute of Science & Technology SRM University has released an admission notification for undergraduate UG...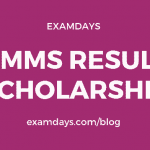 NMMS Result NMMS Result 2019: Ministry of Human Resource Development MHRD has conducted National Means-Cum-Merit Scholarship Scheme NMMS scholarship examination every year for the under...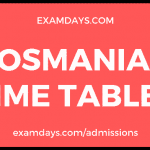 OU Time Table OU Degree Time Table 2019: Osmania University OU has scheduled to releases the time tables for the various examinations under the Undergraduate UG...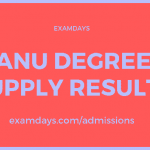 ANU Degree Supply Results ANU Degree Supply Results 2019: Acharya Nagarjuna University ANU examination branch has scheduled to release the degree supply results on 23rd July...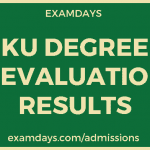 KU Revaluation Results 2019 released date: Kakatiya University has scheduled to releases the Degree revaluation results in the month September/October 2019 for BA, B.Com, and...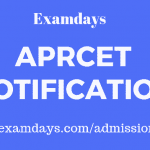 APRCET Notification APRCET Notification 2019: Andhra Pradesh Research Common Entrance Test APRCET has scheduled to inviting online application from eligible candidates for the Ph.D. and M.Phil...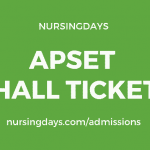 APSET Hall Ticket APSET Hall Ticket 2019 Download: Andhra Pradesh State Eligibility Test APSET notification 2019 released for FY 2019-20, the APSET examination scheduled on 20th...
TS CPGET Seat Allotment TS CPGET 2019 Seat Allotment: Telangana State Post Graduate Common Entrance Test TS CPGET exam is conducted from 8th July 2019 to...
MU OET 2020 Application Form MU OET 2020 Application Form: Manipal University Admission department has released an Online Entrance Test OET for Undergraduate UG and Post...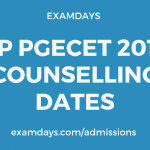 AP PECET Counselling Dates AP PECET Counselling Dates 2019: Andhra Pradesh Physical Education Common Entrance Test AP PECET is entrance examination was conducted by Acharya Nagarjuna...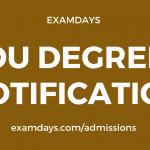 OU Degree Notification OU Degree Notification 2019: Osmania University OU has released a degree notification for 2019-20 academic year fro various degree courses B.A, B.Com, B.Sc, B.B.A,...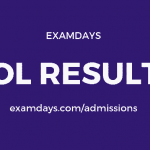 SOL Result SOL Result 2019: School of Open Learning SOL Delhi University DU is scheduled to released the Undergraduate Programs UG BA and B.Com courses,...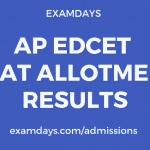 AP EDCET Seat Allotment AP EDCET Seat Allotment Result 2019: Those whare waiting for the Andhra Pradesh EDCET entrance examination seat allotment results, seat allotment results...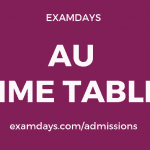 AU Time Table AU Time Table 2019: Andhra University AU has conducting external/final examinations from November/December 2019, those who are waiting for the AU exam time...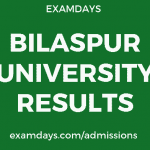 Bilaspur University Result Bilaspur University Result 2019: Atal Bihari Vajpayee Vishwavidyalaya (ABVV) Bilaspur University has released Undergraduate UG and Post Graduate PG results as per the...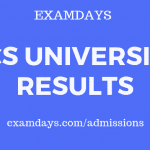 CCS University Result CCS University Result 2019: Chaudhary Charan Singh Meerut University (CCS University) has released Under Graduate, Post Graduate, Private, and Professional results on the...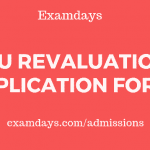 VTU Revaluation Application Form VTU Revaluation Application Form 2019: Visvesvaraya Technological University (VTU) has released UG and PG results in August 2019 month, those who want...
Madras University Results Madras University Results 2019: Madras University UNOM April examination results are released in the month of June 2019 (a 3rd week or Last...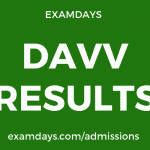 DAVV Result DAVV Result 2019 Released: Devi Ahilya Vishwavidyalaya authority has scheduled to releases the Undergraduate and Post Graduate UG PG exam results for BA B.Sc B.Com...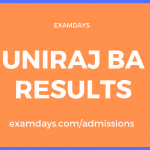 Uniraj BA Result Uniraj BA Result 2019: Rajasthan University Examination branch has released a Bachelor of Arts BA results on 25th June 2019 for the examination...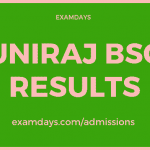 Uniraj BSc Result Uniraj Bsc Result 2019: Rajasthan University Uniraj has scheduled to release the uniraj B.Sc results of 2nd year, 3rd year on 12th June...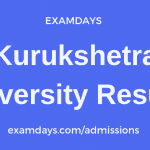 KUK Result KUK Result 2019: Kurukshetra University has scheduled to released Undergraduate UG and Post Graduate PG course results on 19th August 2019. MA and...