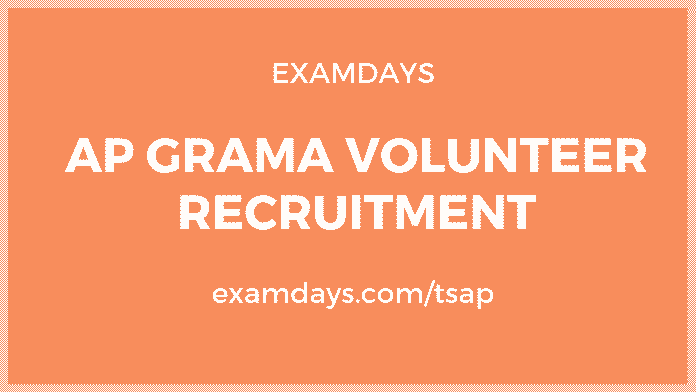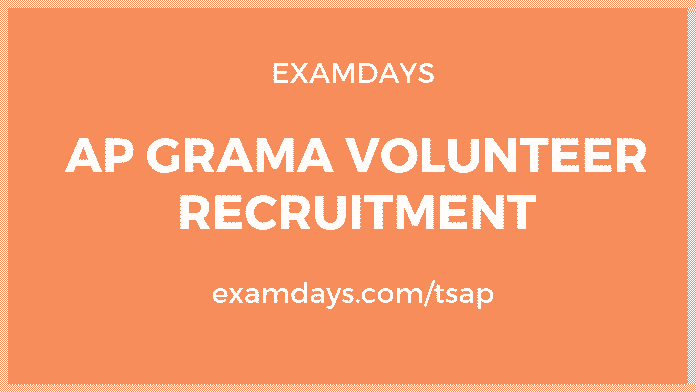 AP Grama Volunteer Notification
AP Grama Volunteer Recruitment Notification 2019: Andhra Pradesh State Government AP has scheduled announced for AP Grama APGV Volunteer notification-II to fill the  9648 posts to be filled by December 2019 ap grama voluntary post apply online. After new Government formation in Andhra Pradesh State, the New Chief Minister YS. Jagan Mohan Reddy has decided to recruit the 4 lakh Grama Volunteer for the better works in Villages across the AP state.
Grama Volunteers work for good Governance and Sustainability in villages. Every year, there are hundreds of Grama Volunteers has recruited but this year for FY 2019-2020, 4 lakh vacancy notification to be released. Apply online only at gramavolunteer.ap.gov.in official website. Submit the online application before the deadline or submit the application early as soon as possible before the last minute or server rush.
Updated on 01.11.2019
Application Available – Link Activated
AP Grama Volunteer 2nd Notification is scheduled to releases on

01.11.2019

(Tentative)
AP Grama Volunteer qualification has decresed from Intermediate to 10th/SSC class.
ఆంధ్రప్రదేశ్ గ్రామ వాలంటీర్ అర్హత ఇంటర్మీడియట్ నుండి 10కి తగ్గించారు, ఆంటే 10 పాస్ అయిన వాళ్ళు అర్హులు
ఆంధ్రప్రదేశ్ రాష్ట్రవ్యాప్తంగా గ్రామ మరియు పట్టణ వాలంటీర్ కోసం జూన్ లో నోటిఫికేషన్ విడుదల చేసింది, అయితే మొత్తం 1,94,592 గ్రామ వాలంటీర్లను ప్రభుత్వం నియమించింది. వారిలో 1,84,944 మంది మాత్రమే విధుల్లో చేరగా, 9,648 ఖాళీలు ఏర్పాడ్డాయి, వీటిని బర్తీ చేసేందుకు కసరత్తులు మొదలు పెట్టారు గ్రామ వాలంటీర్ రిక్రూట్మెంట్ టీమ్.
అన్నీ ఏయర్పాట్లను చేసుకొని, అక్టోబర్ 2019 నెలలో రెండవ నోటిఫికేషన్ ని విడుదలకి సన్న్హాలు చేస్తునారు. అబ్యర్డులు అక్టోబర్ నెల నుండి ఆన్లైన్ లో వాలంటీర్ అప్లికేషన్ ఫామ్ అందుబాటులోకి వస్తాయి.
| | |
| --- | --- |
| Description | Vacancies |
| Total Vacancies | 194592 |
| Vacancies Filled | 184944 |
| Vacant Posts | 9648 (New Notification in October 2019) |
Grama Volunteer online application live from 24th June 2019. Candidates should refer the final notification from October 2019 onwards.
ఆంధ్రప్రదేశ్ రాష్ట్రంలో గ్రామ వాలంటీర్గా పనిచేయడానికి ఉపాధి కల్పించిన కొత్త ఉద్యోగ అవకాశాలను కొత్త ప్రభుత్వం ప్రారంభించింది. ఈ సందర్భంగా మూక్యమంత్రి మాట్లాడుతూ, నాలుగు లక్షల ఉంద్యోగాలని కల్పిస్తునట్టు పేర్కొన్నారు.
ap grama volunteer ap gov in
AP CM Jagan Mohan Reddy Announcement "By 15th August 2019, We recruit 4 lakh Village / Grama Volunteer posts with salary Rs.5,000/- per month. There will be one volunteer for every 50 families".
APGVB notification 2019
| | |
| --- | --- |
| Name of the Authority | Andhra Pradesh Grama Volunteer Recruitment Board (APGVRB) |
| Name of the Posts | Grama Volunteer |
| Number of Posts | 9648 Vacancies (Phase -2 Notification) |
| Qualification | 10th / Intermediate |
| Age Limit | 18 to 39 Years |
| AP Grama Volunteer Notification Date | 01.11.2019 (Tentative) |
| Selection Procedure | Merit-based |
| Official Website | ap.gov.in |
AP Grama Volunteer Qualification
The minimum qualification for AP Grama Volunteer posts is 10th / SSC / SSLC or 10+2 / Intermediate.
There are no minimum cutoff marks in pass percentage.
Minimum pass out candidates are eligible.
Candidates should speak Telugu, English, and Hindi (optional).
Candidates should have the ability to make eMails for reporting/information.
AP Grama Volunteer Age Limit
Candidates should have age limit between the 18 to 35 years as on the notification date. Age relaxation is applicable as per the reservation wise.
Check the reservation category list as per the notification details, the complete details are listed in below categories wise applications.
SC & ST Candidates: 5 Years
OBC Candidates: 3 Years
PHC Candidates: 3 Years
Ex-Serviceman Candidates: 3 Years.
ap grama volunteer recruitment 2019 apply online
AP Grama Volunteer Selection Procedure
The selection procedure for AP Grama Volunteer (Village Volunteer) is based on the merit marks in the SSC / 10th / Intermediate /10+2.
Online applications screened by the APGV recruitment team.
Reservation is applicable for reserved candidates (OBC, SC, ST, and PHC).
Final Merit list prepared and called for Document Verification for final selection.
AP Grama Volunteer Salary
AP Grama volunteer salary is confirmed by the Government of AP (Go.AP), Selected candidates are eligible for a pay scale of Rs 5000/- per month.
Salary will be credited directly to the Employee bank account.
No third party persons in salary credit.
AP Grama Volunteer District Wise Vacancies
| | | |
| --- | --- | --- |
| Name of the District | Total AP Villages | Total Vacancies |
| Anantapur | 965 | Updated Soon |
| Chittor | 1523 | Updated Soon |
| East Godavari | 1400 | Updated Soon |
| Guntur | 729 | Updated Soon |
| Krishna | 996 | Updated Soon |
| Kurnool | 923 | Updated Soon |
| Prakasam | 1094 | Updated Soon |
| Sri Potti Sriramulu Nellore | 1192 | Updated Soon |
| Srikakulam | 1815 | Updated Soon |
| Visakhapatnam | 3280 | Updated Soon |
| Vizayanagarm | 1534 | Updated Soon |
| West Godavari | 897 | Updated Soon |
| YSR Kadapa | 938 | Updated Soon |
| Total Posts | 17286 Villages | 9648 Vacancies |
AP Grama Volunteer Roles & Responsibilities
Selected candidates should follow the Grama Volunteer duties as listed;
Door Delivery of AP Government Services.
Teaching for Primary schools as a Volunteer
Village various works.
Work as Volunteer and Prepare for another job (option available).
If Village Volunteer gets a better job then he/she can relieve the Volunteer job without any issues from AP Govt (Best option for unemployed candidates).
Organising events and other works in Village.
Participating in important events and programs in the village.
If unwanted situations in villages, immediately escalate to authorities for quick action.
AP Grama Volunteer Requirements
Eligible candidates should produce the following document while attending the Document verification process. Candidate should have both originals and two sets of Xerox copies.
SSC / SSLC / Intermediate Certificate.
Five recent Passport size photocopies.
Aadhar Card.
Voter ID Card.
Ration Card.
Electricity / Current Bills / Water Bill for Address Verification.
Residence Certificate (If applicable).
Date of Birth Certificate (if not available, Candidates should produce SSC Certificate).
Community Certificate.
Medical Certificate (PHC Candidates).
Bank Passbook for salary credit.
AP Grama Volunteer Opportunities
Selected candidates should have a career growth from Grama Volunteer to Panchayat Cadre level supervisor.

Important Dates 
Commencement of Grama Volunteer 2nd Notification: 01.11.2019
Commencement of Online application: 01.11.2019
Last date of online application: 10.11.2019
Scrutiny of Applications: 15.11.2019
Interviews Date: 16.11.2019 to 20.11.2019
AP Grama Volunteer Document Verification Date: Available Soon (Check Grama Volunteer Interview Dates)

AP Grama Volunteer Interview Date: 16.11.2019 to 20.11.2019
Announcement of results: 22.11.2019
AP Grama Volunteer Training Date: 29.11.2019 to 30.11.2019
AP Grama Volunteer Reporting Date: 01.12.2019
AP Grama Volunteer Online Registration
Those who are eligible for the AP Grama Volunteer job they have to apply online on or before the last date of online application.
Candidates have to fill the online application and upload the Passport Photo and signature while filling the online form.
Remember, no application fee. Candidates directly apply.
Once the online application submitted successfully, take the print out for reference.
grama voluntary post apply online link
ap grama volunteer recruitment 2019 apply online
AP Grama Volunteer Official Website

https://www.youtube.com/watch?v=ow58IqOV6f4
JOIN TELEGRAM GROUP
JOIN IN FACEBOOK GROUP FOR DISCUSSION
AP Grama Volunteer Job Posting
The Grama Volunteer job is posted as per the candidate's district wise preference in the online application only, there no edit option in the registration application after submission.
Make sure the job location (district name/area of posting ) while filling the application or registration time.
ఆగష్టు 15, 2019 నాటికి, 4 లక్షల గ్రామ వాలంటీర్ పోస్టులను నెలకు 5,000 / – వేతనంతో నియమిస్తారు. ప్రతి 50 కుటుంబాలకు ఒక స్వయంసేవకుడు ఉంటారు.
Frequently Asked Questions
How to apply ap grama volunteer?
Eligible candidates can apply online from 8th July 2019 onwards.
What is the eligibility of AP Grama Volunteer?
Eligibility varies as per the location of candidates, for rural – 10th, Urban – 12th, & Town – Graduate/Degree.
When does AP grama volunteer application start?
24th June 2019 Onwards
What is the last date of AP grama volunteer?
5th July 2019
Is exam conducted in AP grama volunteer?
No, grama posts recruited as per interview.
How many posts in AP Grama Volunteer recruitment?
4,33,126 posts (official vacancy it may vary).
What is the age factor for AP grama volunteer?
18 to 39 years.
Is all original document required for document verification?
Yes (10th/12th/Degree (graduation)/ required both originals and Xerox copies.
what are required for ap Grama volunteer post?
Aadhar Card, SSC/Inter/Degree/Graduate Certificate, Caste, Residence required
gramavolenter ap gov in
If candidates have any further questions and doubts, use the below comment box for clarifications.