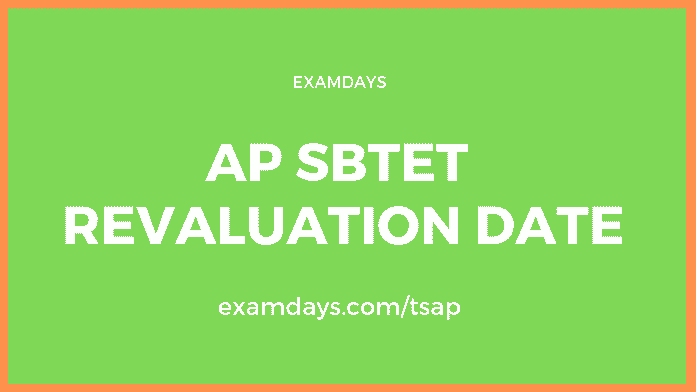 AP SBTET Revaluation Results
AP SBTET Revaluation Date: Andhra Pradesh State Board of Teaching and Education Training SBTET has released supplementary results on 17th July 2019 for Instant Advanced June 2019 exam results. Those who are not satisfied with results can opt the revolution and verification of results at college examination branch.
AP SBTET revaluation results will be released in the month of October/November 2019 (Expected), Student those who are looking for the SBTET results, they can check from the either this month or next month onwards.
AP SBTET Revaluation Date
The AP SBTET results information will be declared soon in the month of October / November 2019, the detailed result information is available soon for the students reference purpose. The final result information was not yet finalised nor released.
| | |
| --- | --- |
| Name of the Authority | Andhra Pradesh State Board of Technical Education & Training |
| Name of the Posts | AP SBTET Supply Results 2019 |
| Exam Date | June 2019. |
| Results Date | Expected Date October 2019 |
| SBTET Year Wise Exam | All Years |
| Semester Wise Exam | All Semester |
| Official Website | apsbtet.net || sbtetap.gov.in |
AP SBTET Supply Exam Date
The AP SBTET supply exam date is scheduled as per the below schedule listed, a student could check the complete exam schedule list.
AP SBTET Supply Exam Dates

C16 – 6th June 2019 To 24th June 2019
C14 – 6th June 2019 To 19th June 2019
C09 – 6th June 2019 To 21st June 2019
AP Diploma Revaluation Results  2019
Those who have given the June 2019 supply examinations can check the instant advanced results 2019 from here.
Once the results checked and satisfied with results can go for the revaluation or verification of results.
Students have to enquiry in the college examination brach for verification & revaluation date and fee payment process and its details.
The re-verification /recounting/photocopy of may submit their application in any online centre or through the payment gateway with prescribed fee user charges with complete address with PIN Code, Mobile Number, Email ID on or the last date.
Also, refer the below notification link for the final confirmation for RC/RV/Photocopy of all courses.
AP Diploma Revaluation Last Date 2019
The last date of revaluation and verification is not yet confirmed by AP SBTET board, candidates may get all the details at AP SBTET Notice Board Notifications.
Also enquiry at the college examination for more details on this.