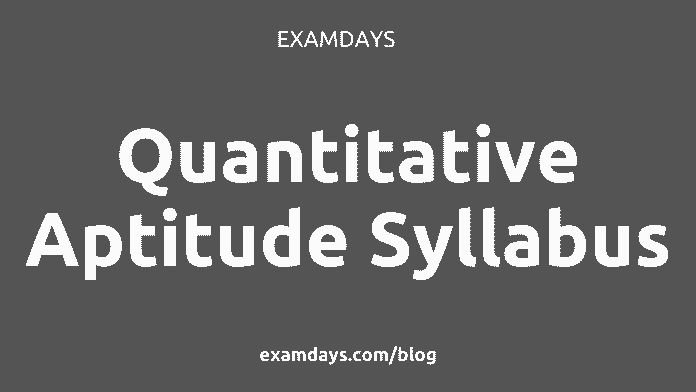 Quantitative Aptitude Syllabus: Are you looking for the Aptitude syllabus information for the competitive exam preparation purpose, If yes…! then you can collect the aptitude study material from this page. Each topic has multiple sub-topics, which #Examdays will cover the important topics for the exam. Where it is frequently asked in the examination. Mostly, the major topics are asked in every state PSC, PSU, Banks, and other competitive exams.
For the Quantitative Aptitude syllabus, aspirants have to prepare only important topics rather than all topics in every section. We recommend aspirants have to concentrate on frequently asked topics only. Never and ever go with the complete syllabus. Priority always FAQ topics and later check the other topics If candidates have time to check other topics too.
Quantitative Aptitude Syllabus
We have listed all the topics under the aptitude syllabus, but we upload the study material only for priority topics. These are the topics, where all types of competitive exams ask during the recruitment process.
| | |
| --- | --- |
| Number System | Boat and Streams |
| Simplification | Percentage |
| Fractions | HCF and LCM |
| Trigonometry | Time and Distance |
| Surds and Indices | Time ad Work |
| Problems on Trains | Average |
| Profit and loss | Mixture |
| Square root and cube root | Ratio and Proportion |
| Pipes and Cisterns | Pipes and Tanks |
| Partnership | Mensuration |
| Simple Interest | Boats |
| Compound Interest | Geometry |
| Area | Height and Distance |
Further details are available soon on this page for the aspirant's reference.
Join Examdays Telegram
For more details about the Telegram Group, Click the Join Telegram below button.

In case of any doubt regarding Telegram, you can mail us at [email protected].