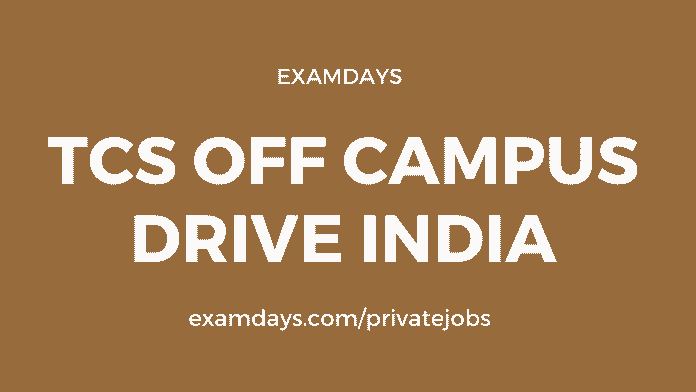 TCS off campus drive 2023: Tata Consultancy Services (TCS) conducts off campus drive for the batch of 2022 and 2021 Graduation and Post-graduation PG courses students across India. Those who did Technical and non-technical courses can eligible for TCS off campus drive and they are ready to for 2023 pass out and then apply online on or before the last date.
Tata Consultancy Services TCS hiring team is dedicated to the new hiring process for the entire year as per the schedule-wise and academic year. Students who are coming from Freshers and experienced backgrounds are eligible for the various posts schedule-wise. TCS has provided a new registration link for candidates who are looking for IT and Non-IT opportunities across India,
Where TCS will top giant organizations to recruit lakhs of candidates for FY 2023-24. This year TCS has decided to provide opportunities for freshers ad the recruitment drive will continue on new digital domain projects. Both freshers and experienced candidates can register for the TCS NextStep registration portal and keep the registration copy with them for future reference.
TCS hiring board scheduled the recruitment process as per the post wise. TCS has proposed for the application to receive the last date, candidates should check the application status, of those who are already applied for the TCS Off-campus drive (2022 & 2021) batch. Apply and wait for 24 hours for the status availability.
tcs off campus drive 2023
Those who have not applied for the TCS recruitment drive can fill out the online application form on or before the last date of the TCS Off Campus recruitment drive 2020. Candidates have to follow the below instructions from time to time for the latest TCS Job recruitment news.
FUTURE FORWARD CAREERS TCS Off Campus
TCS Off campus registration link is open for 2022 passout candidates. The last date for registration.
TCS new registrations will be scheduled on Nextstep for 2022 and 2021 passports, who have a minimum of 60% marks in all academic careers.
New recruitment TCS Drive is coming soon for 2022 and 2021 pass outs.
TCS announced more than 43000 new employees will be recruited soon.
TCS off campus drive will begin soon for freshers' hiring purposes.
For 2023, 2022, and 2021 Candidates get ready for the new registrations on the TCS Next Step official website.
Freshers and Experienced candidates are eligible.
nextstep tcs
Nextstep TCS was implemented for hiring eligible resources on their academic and recruitment online test and interview based. Nextstep TCS was the official source from the Tata Consultancy Services TCS HR department.
Candidates must not have any backlogs in their academic year and those are not eligible to attend the TCS Off Campus Drive 2022. Candidates must aware of this information. Candidates have at least 60% marks at the academic level so that candidates can eligible for TCS Off Campus Drive.
TCS Off Campus Eligibility
TCS hiring team has scheduled soon for 2021, 2022, 2023 candidates for the "Software Engineer Trainee" post, Candidates have to utilize the time for the 2023-24 recruitment process.
For 2023 passout candidates are eligible.
Full-Time Graduates from BBE/B.Tech/ME/M.Tech/M.Sc/MCA.
Preferably from the stream of Mass Media, Content creation and PR, Social media, Digital marketing, Publishing, English Literature, Journalism, Communication, Economics and Commerce, and Foreign language Skill.
50% throughout Academics in Xth and XIIth and Diploma (If applicable).
Only up to 1 Pending Backlog is allowed at the time of appearing for the Exam but needs to be cleared by the time the candidate joins TCS upon offer.
Overall Gap in Academic Career not to exceed 2 years.
tcs off campus package
TCS Off campus salary norms will depend upon the current market industry, and the TCS salary will be Rs.3 Lakhs to Rs.4 Lakhs.
TCS Off Campus Exam Pattern
For TCS Off Campus Process, candidates should always go through the Reasoning and Quantitative Aptitude, Programming skills for the selections. These three skills are very important for recruitment success.
Quantitative Aptitude
Reasoning (Verbal and Nonverbal)
English (General)
Programming ability
Examdays Private Jobs team suggests, Using the RS Agarwal Books for practice and practicing more and more questions and trying to solve the answers without seeing any solution.
If candidates practice more questions in the below sections then they are able to get passed out in the TCS Campus 2022-23 process.
TCS Hiring team always follows the below TCS Offcampus exam pattern for any selection (most common for all posts exam pattern).
| | | |
| --- | --- | --- |
| Name of the Sections | Exam Time | No. of Questions |
| Verbal Ability | 10 mins | 10 |
| Quantitative Aptitude | 40 mins | 20 |
| Programming Concepts | 20 mins | 10 |
| Coding | 20 mins | 1 |
| Total | 90 Minutes (1 Hour 30 Minutes) | 41 Q's |
TCS Online Test Assessment
It comprises five sections:
Verbal Ability (10 questions)
Reading Comprehension (4 questions)
Logical Reasoning (12 questions)
Quantitative Aptitude (12 Questions)
Data Interpretation (12 Questions).
Things Should Keep In Mind
As we observed in earlier online applications:
Candidates should submit an accurate date (Check the application before submission).
No spelling mistakes in the application form
No active backlogs
Accurate Details only
The photo should be recent only (never submit school level photos)
Provide the right info in right asked field only.
TCS off campus 2021 registration
The TCS Off-Campus registration is the last date, those who missed the earlier TCS Off-campus drive can apply now.
TCS Off Campus Drive Syllabus
The TCS off campus syllabus should have three levels as per the below mentioned, Candidates must prefer the RS Agarwal books and other standard books for preparation.
TCS off-campus examination was conducted as per the below give scheme, there is a time duration sectional wise, and a number of questions were asked sectional wise and there will be a cutoff mark for each sectional wise.
TCS Off Campus – Batch is a PAN India drive followed by a personal interview process. Post the assessment, the interview date, and location will be communicated to the candidates individually.
Section:2
Section:3
Section: 4
Apply for Wipro Off Campus Drive
Important Dates
TCS Off campus Registration Date: OPEN
Last date of online registration: NA
TCS Off campus test date: NA
Interview date will be announced later.
TCS Off Campus Registration
All Eligible Students or Candidates must visit the TCS Off Campus Drive 2023 Link
Click on the REGISTER NOW button and you will get a new window with the online application form.
Candidates have to fill in the Personal details, Contact details, Examination Center details, Qualification details, Upload Photo, and finally click declaration and enter the security captcha and click submit.
Once the above step is finished, you will get a unique registration number with a password.
How to Apply TCS NQT Online Guide
TCS Off Campus Hall Ticket
All interested candidates can download the TCS off campus Hall Tickets / Admit Cards from the below link will help to get TCS Off campus Hall ticket
All applied candidates can visit the official link: Download TCS Off-campus Hall ticket
Once a new window opens, log in with the candidate's details.
Once log in, navigate to the download hall ticket / Admit Card 2023 option and download it.
Candidates have to download the hall tickets and take the printout copy and attach any government proof id card xerox copy.
All the best.
TCS off campus drive 2023 date
The expected TCS Offcampus registration date is scheduled for August/September, candidates who have done 2022 and 2021 passports are eligible.
TCS off campus selection process
Online Assessment
Technical Interview
Personal Interview
Document Verification
TCS Off Campus Customer Care Number
TCS off campus tollfree number: 1800-209-3111 (TOLL-FREE)
last date for tcs off campus registration
The last date of the TCS off campus registration will be announced in June/July month for the offcampus of TCS (various processes).
myapps tcs
TCS Off Campus Drive 2023 Batch
TCS inviting online application forms 2023 passout candidates who have a minimum of 60% pass percentage criteria. 2022 pass-out candidates can register for TCS off Campus pass-out.
TCS Registration Process in Video, Watch Carefully and proceed accordingly.
TCS Upcoming Drive
TCS career opportunities like an open windows for both freshers and experienced candidates, If anyone is interested to work with TCS organization they can simply login into the nextstep portal and register as per the requirement. In TCS company, there are two types of opportunities 1. IT domain opportunists and 2. Non -IT opportunities. Both freshers candidates and experienced employees can register for TCS upcoming drive 2023 and prepare for them in now and attend the upcoming drives in the future.
When TCS 2023 Off campus release?
The expected date is October / November, TCS delaying off campus due to the Pandemic.
how can i get tcs off campus ?
Visit the tcsnextstep official website and register yourself and get selected in the TCS off campus.
How can I get TCS off campus Drive details?
You will get all TCS Off Campus drive details on examdays private jobs.
How to apply for TCS Off Campus drive?
Login to nextstep.tcs.com.
As soon as you log in click on "IT"
Click on "Register here"
The details such as name, address, email id, phone number, academic details, certifications appear on the screen.
Fill in the details given and click on Submit.
Where Can I check the result for TCS Off Campus drive?
Selected candidates get the mail for TCS off campus drive.
How can I get tcs off campus?
Only suitable candidates like 2022, and 2021 passouts can register for the TCS Next Step official step.
When will tcs conduct off campus for 2022 batch ?
For 2023-24 FY, Candidates can register first TCS Nextstep and you will get offcampus drive information to SMS and Email.
When will tcs conduct off campus?
Expected in the month of August/September.
how to apply tcs off campus ?
Visit the TCS NextStep and Apply for any category Jobs like IT/Support (BPO)
how to apply for tcs off campus 2023?
Only online can apply in tcsnextstep
How to get job in tcs off campus ?
Register for the Off campus and Clear the examination and Interview then you'll be selected for the TCS off campus.
how to prepare for tcs off campus ?
Prepare the Reasoning (verbal and non verbal), Aptitude, English, and Code Test
how to get selected in tcs off campus ?
Score maximum marks in the online assessment and technical interview.