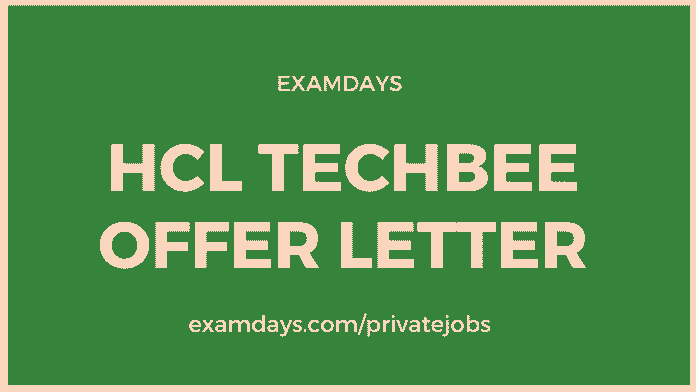 HCL Techbee Offer Letter: HCL Techbee offer letter has been sent to the selected candidates across India, still there will be recruitment is going on. Those who are selected and waiting for the offer letter after document verification, check the below details which may help you for the next round selection procedure.
Check the following details for HCL Techbee Offer Letter and related information, which may useful for the candidates who are willing to join in the HCL techbee curse.
HCL Techbee Offer Letter 2022
HCL Tech Bee Training program fee
Self payment mode Rs.2,36,000/-
Bank loan = Rs.30,000/- (Self Made- NEFT Transfer) and Rs.3,00,000/- (Bank loan).
NEFT Account Name and numbers are available on the Intent letter, we are not sharing due to security reasons.
Candidates can transfer either NEFT transfer or Demand draft (DD) either of one.
Once the payment is done, candidates will get LAPTOP from the HCL office, you have to use the same until 12 months of training and after training, you have to return the same.
hcl techbee fees
Fee Waiver
100% program fee waiver if candidates score the above 90% score in your 12 months training course.
50% program fee waiver if candidates score the above 85-89.99% score in your 12 months training course.
If bank loan, the amount will be paid by HCL.
If casg payment / NEFT transfer, amount will be returned by HCL.
Document Required After Selection
Signed Copy of the offer letter, acceptance letter, and declaration letter.
Bank Loan saction letter / NEFT advice
Class X marks sheet and Passing certificate
Class XII marks sheet and Passing certificate
Birth Certificate / 10th Certificate
Gove Photo ID Card (anyone)
Aadhar Card
Self Passport Size Photographs
Latest CV / Resume with embedded passport size photograph
Program Name, Location, and Batch
Candidates have to visit the nearest HCL office after confirmation from team or attend the Virtual mode training.
How to check hcl offer letter status
Training Program Structure, Curriculum
Classroom teaching / Sessions
Practice Labs
Online Learning
Assignments
Projects
Online Assessment
Incidental training components
Candidates should learn from classroom coaching, e-learning, practical labs work, project work, and assessments tests.
hcl techbee training fees
Once the HCL training is completed, the candidates undergo 6 (six) months of onboard work training either in BPO (Business process outsourcing) and IT (Information Technology) projects. Based on the candidate's performance, they will allocate to next-level projects along with the software engineer role.
Medical and Life Insurance Coverage
Upon selection, medical and life insurance coverage will be awarded to both employee and his/her family members (Spouse/Parents).
Admission Cancellation
If any candidates are found guilty (marks, qualification, degree, work experience, certificates), then the candidate will be terminated as soon as possible.
hcl techbee training center
Anywhere in the PAN India, which is must be near to candidates.