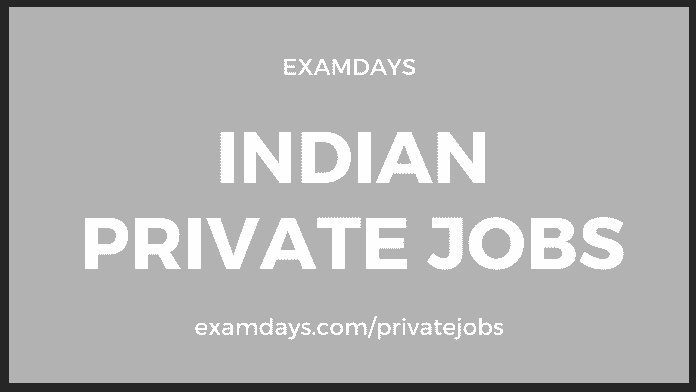 PaySlip Format Information: Mony of candidates trying for a different kind of employment in India and they are successfully getting into the Employment market but most of them not aware of How Salary Slip or Pay Slip look in India and What Employment Official Salary Slip in India, the complete Original slip is given a salary slip from the date of service.
Salary Slip contains most important information with detailed payment information, Where each payment has a unique name and source of income is added in the salary account. The below salary slip will illustrate your detailed information.
Excel Salary Certificate
Complete excel sheet has been updated with Benefits (DA, TA, HRA, Gratuity, Bonus, PF, Insurance, and other info)
Company Name with Logo (With Address and Phone Numbers)
Employee Name
Examdays Employee
UAN
XXXXXXXXX
Employee ID
ED21092
Work Location
Chennai
Designation
Analyst
LOP Days
0
Department
Financial
Worked Days
31
Date of Joining
02.12.2015
Bank A/C No
XXXXXXXXX
ESI Number
XXXXXXXXX
Earnings
Amount (Rs)
Deductions
Amount (Rs)
BASIC
8355.00
Provident Fund
1003
House Rent Allowance
3342.00
Professional Tax
200
Conveyance Allowance
1574.00
Medical Allowance
230.00
Special Allowance
3926.00
Attire Allowance
1230.00
Prof Pursuit Allowance
1230.00
Additional Allowance
445.00
21332.00
1203
Net Pay
20129.00
Amount in Words
Rupees Twenty Thousand One Hundred Twenty Nine only
Mode of Payment
Bank Transfer
Total Net Payable
20129.00
Salary Slip Format in India
PaySlip Format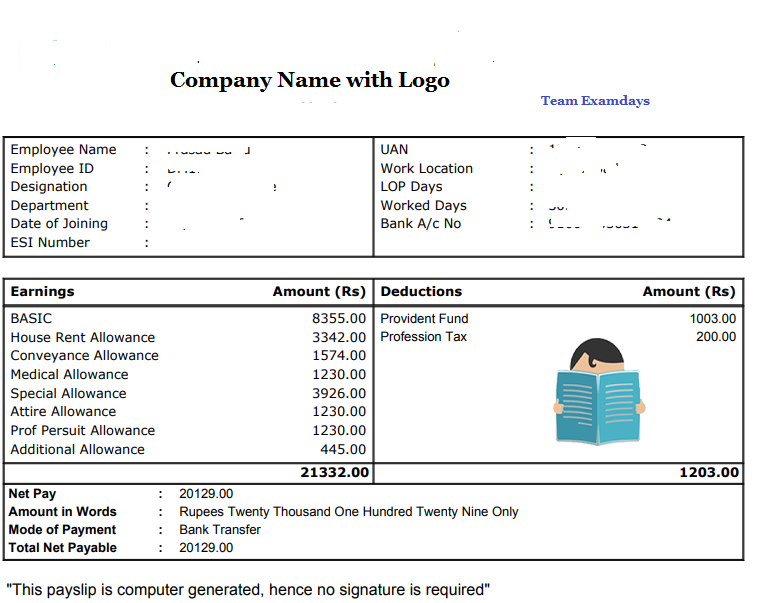 Observation on Salary Slip:
The Salary slip it's self-gives you whole information from employee name, designation, date of Joining, Number of working days, LOP (Loss of Pay) Days, Work Locations, and bank number (Bank name will be suggested by Company only. Most of the companies prefer Private Banks like Say Axis Bank, HDFC, ICICI) and Government Organisations prefer Government bank for salary account like say State Bank of India (SBI), Central Bank of India (CBI) and others who work as per the latest technology-wise with fast and efficient.
LOP: LOP Means Loss of Pay, which means, salary will be deducted from unapproved leaves (either it is half-day LOP or Full day LOP, all leaves are decided and approved by the concerned project manager only).
BASIC: Basic will depend upon the type of job and number of experience do candidates have.
House Rent: This will be paid for employees.
Medical Allowance, Conveyance Allowance, Special Allowance, Attire Allowance Prof Pursuit Allowance, Additional Allowance are common for all employees.
Over-Time (OT): OT will be different from a salary, and the OT is like an additional salary for additional hours work in the company. For example: If an employee work more than 8 hours he/she is eligible for OT and that should be approved by the project manager and a final report submitted to the HR department for salary finalize purpose.