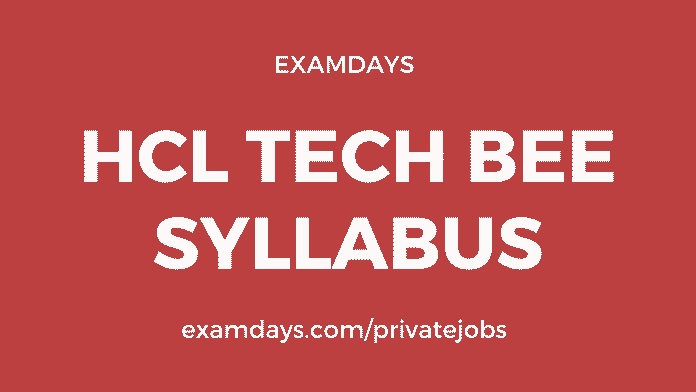 HCL Tech Bee Syllabus: HCL is conducting an online CBT examination for eligible candidates who already registered for the HCL Tech Bee Program 2022. All shortlisted candidates are called for the online assessment examination. The examination has been conducted across India.
Those who have been shortlisted, attend the examination and give the online assessment in the assigned exam center, and are shortlisted for the personal interview. Download the hcl techbee syllabus and it hcl exam pattern 2022 for exam preparation and follow the section-wise techbee exam pattern and prepare accordingly,
January 2022 Syllabus: New Syllabus is updated as per 2022 by HCL official update. Download from below and get prepared as per theTech Bee official syllabus.
Online CBT assessment
Personal interview
Document Verification
Assigning training centers as per the candidate's choice/preference.
HCL Tech Bee examination will be conducted online based on the Intermediate level standard, those who are completed intermediate, they can prepare for the various Aptitude, Reasoning, English, and General Knowledge related subject for cracking the HCL Tech Bee.
HCL Techbee Syllabus
[su_box title="HCL Tech Bee Syllabus" style="default" box_color="#F73F43″ title_color="#FFFFFF" radius="0″]
New HCL Tech Bee Syllabus PDF is added below, download it
The exam date is scheduled for July across India.
HCL Tech Bee exam pattern is released and updates the same.
HCL Tech Bee Syllabus is updated as per the official note
An intermediate-level online CBT exam will be conducted.
Online assessment and followed by Personal interview
Selected candidates will join the training.
Monthly Rs.10,000/- will be awarded during the training.
Once the training completed, they will be assigned to live project work anywhere in India.
[/su_box]
HCL Exam Pattern 2022
HCL exam pattern has been scheduled and available for the candidate's reference purpose, the details were listed below, HCL exam pattern 2022. As per the exam pattern, the HCL tech bee exam syllabus pdf is available for reference.
[su_table]
Category Wise
1. Verbal Reasoning
2. Quantitative Reasoning
3. Logical Reasoning
4. Essay Writing
HCL tech bee syllabus pdf
[/su_table]
Total Number of Questions: 100 Qs
Total number of Marks: 100 Marks
If candidates qualified in the entrance examination then have to face the interview with the HCL team for the final boarding into the HCL Tech Bee program.
Verbal Reasoning
Critical Reasoning
Paragraph farming
Sentence completion
Sentence correction
Quantitative Reasoning
Using arithmetic
Using algebra
Using Geometry
Using Statistics
Interpreting quantitative information
Logical Reasoning
Deductive and nonverbal reasoning
odd elements
Analytical puzzles
Spatial visualization
Mechanical reasoning
Perspective taking
Essay Writing
Candidates will have 15 minutes to write the essay and the word limit is 200 words.
HCL tech bee exam syllabus
The complete HCL Tech Bee exam pattern is given for the candidates who already registered for the course program.
| | | |
| --- | --- | --- |
| Section Wise | Number of Questions | Number of Marks |
| Quantitative Aptitude | 36 | 36 |
| Verbal & Non-Verbal | 36 | 36 |
| Logical Reasoning | 40 | 40 |
| Total | 112 | 112 |
hcl tech bee syllabus pdf
Techbee syllabus
Selected candidates are called for the training session at allocated centers across India. The training location will be a preference by the candidate.
Download Tech Bee Syllabus PDF (2022 Syllabus)
HCL Tech Bee Syllabus (Lates 2022 Official)
If you want to know more about the HCL Techbee syllabus and exam pattern then comment below for a quick response from #Examdays_PrivateJobs team.
HCL SAT Exam Date 2022
HCL sat exam date 2022 is not yet scheduled yet, those who are registered for the HCL TechBee then HCL techbee exam date will be sent to candidates SMS and mail before 10-15 days of the exam date.
After hcl techbee exam date, candidates have to schedule/book the slot on the HCL tech bee official website.
How to download HCL Tech Bee Syllabus?
Use the above syllabus and note it down
What is the HCL tech bee program?
It is a Software IT domain program, where candidates can train and provide 3/4 years degree from reputed colleges.
How is HCL tech bee?
Good course program for Software desirable candidates.