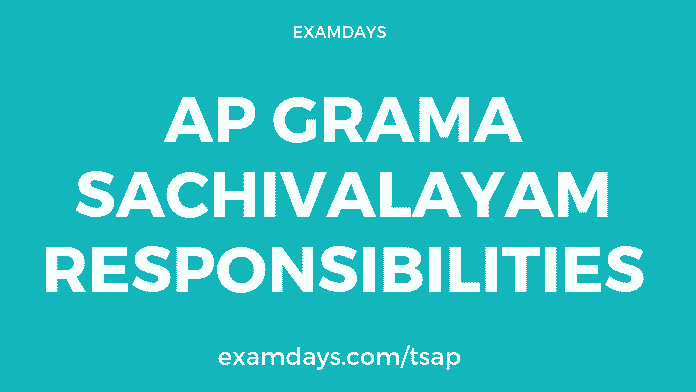 AP Grama Sachivalayam Responsibilities
AP Grama Sachivalayam Responsibilities: Andhra Pradesh State Sachivalayam notification is scheduled to release in a week, the official source information was available as on 18th July 2019. The chief secretary of Andhra Pradesh has addressed the Sachivalayam recruitment team on 18.07.2019 at 03:00 PM.
The Ward Responsiblities added on 08.11.2019 as per the Sachivalayam new update
AP Ward Secretary Roles and Responsibilities
The complete and official notification will be released in a week, the candidate should check the complete AP grama sachivalayam roles and responsibilities as per the post wise.
గ్రామా సచివాలయం విధులు బాధ్యతలు పుతి స్థాయి లో కింద ఇవ్వబడ్డాయి. అభ్యర్థులకు ఏమైనా సందేహాలు ఉన్నచో కామెంట్ బాక్స్ అడగవచ్చును.
మొత్తం 11 పోస్టులకి నోటిఫికేషన్ విడుదల కాబోతుంది, అభ్యర్థులు తమకు తగిన పోస్ట్ ని ఎన్నుకొని ప్రేపరషన్ మొదలు పెట్టండి.
AP Grama Sachivalayam Responsibilities
| | |
| --- | --- |
| Name of the Authority | Andhra Pradesh Grama Volunteer Recruitment Board (APGVRB) |
| Name of the Posts | Grama Secretariat |
| Number of Posts | 1,80,000 Vacancies |
| Qualification | Degree |
| Age Limit | 18 to 39 Years |
| AP Grama Secretariat Dead Line for Selections | 02.10.2019 |
| Selection Procedure | Written Examination |
| Official Website | psc.ap.gov.in |
AP Grama Sachivalayam Responsibilities
Those who are eligible for various posts of Grama Sachivalayam can submit the application as per the post. The selection process is not yet confirmed whether candidates can apply a single post or multiple posts at the time of registration.
Panchayat Secretary – Grama Sachivalaya Convenor, able to collect the Taxes, and other welfare work under the Grama Sachivalam area.
VRO (Village Revenue Officer) – Should monitoring the Land and Ration Food supply in villages.
Survey Assistant – Should surveyor of villages lands.
ANM – Should responsible for Villagers health monitoring and scheduling health camps in the village.
Veterinary & Fishnary Assistant –  Livestock, dairy and fisheries.
Women Police – Counselling, Security, and other important roles in villages.
Engineering Assistant – Water Supply, Grama Sachivalaya & Village Engineering works.
Electrical Assistant – Electricity supply and Street lights and it monitoring.
Agriculture MPEO's – Monitoring agriculture works, suggestions, marketing, and production reports.
Digital Assistant – Monitoring the village in Single Window System.
Welfare Assistant – Pension Distribution, Dwakra Mahila, house construction monitoring.
గ్రామా సచివాలయం విధులు బాధ్యతలు
పంచాయతీ కార్యదర్శి – గ్రామా సచివాలయ కన్వినర్, పారిశుద్యం, పన్నులు వాసులు, సంక్షేమ కార్యక్రమాలు.
VRO గ్రామ రెవెన్యూ అధికారి – భూముల పర్యావేక్షణ వ్యవహారాలు, పౌర సరఫరాలు.
సర్వే అసిస్టెంట్ – భూముల సర్వే.
ANM – గ్రామా ప్రజల ఆరోగ్య బ్యాద్యత, పర్యావేక్షణ.
వెటర్నరీ లేదా ఫిషరీస్ అసిస్టెంట్ – పశు వైద్యం, పాడి, చేపల పెంపక శాఖా.
మహిళల రక్షణ ఉద్యోగి – మహిళా పోలీస్, మహిళా రక్షణ, మహిళా కౌన్సిలింగ్.
ఇంజనీరింగ్ అసిస్టెంట్ – మంచి నీటి సరఫరా, పంచాయతీ లో సమస్యలు, ఇతర ఇంజనీరింగ్ పనులు.
ఎలక్ట్రికల్ అసిస్టెంట్ – విద్యుత్ సరఫరా, కనెక్షన్లు, విడి దీపాల పనులు.
అగ్రి హార్టీ కల్చర్ MPEO's – వ్యవసాయ లో సూచనలు ఇవ్వడం, మార్కెటింగ్, వ్యవసాయం ఉత్పత్తి.
డిజిటల్ అసిస్టెంట్ – సింగల్ విండో సిస్టం పర్యావేక్షణ గ్రామా లో, గ్రామా సచివాలయం లో.
వెల్ఫేర్ అసిస్టెంట్ – పెన్షన్ పంపిణి, పొదుపు సంఘాలు, ఇళ్ల నిర్మాణం.
అభ్యర్థులకు ఏమైనా సందేహాలు ఉన్నచో కింద ఇవ్వబడిన కామెంట్ బాక్స్ లో comment చేయగలరు.
AP Ward Secretary Roles and Responsibilities