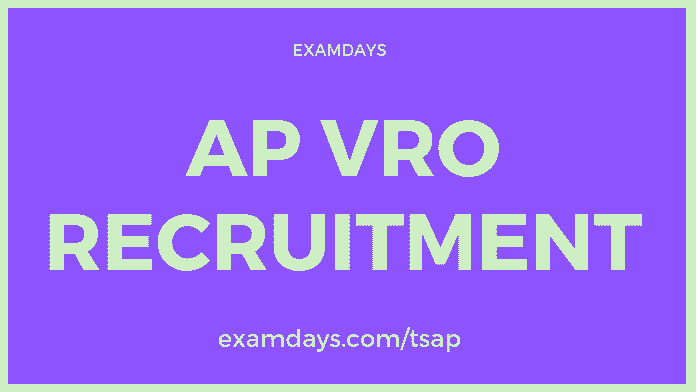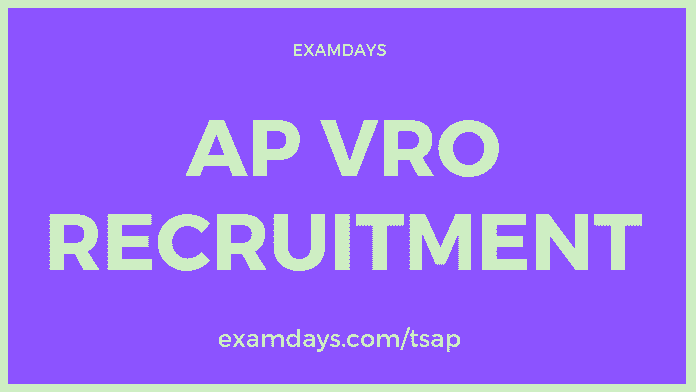 AP VRO Recruitment 2021: Andhra Pradesh State Public Service Commission APPSC in association with AP Village Revenue Department VRD is scheduled to release the Village Revenue Officer AP VRO Posts to fill the announced vacancies for FY 2021-2022. The online applications are accepted soon on the official website.
Those who are interested can submit the online application on or before the last date. Before submitting an online application, candidates should check the syllabus, previous papers, model papers, previous cutoff marks for the selection. the selection procedure, exam pattern, AP VRO Exam date, last date to apply online, eligibility, and other important information.
ఆంధ్రప్రదేశ్ విలేజ్ రెవెన్యూ ఆఫీసర్ వి‌ఆర్‌ఓ 2021-22 గాను మార్చి / ఏప్రిల్ నెలలో 2021 గాను వివిద జిల్లాలలో ఖాళీగా ఉన్న 3795 పోస్టులకు త్వరలో ఉద్యోగ ప్రకటన విడుదలకి సన్నాహాలు చేస్తునట్లు సమాచారం. అర్హులైన అబ్యర్డులు, ఇప్పటినుండే పోటీ పరీక్షకి సన్నదo అయితే వి‌ఆర్‌ఓ ఉద్యోగం తెచ్చుకునే అవకాశం ఉంది.
కాబట్టి అభ్యర్డులు వి‌ఆర్‌వై సిలబస్ ప్రకారం మాత్రమే పరీక్షకి ప్రిపేర్ కావాలి, పోటీ పరీక్షలో వచ్చే మార్కుల ఆదారంగా మాత్రమే ఉద్యోగానికి ఎన్నోకోబడతారు.
అర్హత పరీక్ష
సర్టిఫికేట్ పరిశీలన
ఈ ఉద్యోగ ఎంపికలో, అర్హత పరీక్ష కీలకం కన్నున్నది, అబ్యర్ది రిసర్వేషన్ ప్రకారం మరియు సర్టిఫికేట్ పరిశీలన అనంతరం స్థానిక జిల్లా ఆదారంగా తుది ఎంపిక చేసి అక్కడే పోస్టింగ్ ఇవ్వడం జరుగుతుంది.
ఆంధ్రప్రదేశ్ లో అత్యున్నత మైన గవర్నమెంట్ లో చాలా భద్రత గల ఉద్యోగం (వి‌ఆర్‌ఓ), ఆర్దిక శాఖలో జీతాలు చాలా ఎక్కువ ఉండడం తో పాటు benefits కూడా అందుబాటులో ఉనతాయి. బద్రతమైన ఉద్యోగం మరియు సామాజిక స్థితి కలిగిన ఉద్యోగం.
AP VRO 2021 Notification
09.05.2021 Update: AP VRO 2021 Notification released in the Sachivalayam Post notification and details will be available in AP Calendar 2021.

For 2021-22 year, Intermediate candidates are also eligible for the VRO post.
There are 3000+vacancies are released soon.
Expected date for the AP VRO 2021 Notification is June 2021.

AP VRO new notification 2020 for 3795 vacancies will be released soon.
The new notification information was released in the SAKSHI Telugu AP newspaper.
Intermediate OR Equivalent course is eligible for the VRO post.
Furthermore information is available on this page for the candidate's reference purpose.
AP VRO Notification 2021
| | |
| --- | --- |
| Name of the Authority | Andhra Pradesh State Public Service Commission APPSC |
| Name of the Posts | Village Revenue Officer VRO |
| Number of Posts | 3795 Vacancies |
| Qualification | 10th/Inter/degree/graduation |
| Age Limit | 18 to 42 Years |
| Notification Expected date | June 2021 |
| Selection Procedure | Written Test & Document Verification |
| Official Website | gramasachivalayam.ap.gov.in |
ap vro 2021 notification
AP VRO Eligibility
SSC with National Council of vocational training certificate in Draughtsman (Civil) trade 2 years Course with Surveying as one of Subject OR
Intermediate (10+2) OR Degree OR B.Tech OR any higher Qualification.
Should have minimum pass marks, there are no cut off marks.
Should be native of Andhra Pradesh AP State for local reservation.
Should Speak, Write, Read Telugu, English Languages.
Local candidates are preferable.
AP VRO Age Limit
Candidates should have age between the 18 to 42 Years as on notification date. Age relaxation is applicable as per the reservation wise.
OBC Candidates: 3 Years of relaxation.
SC/ST Candidates: 5 Years of relaxation.
Ex-Serviceman: 3 Years of relaxation.
PWD candidates: 3 Years of relaxation.
AP VRO VRA Salary
The AP VRO and VRA are based on the 7th pay commission.
AP VRO VRA Posts
General revenue duties in the village.
Duties of survey & inspection.
Involve with police in all kinds of police functions.
Participate in all welfare & developmental aspects.
Assist in electoral functions.
Protect Government-related assets & properties.
MRO issuing the certificates should be certified to villagers.
AP VRO Application Fee
For General / OBC Category Candidates Application Fee: Rs.200/- and 200/- (Processing application fee) (Complete Application Fee Rs.200/-)
SC / ST /EX-Serviceman / PWD Category Candidates is Rs.200/-
AP VRO Vacancies
AP VRO Selection Procedure
The AP VRO Posts are selected by Written Test in Telugu and English Medium.
AP VRO exam conducted mostly in the offline method as per the previous recruitment process.
Selection Process is based on the Written Test and Followed by Document Verification.
AP VRO Exam Pattern
Written examination (Objective type)
No.of Questions
Exam Time
Max Marks
Part – A: General studies and mental ability
50
50
50
Part – B: Drawing and survey Syllabus
100
100
100
TOTAL
150 Marks
ap vro 2021 notification
AP VRO Notification dates
Date of official notification date: June 2021
Date of commencement of notification date: June 2021
Date of the online application date: June 2021
Last date of online application: June / July 2021
AP VRO Hall Ticket date: August 2021
AP VRO Online Application
Those who are eligible for the AP VRO examination can apply online on or before the last date.
The online application is available on the official website psc.ap.gov.in from Jan/March 2021 onwards.
Candidates should use the required information for the submission of the online application form.
Make the online application fee (if required as per the reservation). Once the online application submitted, take the printout for reference.
AP VRO Exam Date
Andhra Pradesh AP Village Revenue Officier VRO exam date is scheduled to conduct the exam soon.
AP VRO Exam Name
Andhra Pradesh Village Revenue Officier Posts (AP VRO) Posts
Conclusion
Andhra Pradesh State Village Revenue Officer AP VRO posts are permanent government jobs, which is posted across all the villages of AP, based on the candidate native place and priority wise (as mentioned in the registration form). Aspirants should apply online from January 2020 onwards.
If candidates have any further questions and doubts can comment below for clarifications.
When AP VRO 2021 notification?
June 2021
How to become VRO in AP?
Prepare for the latest syllabus wise and attend the examination and score more than 75% and get the VRO job.
How to apply for VRO posts in ap online?
Follow the above screen guidelines and apply online along with online application fee.
How to apply for VRO and VRA posts in AP?
Follow the APPSC guidelines.
When VRO notification released in AP?
Expected date is July/August 2020
What is the role of VRO in AP?
Village wise revenue generation from all possible aspects according to government guidelines.
AP VRO notification 2021 apply the last date?
June 2021
Ap VRO VRA Selection Procedure.?
Written test & document verification
What is the official website for AP VRO Post apply.?
gramasachivalayam.ap.gov.in