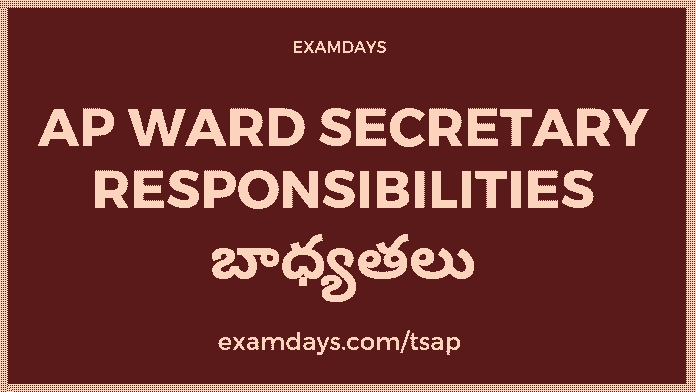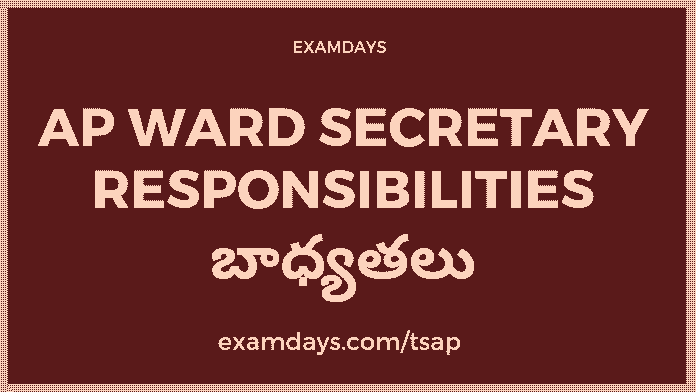 AP Ward Secretary Responsibilities
AP Ward Secretary Responsibilities: Andhra Pradesh State scheduled to fill the more than 34, 723 vacancies for the 2019-2020 year as per the Panchayati department recruitment. The candidates have to fill the application on or before the last date. The online application link date is not yet confirmed by the Panchyati recruitment dept.
Total Number of Grama Sachivalam's: 11,114 | 99,144 New Vacancies
Total Number of Ward Sachivalayam's: 3,786 | 34, 723 New Vacancies
Total number of Grama and Ward Sachivalayam's: 14,900
As per 18th July 2019, the Chief Secretary of AP is discussing recruitment process and salaries, source of funds, and other important information with recruitment officials.
SC, ST, BC, and Minority candidates have much exposer in these Grama and Ward Sachivalayam Posts
All Posts are Government Permanent posts only,
Department Wise Notification will be released in a week (As per official Sources)
AP Ward Secretary Responsibilities
| | |
| --- | --- |
| Name of the Authority | Andhra Pradesh State Secretary Department  /  ఆంధ్రప్రదేశ్ రాష్ట్ర కార్యదర్శి విభాగం |
| Name of the Posts | Ward Secretary / వార్డ్ కార్యదర్శి |
| Number of Posts | 40,000 Vacancies |
| Qualification | Degree, Engineering (B.E/B.Tech), M.Sc |
| Age Limit | 18 to 36 Years |
| Last Date to Apply Online | Notified Later |
| Selection Procedure | Written Exam & Document Verification |
| Official Website | wardsecretary.ap.gov.in |
AP Ward Secretary Responsibilities
Secretary of Ward Administration – General administration, coordination, problem-solving, public responses, and municipal tax collections.
Secretary of Ward Facilities – Water Supply, Civil Facilities, Roads, Sewers, Calves, Cemeteries.
Secretary of the Environment – Solid, Liquid Waste Management, Environmental Protection, Animal Care.
Ward Education Secretary – Municipal Education, Amma Vodi, Scholarships, Fee Reimbursement, Key Statistics, Culture, Festivals.
Planning and Regular Secretary – Urban & town planning, land use, corridor building, fire prevention dept., water conservation,
Secretary of Welfare Development – SC, ST, BC, Minorities, Youth Employment, Graduation, Poverty Alleviation, YSR Barosa, YSR Pension Scheme.
Ward Energy Secretary – Spare Lights, Electricity Supply, Subsidy.
Secretary of Ward Health – Public Health, Birth Mortality Registration, YSR Arogya Sree, YSR Insurance, Comprehensive Child Development Schemes.
Ward Revenue Secretary – Land Administration programs, issuance of civil supplies, digitization certificates, disaster management.
Ward Secretary of Defense for Women and Weaker Communities – Women Security, Prevention of Women unsecure activties, and ban of alcohol.
ఆంధ్ర ప్రదేశ్ వార్స్ సెక్రటరీ విధులు బాధ్యతలు
ఆంధ్ర ప్రదేశ్ వార్స్ సెక్రటరీ విధులు బాధ్యతలు మరియు వాటి వివరాలు 
మునిసిపల్ పట్టాభివృద్ది శాఖా లో విధులు నిర్వహించాల్సింది గ ఉంట్టుంది, అభ్యర్థులు తమకు నచ్చిన పోస్టులలో శాఖలను ఎంపిక చేసుకునే వెసులు బాటు ఉన్నది, అది ఆన్లైన్ లో అప్లికేషన్ ఫారం లో పూర్తి వివరాలు ఇవ్వాలి, తదుపరి లో మార్పులో ఉండవు.
మునిసిపల్ పట్టాభివృద్ది శాఖా, ఇంధనం, వైద్య మరియు ఆరోగ్యం మరియు పోలీస్ (హోమ్ శాఖా) లు వార్డ్ కార్యదర్శి పోస్టులలో ఉందును, కావున, అభ్యర్థులు సరియైన పోస్టును ఎంపిక చేసుకొని ఆన్లైన్ లో అప్లై చేసుకోవాలి,
వార్డ్ పరిపాలన కార్యదర్శి – సాధారణ పరిపాలన, సమన్యాయం, సమస్యల పరిష్కారణం, ప్రజా స్పందనలు, మునిసిపల్ పన్నుల వసూళ్లు.
వార్డ్ సౌకర్యాల కార్యదర్శి – నీటి సరఫరా, పౌర సౌకర్యాలు, రోడ్లు, మురికి కాలువలు, కాల్వక్షులు, స్మశాన వాటికలు,
పారిశుధ్య పర్యావరణ కార్యదర్శి – ఘానా, ద్రవ వ్యర్దాల నిర్వహణ, పర్యావరణ పరిరక్షణ, జంతు సంరక్షణ,
వార్డ్ విద్య కార్యదర్శి – మునిసిపల్ విద్య, అమ్మ వోడి, స్కాలర్షిప్స్, ఫి రేయింబర్సుమెంట్, కీలక గణాంకాలు, సంస్కృతి, పండుగలు.
ప్లానింగ్ మరియు రెగ్యులర్ కార్యదర్శి – urban & టౌన్ ప్లానింగ్, భూమి వినియోగం, పట్టాన గృహ నిర్మాణం, అగ్నిమాపకం, పట్టాన అటవీకరణ, నీటి సంరక్షణ,
సంక్షేమ అభివృద్ధి కార్యదర్శి – SC, ST, BC, Minorities తదితరాల యువత ఉపాధి, పట్టాన, పేదరిక నిర్ములన, వైస్సార్ ఆసరా , వైస్సార్ చేయూత, వైస్సార్ పెన్షన్ పథకం.
వార్డ్ ఇంధన కార్యదర్శి – విడి దీపాలు, విద్యుత్ సరఫరా, సబ్సిడీ.
వార్డ్ ఆరోగ్య శ్రీ కార్యదర్శి – ప్రజారోగ్యం, జనన మరణాల నమోదు, వైస్సార్ ఆరోగ్యశ్రీ, వైస్సార్ బీమా, సమగ్ర శిశు అభివ్రిద్ది పథకాలు.
వార్డ్ రెవిన్యూ కార్యదర్శి – భూపరిపాలన కార్యక్రమాలు, పౌర సరఫరాలు, డిజిటిలిజషన్ సర్టిఫికెట్లు జారీ, విపత్తు నిర్వహణ.
వార్డ్ మహిళా, బలహీన వర్గాల పరిరక్షణ కార్యదర్శి – శాంతి భద్రతలు, మహిళలు- బలహీన వర్గాల ఫై అత్య చారాల నిరోధం, సంబంధిత సేవలు, మద్యపాన నిషేధం.
అభ్యర్థులకు ఏమైనా సందేహాలు ఎన్నచో కింద ఇవ్వబడిన కామెంట్ బాక్స్ లో comment చేసి సందేహాలకు సమాదానాలు పొందగలరు.