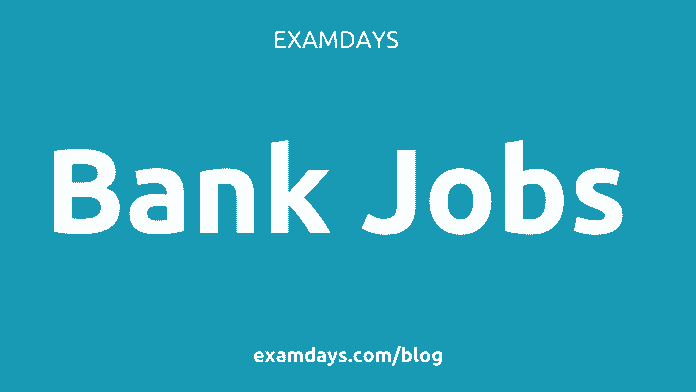 Bank Job Notification: Are you looking for Indian private and public government bank jobs, bank sector releasing a huge number of vacancies across PAN India, aspirants who are looking for Bank jobs have to check the detailed number of jobs that are frequently recruited in both private and public sector domains.
In India, There are 12 public sector banks, 21 private sector banks, and 43 regional rural banks are working across the PAN India. Also, some foreign banks are working in India with limited facilities.
These are the banks, in which both private and public sector banks are recruited the huge number of vacancies on yearly based and whenever manpower required then banks are released the half-yearly based recruitment notifications.
In India, there are certain banks are merged after Digitalization, many banks are working with the same manpower but they are working under the same financial umbrella.
SBI Bank Jobs
Public Sector Banks Recruitment
Private Sector Banks
| | |
| --- | --- |
| Bank Name | Vacancies |
| Axis Bank Recruitment 2022 | ## |
| Bandhan Bank Recruitment 2022 | ## |
| CSB Bank Recruitment 2022 | ## |
| City Union Bank Recruitment 2022 | ## |
| DCB Bank Recruitment 2022 | ## |
| Dhanlaxmi Bank Recruitment 2022 | ## |
| Federal Bank Recruitment 2022 | ## |
| HDFC Bank Recruitment 2022 | ## |
| ICICI Bank Recruitment 2022 | ## |
| IDBI Bank Recruitment 2022 | 920 posts |
| IDFC First Bank Recruitment 2022 | ## |
| IndusInd Bank Recruitment 2022 | ## |
| Jammu & Kashmir Bank Recruitment 2022 | ## |
| Karnataka Bank Recruitment 2022 | ## |
| Karur Vysya Bank Recruitment 2022 | ## |
| Kotak Mahindra Bank Recruitment 2022 | ## |
| Nainital Bank Recruitment 2022 | 150 posts |
| RBL Bank Recruitment 2022 | ## |
| South Indian Bank Recruitment 2022 | ## |
| Tamilnad Mercantile Bank Recruitment 2022 | ## |
| Yes Bank Recruitment 2022 | ## |
Misc Banks
Bank Jobs in Andhra Pradesh
| | |
| --- | --- |
| Bank Name | Vacancies |
| Andhra Pradesh Grameena Vikas Bank | ## |
| Andhra Pragathi Grameena Bank | ## |
| Chaitanya Godavari Gramin Bank | ## |
| Saptagiri Gramin Bank | ## |
Bank Jobs in Arunachal Pradesh
| | |
| --- | --- |
| Arunachal Pradesh Rural Bank | ## |
Bank Jobs in Assam
| | |
| --- | --- |
| Assam Gramin Vikash Bank | ## |
Bank Jobs in Bihar
| | |
| --- | --- |
| Dakshin Bihar Gramin Bank | ## |
| Uttar Bihar Gramin Bank | ## |
Bank Jobs in Chhattisgarh
| | |
| --- | --- |
| Chhattisgarh Rajya Gramin Bank | ## |
Bank Jobs in Gujarat
| | |
| --- | --- |
| Baroda Gujarat Gramin Bank | ## |
| Saurashtra Gramin Bank | ## |
Bank Jobs in Haryana
| | |
| --- | --- |
| Sarva Haryana Gramin Bank | ## |
Bank Jobs in Himachal Pradesh
| | |
| --- | --- |
| Himachal Pradesh Gramin Bank | ## |
Bank Jobs in Jammu And Kashmir
| | |
| --- | --- |
| Ellaquai Dehati Bank | ## |
| Jammu And Kashmir Grameen Bank | ## |
Bank Jobs in Jharkhand
| | |
| --- | --- |
| Jharkhand Rajya Gramin Bank | ## |
Bank Jobs in Karnataka
| | |
| --- | --- |
| Karnataka Gramin Bank | ## |
| Karnataka Vikas Grameena Bank | ## |
Bank Jobs in Kerala
Bank Jobs in Madhya Pradesh
| | |
| --- | --- |
| Madhya Pradesh Gramin Bank | ## |
| Madhyanchal Gramin Bank | ## |
Bank Jobs in Maharashtra
| | |
| --- | --- |
| Maharashtra Gramin Bank | ## |
| Vidarbha Konkan Gramin Bank | ## |
Bank Jobs in Manipur
Bank Jobs in Meghalaya
Bank Jobs in Mizoram
Bank Jobs in Nagaland
Bank Jobs in Odisha
| | |
| --- | --- |
| Odisha Gramya Bank | ## |
| Utkal Grameen Bank | ## |
Bank Jobs in Puducherry
| | |
| --- | --- |
| Puduvai Bharathiar Grama Bank | ## |
Bank Jobs in Punjab
Bank Jobs in Rajasthan
| | |
| --- | --- |
| Rajasthan Marudhara Gramin Bank | ## |
| Baroda Rajasthan Kshetriya Gramin Bank | ## |
Bank Jobs in Tamil Nadu
Bank Jobs in Telangana
| | |
| --- | --- |
| Telangana Grameena Bank | ## |
Bank Jobs in Tripura
Bank Jobs in Uttar Pradesh
| | |
| --- | --- |
| Aryavart Bank | ## |
| Baroda UP Bank | ## |
| Prathama UP Gramin Bank | ## |
Bank Jobs in Uttarakhand
| | |
| --- | --- |
| Uttarakhand Gramin Bank | ## |
Bank Jobs in West Bengal
| | |
| --- | --- |
| Bangiya Gramin Vikash Bank | ## |
| Paschim Banga Gramin Bank | ## |
| Uttarbanga Kshetriya Gramin Bank | ## |
About Banks
Public Sector Bank Name
Merged Banks
Bank of Baroda
Vijaya Bank and Dena Bank
Bank of India
#
Bank of Maharashtra
#
Canara Bank
Syndicate Bank
Central Bank of India
#
Indian Bank
Allahabad Bank
Indian Overseas Bank
#
Punjab and Sind Bank
#
Punjab National Bank
Oriental Bank of Commerce & United Bank of India
State Bank of India
State Bank of Indore
State Bank of Mysore
State Bank of Patiala
State Bank of Saurashtra
State Bank of Travancore
State Bank of Bikaner & Jaipur
State Bank of Hyderabad
Bhartiya Mahila Bank
UCO Bank
#
Union Bank of India
Andhra Bank & Corporation Bank