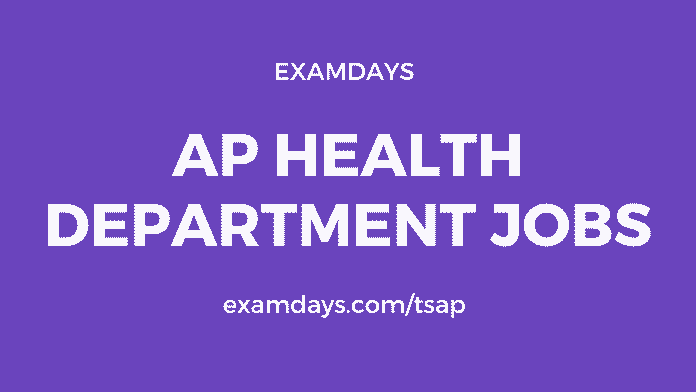 Andhra Pradesh State (A.P.) Medical Health Department has 5526 vacancies across the State-wise Government Hospitals and other aided hospitals. The departmental discussions are still under review mode, After permission from the Finance department. The APPSC Commission board will release the various posts notification in Feb/March 2020 (Tentative Dates).
The recruitment will be conducted as per the "Indian Public Health Standards (IPHS)", As per sources, a total of 7000 Posts are vacancy but the finance department may permission for 5526 vacancies. The possible notification may release in the month of FEB/March 2020.
AP Medical Jobs 2020
June 26th 2020 Update: AP State Government released Medical Posts on Staff Nurse, Lab Technician, and Pharmacist Posts, check below.
AP Medical Notification is released for various posts, offline application forms are available as per district wise.
Offline applications submission date is from 23.06.2020 onwards
The last date of the offline application is varied as per the district wise, check the district wise notification form on the official website.
Offline application forms are available only on District wise.
Visit the district wise AP official website and submit the application form as per the notification instructions wise.
AP Health Department Jobs
For 5526 vacancies, the notification will be available on the APPSC calendar 2020, until candidates has to wait for the AP Health department jobs 2020, mean while candidates can start the preparation for the Staff Nurse and other available posts.
ఆంధ్ర ప్రదేశ్ రాష్టంలో హెల్త్ కేర్ లో వివిద పోస్టులకు నోటిఫికేషనులు విడుదల కాబోతునాయి. కింద కొన్ని పోస్టుల జాబితాను అబ్యర్డుల అవగాహన కోసం ఇవ్వబడ్డాయి, ఇవే కాక మరి ఎత్తరా పోస్టులు కూడా విడుదల చేసే అవకాశాలు ఉన్నాయి. కావున అబ్యర్డులు ఇప్పటినుండే ఈ క్రింద ఇవ్వబడిన పోస్టులకు ఇప్పటినుండే ప్రిపేర్ అయ్యేతే పరీక్ష సమయానికి పూర్తి కాలాన్ని వినియోగించుకున్న వారు అవుతారు.
స్టాఫ్ నర్స్
అసిస్టెంట్ ప్రొఫెసర్ (మెడికల్ – వివిద డిపార్ట్మెంట్)
లబ్ టెక్నీషియన్
లబ్ అసిస్టెంట్
సివిల్ అసిస్టెంట్ సర్జన్
రేడియొ గ్రాఫర్
థియేటర్ అసిస్టెంట్
జూనియర్ అసిస్టెంట్
ఎం‌ఎన్‌ఓ/ఎఫ్‌ఎన్‌ఓ
ఆఫ్తమాలిక్ అసిస్టెంట్
ఏ‌పి హెల్త్ డిపార్ట్మెంట్ జాబ్స్ 2020
ఆంధ్రప్రదేశ్ రాష్టం లో హెల్త్, ఏ‌ఎన్‌ఎం, పారమేడికల్ డిపార్ట్మెంట్ లో నెలకొన్న ఖాళీలను బర్తి చేయడానికి సన్న్హాలు చేస్తునారు, మరింత సమాచారం అందుబాటులోకి రాగానే ఇదే పేజీ లో పోస్ట్ చేయడం జరుగుతుంది. అర్హులైన అభ్యర్డులు క్రింద ఇవ్వబడిన పోస్టులకు ఇప్పటినుండే ఎంచుకున్న పోస్టుకి preparation మొదలు పెట్టాలి.
ఎక్సామ్ డేస్ లో ఎప్పటి కప్పుడు పూర్తి సమాచారం అందుబాటులోకి తేవడానికి మేము అన్నీ విదాలుగా సహకారం అందిస్తాం.
AP Health Department Selection Procedure
Written Test
Document Verification/Interview
Medical Test
AP Health Department Vacancies
The List of vacancies are given below for the candidates reference purpose, the below AP health Department job vacancies mat varied but filling post are same. Candidates can check the detailed information below as per post wise and estimated vacancies.
The expected vacancies are 5526, and further information on vacancies are not available, candidates have to wait for the final AP Health department jobs 2020. Candidates should aware of the AP related posts on Healthcare department jobs 2020.
సెలెక్షన్ విదానo
ఆంధ్రప్రదేశ్ మెడికల్ పోస్టులలో. సెలెక్షన్ పూర్తిగా పరీక్ష విదనం లో చేపడుతారు, ఎక్కువ మార్కులు సంపాదించిన అబ్యర్డులను ఖాళీ పోస్టుల ఆదారంగా మరియు రిసర్వేషన్ ఆదారంగా నియమకాలు చేపడుతారు. కావున అబ్యర్డులు పరీక్ష లో ఎక్కువ మార్కులను సంపాదించనికి కృషి చేసిన వారికి మాత్రమే ఉద్యోగం లబిస్తుంది.
నోటిఫికేషన్లు ఎప్పుడు విడుదల అవ్వుతాయి
ఆంధ్రప్రదేశ్ రాష్ట ముఖ్యమంత్రి వై‌ఎస్ జగన్ మోహన్ రెడ్డి అద్యర్వంలో "ఏ‌పి కాలెండర్ 2020 " ప్రకారం, వివిద శాఖలకు సంబందించిన పోస్టుల వివరాలతో పాటు రాష్టంలో నెలకొన్న అన్నీ ఖాళీలను పరిశీలనలోకి తీసుకొని March నెలలో కాలెండర్ ను విడుదల చేసే అవకాశాలు ఉన్నాయి.
అదే కాలెండర్ లో ఏ‌పి హెల్త్ డిపార్ట్మెంట్ లో వివ్ద శాఖలకు ఖాళీలను ఎంపిక చేసి నోటిఫికేషన్స్ ని విడుదల చేసే అవకాశం ఉన్నది.
| | |
| --- | --- |
| Post Name | Vacancies |
| Civil Assistant Surgeon | 814 |
| Staff Nurse | 1252 |
| Pharmacist Grade 2 | 365 |
| RadioGrapher | 146 |
| Ophthalmic Assistant | 237 |
| Lab Technician | 396 |
| Theatre Assistant | 367 |
| PMOO | 16 |
| MNO/FNO | 255 + 212 |
| Radiographer | 25 |
| Pharmacist | 324 |
Important Dates
Notification date: 22.06.2020
Offline application form date (start): 23.06.2020
Last date of the offline application form: 22.07.2020
Offline application form scrunity: 05.08.2020
Verification of offline application forms and document verification: 10.08.2020 to 14.08.2020
Download Official Notification (updated on 23.06.2020)
AP Health Teaching Jobs
Andhra Pradesh (A.P.) Medical Teaching Posts are recruitment under the APPSC Commission, in AP State, a total of 1015 vacancies are available, After YS Jagan Mohan Reddy Oath as CM, there is no post is recruited under the Health Department. Health departmental Officials are discussing with the finance department for the approval of vacancies. Once the Finance department approval then APPSC commission will release the schedule for the recruitment drive.
AP Health Department Notification 2020 – Available Soon
| | |
| --- | --- |
| Assistant Professors | 263 |
| ParaMedical Posts | 600 |
| Nurse | 150 |
Join the group for an instant update
Telegram Group Facebook Group
Download AP Paper Notice 03/01/2020
Ministry of health and family welfare ap
The detailed information was scheduled for the next APPSC Calendar 2020. Eligibility candidates can verify the details in the above post.
When AP health Department Jobs 2020 Notification Will Release.?
As per expectation, the Notification in June 2020
How Many Vacancies in the Staff Nurse Post.?
1618 Vacancies (tentative)
How to Apply for AP Health Department Jobs 2020.?
Once the notification is out, Candidates can apply from APPSC Commission Website
AP Medical Assistant Professors Vacancies for 2020.?
263 vacancies (Expected Posts)
How many AP Paramedical Posts for 2020 FY Year.?
Almost 600 vacancies (tentative).