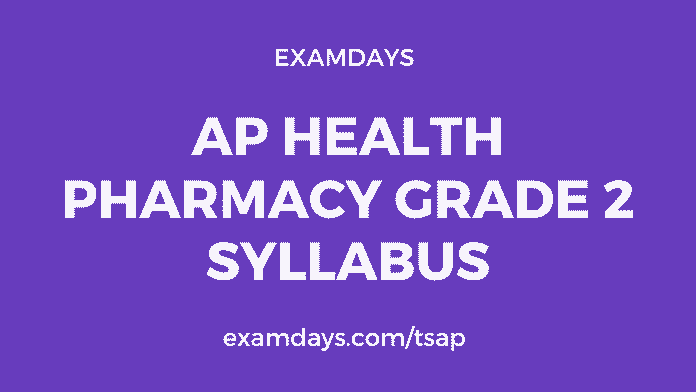 AP Pharmacist Grade 2 Syllabus
AP Pharmacist Grade 2 Syllabus: Andhra Pradesh State Health Department Pharmacist Grade 2 syllabus is posted below for candidates' reference purposes. AP health department notification is scheduled to be released in the middle of 2021 years as per the AP health department sources. Now, candidates should use available time for the exam preparation, no need to wait for the Health department notification.
The Ap Pharmacist examination syllabus posted only technical paper, other sections like Aptitude, Reasoning, English, and General Awareness is not posted here (Common syllabus for every paper).
Question paper is available in English Medium only.
There will be negative marks in the examination.
Exam mode is offline OR online (not confirmed).
The examination is conducted in Andhra Pradesh State only.
Local candidates get preference.
AP Health Pharmacist Grade 2 Syllabus
Health Education & Community Pharmacy
Environmental Hygiene
Pharmaceutics
Accountancy
Computers in Nursing
TB & Chest
Drug Store Management
Medical-Surgical Nursing
Sociology
Psychiatric Nursing
Human Anatomy & Physiology
Paediatric Nursing
Biochemistry
Midwifery & Gynaecological Nursing
Pharmacognosy
Orthopedics.
Microbiology
Nursing Management
Personal Hygiene
Health Education & Communication Skills
Mental Health
Psychology
Fundamentals of Nursing
Pharmaceutical Jurisprudence
Nutrition
Hospital & Clinical Pharmacy
Pharmacology
Community Health Nursing
Psychiatry.
Toxicology
Pharmaceutical Chemistry
Anatomy & Physiology
First Aid
Clinical Pathology
PDF Syllabus Copy Updated Soon
When AP Health Pharmacist Notification 2021 released.?
As of now, No information is available from the AP Health Department.
Are AP Health Department exams are conducted by APPSC.?
No, Health department recruitment is conducted by the Health dept only.
Is AP Health Department Jobs Permanent.?
Yes, After the probation period, the job is converted.
How to Download AP Pharmacist Syllabus PDF.?
Currently not available, we will post a PDF link soon – Read More