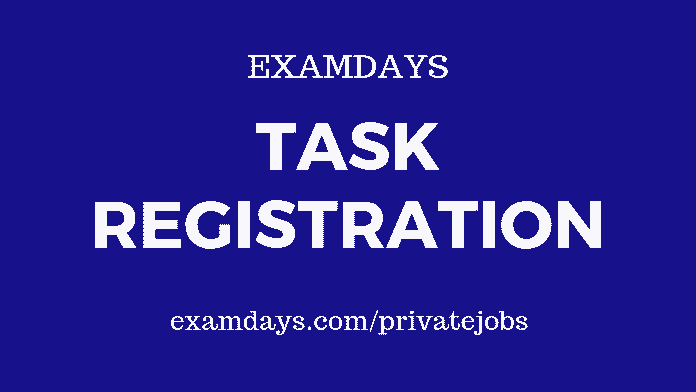 Task Registration 2022: Telangana Academy for Skills and Knowledge TASK is the Government of Telangana body that is working for Engineering and Non-Engineering students, those who are looking for job opportunities across India. the TASK will allow both technical and nontechnical candidates across the state. Those who have completed Degree / Graduation / Post Graduation, are eligible for the various off-campus and Walk-in drive recruitment in Telangana.
Candidates always eye on the TASK registration 2022 online application form, once the online is open then fill out the task registration form along with college information and submit it accordingly. TASK application form is available in mid of every year for the new registrations.
Who are Eligible
Those who are completed engineering, degree, post-graduation, Law, fashion design, Certificate course, and other courses in Telangana colleges/universities.
Most the IT and Non-IT companies will use the TASK Hyderabad Consultancy for immediate recruitment. Only Recent passports and having experience not more than 3 years of experience candidates are eligible.
How to register
Eligible candidates have to pay the online application fee as per the course selected and apply only (Make sure that, your college / Insitute / University must be in Telangana State). Other than Telangana state, are not eligible.
Only those who have completed their studies in Telangana (Recent Education) are eligible.
TASK Registration 2022
| | |
| --- | --- |
| Name of the Authority | TS Academy for Skills & Knowledge Hyderabad |
| Name of the Posts | Off Campus & Walk-In Interviews |
| Package | As per Industry Standard |
| Qualification | B.E/B.Tech / Degree/ MCA/MBA/PGDM/PG/Pharmacy/Polytechnic |
| Passout Batch | As per Company Requirements. |
| Domain | IT & Non-IT |
| Official Website | task.telangana.gov.in |
Program Benefits
Off Campus participate
Walk–In Drive
Softskill training
English language skill development kit
Internship opportunity
Mentor talks
Development of Entrepreneurship
Mentors Talks
Access to MOOCs
Personality development course kit
Workshops on Career options and choosing the right career.
TASK Registration Fee 2022
The Task registration fee is varied as per the student course wise; check out the TASK registration fee as per course wise;
For B.E/B.Tech Course: OC/OBC Candidates Fee Rs.1,200/- & SC/ST Fee: Rs.600/-
For All Degree/ MCA/MBA/PGDM/PG/Pharmacy Course: OC/OBC Application Fee Rs.500/- and SC/ST Candidates Application Fee: Rs.250/-
For the Polytechnic Course: OC/OBC/SC/ST Fee Rs.250/-
TASK Registration Last Date 2022
Commencement of task registration form: December 2021
TASK Registration last date: Jan/March 2022
Extended Date with Late Fee: Available As per official dates.
TASK Registration Uses
Free registrations of MNC Off Campus and priority for TASK Candidates in Selections.
Interviews for TASK register candidates.
Shortlisted without a written test for a few companies.
Free Skills books and study material will be given
Free audio and video skills-oriented videos will be given
Training and demo classes for the selections.
Both Off Campus and On campus for TASK candidates across the state.
Any Off campus drive – TASK candidates are free to eligible.
TASK Office
TELANGANA ACADEMY FOR SKILL AND KNOWLEDGE,
1st Floor, Ashoka Raghupathi Chambers, S.P. Road,
Begumpet, OPP. Shoppers Stop,
Secunderabad – 500016.
TASK Placement
Various off campus placements are included in the TASK, Registered candidates have a chance to participate in such TASK-oriented Off campus drives.
TASK Registration Process
For the TASK registration process, candidates have to prepare the following information before proceeding with the TASK registration form 2022;
College ID card (Hall Ticket Number)
Mask Sheets (X, XII, Degree / Graduation or Post Graduation).
Home Address (As per Aadhar Card)
Working Email ID
Mobile Number for future alerts.
Updated Resume (Doc / PDF)
Passport Size Photo (Scanned copy in JPEG / JPG format)
Once the above information is ready then, candidates have to visit the below official website and click on the candidate registration link and submit the online application form. Once the registration is completed then take the printout for future reference.
Candidates can check the form and how to register instructions, all are listed below official links. Use these application forms for successful registrations.
TASK Registration 2022 Application Form
TASK Student Registration
For Telangana TASK registration, the online registration is available for the Engineering/Diploma/Degree students from various colleges across the Telangana State, Use the above official links and complete the online registration process, and submit the online application form for the various benefits from the Telangana Task department.
Student Academic Marks details
Student College Information
Student course and Semester wise marks and grades secured in exam
Student Contact details like Mobile number and Emil ID.
TASK Registration for Degree Students
Yes, TASK is also available for degree students across the state. Just have to inquiry in the college department before TASK registration. Take confirmation from the College dept and then start the registration.
One time application fee for the TASK registration and it valid till the course is complete and as well as after 2 to 3 years for a course in order to get the job in certain MNC and other companies.
TASK Application Form
Online TASK application form is available for the link, where degree, Engineering passout candidates can submit the online application form. many companies are taking into consideration the task of students. On a priority basis, the students get hired on behalf of TASK Telangana State. So, register before the course completely and avail of the course benefits.
Telangana Task Students Registration Last Date?
The Task registration date is varied as per a quarterly based. Students can apply anytime for the registration and collect the TASK registration number.
What is the Telangana TASK Students Benefits?
Registration candidates will get the Off campus/On campus/Direct Interview based on the post wise and eligibility wise.
Telangana TASK Official Website for registration?
Visit the official site task.telangana.gov.in and register yourself.
What is the Telangana TASK Application Fee?
The application fee is varied as per the course wise Rs.1,200/- for engineering and Rs.600/- for Degree/Diploma courses.
TASK Registration 2022-23 Last Date?
The last date is varied as per the college and course wise, check the official site for more info on the last date.
TASK registration 2022 last date?
Every year, TASK Online applications forms are available in Mid of year.