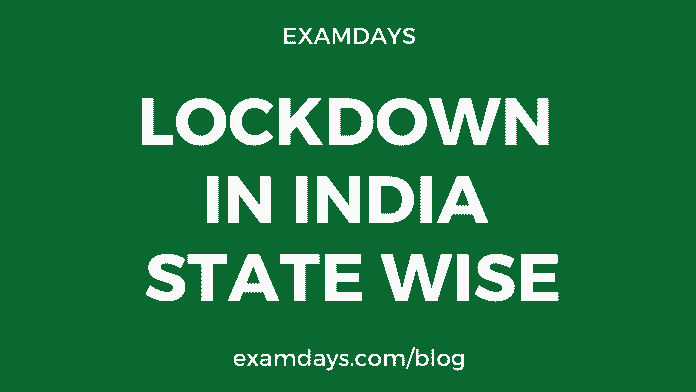 Lockdown in India: The Central Government of India has issued lockdown guidelines for every state on the control of COVID19 second wave, but the Central ministry is not forcing to implement the state-wise lockdown; lockdown decision is completely based on the State Chief Ministry only.
State-wise lock decisions will be taken by the state ministry as per the state guidelines. In India, some states are not imposing the lockdown due to many factors like hunger issues, financial issues, labor shortage issues, and people may get disturbance from unwanted issues. New guidelines are released for the Lockdown in India Telangana and other major cities information for the candidates reference purpose.
bank timings in Telangana during lockdown
The bank timings during the lockdown 8 am to 12 noon.
Weekend lockdown in punjab
Weekend lockdown in Punjab is scheduled to 6 pm till 5 am.
Lockdown in India
To prevent state finance loss, some states imposing half-day or night lockdown, which may be called night curfew or half-day lockdown guidelines.
State Which Imposed Lockdown Guidelines
Lockdown in Andhra Pradesh
Andhra Pradesh imposed half-day lockdown from 6 AM to 12 PM, All shop will be open at 6 AM and remains closed at 12 PM. Hospitals, other medical services, medical shops, diagnostic labs will remains work.
lockdown in Andhra Pradesh, 144 section is implemented after above specified time period.
Updated on 31.05.2021
Andhra Pradesh state government has extended lockdown to another 10 days, it still implemented to June 10, 2021.
Telangana lockdown news
Expected date for the Telangana lockdown from May 15th onwards.
latest news about lockdown in telangana is available on this page for the TS people reference.
Lockdown in Telangana
Telangana State not imposing a lockdown due to finance and people's hunger issues, Chief Minister of Telangana K. Chandra Shekhar Rao (KCR) has officially announced "No Lockdown in Telangana". but night curfew will continue from 10 PM to 5 AM.
These are the important information were released for the Lockdown in India Telangana on priority basis. check this latest information and follow the Lockdown in India Telangana guidelines and rules.
Telangana lockdown timings?
Timing in the Telangana Lockdown is scheduled to 10 PM to 5 AM and movement pass for covid 19 lockdown.
Lockdown in telangana update today 2021
In Telangana lockdown extended to May 30th, 2021. (It extended to June 9th, 2021). but the lockdown extends information was not confirmed yet by the officials, it just an expectation as per the Covid death rate in Telangana. Further details are available on this page for reference.
Timings for relaxation: 06:00 AM to 02:00 PM
will there be lockdown in telangana 2021
Yes, the Lockdown imposed from May 12th 2021 onwards (expected date)
about lockdown in telangana 2021
Yes, Telangana State CM KCR will take decision on Telangana State.
when is lockdown in telangana 2021
May 12th 2021 onwards
Lockdown in Haryana
Haryana State has imposed lockdown in the state, which is effective from May 3 to May 10 (5 AM), the decision has to made on the raise of COVID19 cases. e-Pass is available for the vehicles if any important work at outside or long distance travel.
for travel purpose, Haryana state people have to register the e-Pass before start the journey to outside.
Lockdown in Karnataka
Karnataka State has granted Lockdown in Karnataka from May 10th to May 24, 2021 due to COVID19 Surge.
karnataka lockdown guidelines
Except for medical services, No other services will be not allowed.
Only, Medical Shops, Pharmacists, Diagnostic services, Hospitals, Emergencies, and other essential services remain work.
All temples, Majid, Church remains closed.
Sports, Political, Movie/Cinema, Shopping Malls, Swimming Polls, Cultural, Entertainment, Social, Stadiums, regional are CLOSED.
Metro rail, Rails, taxi, bus services are closed (except emergency services).
Schools and Colleges ate closed.
No other activities are allowed.
COVID 19 Lockdown Pass State Wise Travel ePass
complete lockdown in karnataka
Karnataka has begin complete lockdown after high carona cases, which may not be under control, there are a oxygen and hospital ICU beds shortage. Many CVOID19 patients are die due to oxygen and beds issue. Also, complete lockdown in bangalore issued,
Lockdown in Odisha
The Eastern Side state odisha has remains closed from May 5th to 19th, 2021. No other services are allowed except emergency, medical, and essential services.
Lockdown in Delhi
Recently, Delhi has extended its lockdown from May 17th, 2021 due to the high COVID19 surge, In India, most of the carona cases are rising in Delhi, Chief Minister Aravind Kejriwal has stated lockdown in Delhi immediately after many death seen.
Lockdown in Tamilnadu
Tamilnadu State Government has declared Lockdown in Tamilnadu from may 10th to 24th, 2021 on the eve of COVID19 higher cases, health ministry has confirmed about lockdown and released lockdown news in tamilnadu in tamil.
And, the state begins for complete lockdown in Tamilnadu after many hearing from the State and central govt guidelines.
TN Lockdown News
Only medical services are remians open.
Except Medical, Hospital, diagnostic centers, and essential services, remain all services are closed.
Lockdown Relaxation India Guidelines Zone Wise
Delhi Curfew Epass Apply Online Status
New Guidelines for Lockdown in Rajasthan
Lockdown in Rajasthan is extended to 21st June 2021 (15 days).