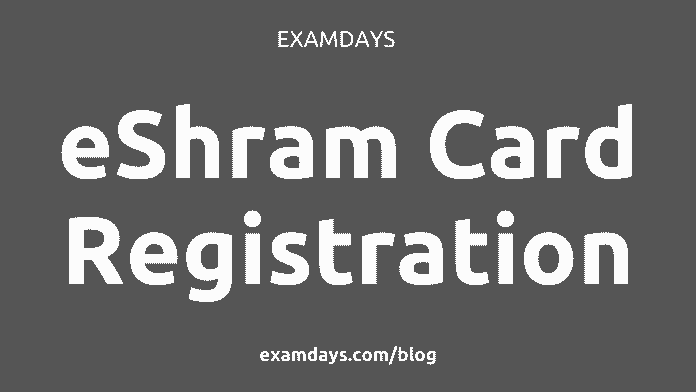 eShram card registration: The Ministry of Labour & Employment India has launched a new e-Shram web portal for unorganized workers to provide a unique Identification number (UAN) card. E-Shram card will help the unorganized workers get the Indian central Government's benefits. Those under the labor category will get a specific range of amounts from the central Government to fulfill their everyday needs.
The Ministry of labor and Employment team has planned to provide jobs, financial support, small business financial help, insurance, accidental benefits, daily wage employment, and other related information. Those who do not have "Employee Provided Fund." accounts are eligible for an e-Shram Card. Check the below details for the eligibility, age limit, state nativity, and other related information.
e Shram Card Registration
| | |
| --- | --- |
| Name of the Authority | Ministry of Labour & Employment |
| Aim | Unorganized Labors |
| Portal Name | e-SHRAM Portal |
| Card Name | Unique Identification Number (UAN) Card |
| Scheme Launched by | PM Narendra Modi |
| Beneficiary | Unorganized Sector Workers and Laborers |
| Apply Mode | Online |
| Official Website | register.eshram.gov.in |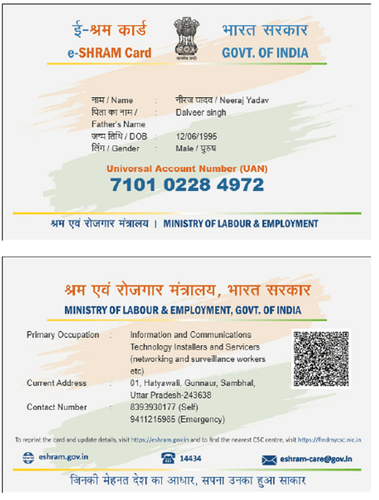 e-Shram Eligibility
It should be the Indian national
Should have an Aadhar Card
Should not have any Employee PF accounts.
It should be in the unorganized sector domain.
Should have age limit between 16 – 59 years (26-08-1961 to 25-08-2005)
The following sectors fall under the unorganized sector; we have listed some of the possibilities so that they can apply online;
Auto Drivers
House Maids
Agricultural labors
Leatherworkers
Midwives
Domestic workers
Barbers
Newspaper vendors
Rickshaw pullers
Asha Karkartas
Milk Pouring Farmers
Labeling and Packing
Vegetable Vendors
Carpenters Sericulture Workers
Beedi Karmikas/Rolling
Fruit Vendors
Any Sreet Vendors
Small and Marginal Farmers
Migrant Workers
Share croppers Brick workers
Fisherman workers
Animal husbandry workers
Salt workers
Tannery workers
Building and Construction workers
e Shram Card Correction Online
e Shram Card Online Apply
Eligible candidates have to visit the e-Shram official website register.eshram.gov.in and read the complete eligibility details before online self-registration.
Ensure that your Aadhar card is linked with your mobile number because it helps verify the online mobile OTP.
Now, Once the above link website is open, then enter the Aadhar Card number and Captcha (to be shown on the screen).
Once these details are entered, opt for the "No" for EPFO and ESIC options., then click on the "Send OTP" option.
Now, Aadhar link mobile will get the OTP, then enter the received OTP for mobile and the Aadhar Card verification process.
Once the OTP verification is completed, the following data is displayed on the screen, the data will be as per the Aadhar card.
Name
Date of Birth
Gender
Address
Locality
District
State
Pin code
Country
Your Aadhar link bank
Bank Aadhar seeding status
Now, Click on the check box "I agree that all the information shown above is correct."
Then click on the "Continue To Enter Other Details" button.
On the next page,
A personal Information page will open;
Registered mobile number
Emergency mobile number
Email
Marital Status
Father Name
Socila Category
Blood Group
Differently Abled
And Nominee details should enter on this page.
Once the above details are entered then click on the "Save and Continue".
On the next page;
e Shram Card Status UAN Card Download
Residential details, need to enter;
Current Address

House Number
Locality
State
District
Sub District/Tehsil
Pincode

Staying at current location
Migrant Worker (Yes/No)
Is permanent address same as current address?
Once the above details are entered, then click on the "Save and Continue" button.
On the next page,
Education Qualification details need to enter;
Education qualification
Education certificate
Monthly income slub
Income certificate
Once the above details are entered the click on the Save and Continue button.
On the next page,
Occupation and Skills
Primary occupation
Work experience in primary occupation (in years)
Secondary occupation
Occupation certificate
How to didi aquire skills
Skills to be upgraded
Once the page is filled done, click on the "Save & Continue" button;
Next page;
Bank Account Details need to enter;
Bank seeding with Aadhar
Bank account number
Confirm bank account number
Account holder name
Look up for IFSC Code
Bank Name
Branch Name
e Shramik Online 2023
Once the bank details are entered on this page, then click on the Save and continue button for the application to continue;
On this page, a preview online application is available, check the details carefully one by one before submitting the e-Shram online application form.
Once the e-Shram online application is submitted, then the UAN number along with the Aadhar card photo is displayed on the UAN e-Shram Card. Now, take the e-Shram card printout and take the printout and keep it for future benefit tracking.
e shram card beneficiary status
What is eShram Card?
eShram card is a UAN identity card for the unorganized sector employees, Where they get financial support from Central Government.
How to Download eShram Card Online?
After a successful online application, esharam card is generated online instantly. Applicants can download the card instantly.
e Shram Card Official Website?
Eligible candidates can visit the online link register.eshram.gov.in and apply for the e Sramik card.
How to get the Rs.500/- from Central Govt via e Shram card?
The amount will be credited as per the central Govt policies.
eShram UAN Card Registration?
Use the register.eshram.gov.in link and apply along with Aadhar card details and collect the eShram UAN card.
CSC NDUW eShram card registration?
Use the CSC NDUW online portal and proceed the screen instructions to complete registration.
Join Examdays Telegram
For more details about the Telegram Group, Click the Join Telegram below button.

In case of any doubt regarding Telegram, you can mail us at [email protected].