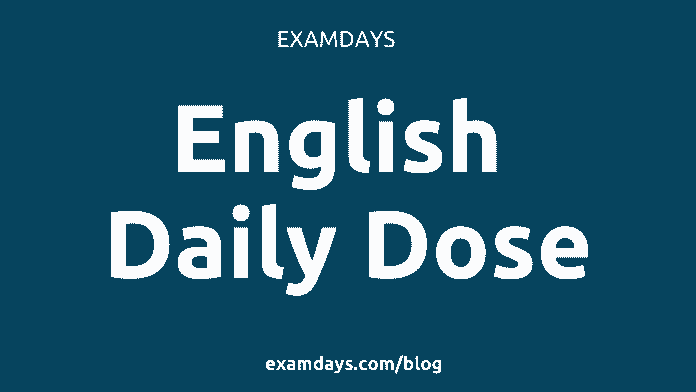 English Daily Dose: English is the predominant language for every job aspirant to succeed in their career and it helps to build a brighter future. The Possibility of English fluency by practicing daily as a dose wise and we're (Team Toppers Note) provide a daily dose with suitable examples.
ETea: English Tea Every Day with Shravya
English has 26 letters starting from A and ending with Z, in this scenario these letters were aware in two parts.
Capital Letters (Say: A to Z)

Small Letters (Say: a to z)
For Capital Letters:
A B C D E F G H I J K L M N O P Q R S T U V W X Y Z
For Small Letters:
a b c d e f g h I j k l m n o p q r s t u v w x y z
English Daily Dose
Using the above 26 letters, the English language can build lakhs of words either in the American language or the British Language. Please take a note here: Most of the world uses British Language, but our Computer Desktop Uses American US Language, and even our Indian country uses a mixture of both American (US) and British (UK) native English slang (Talking).
HOW TO LEARN ENGLISH:
By Grammar

By Articles

By Learning Excercise

By Quotes

By News Papers

By Movies

By Tongue Twisters

By Slang
and the final one BY PRACTICE.
BEFORE LEARNING ENGLISH:
Any language has its grammar rules and regulations. Likewise English has very few grammar rules which are PAST PRESENT FUTURE. These three rules will help to know How to Pronounce English correctly.
WHAT EXPERTS SAID ABOUT INDIANS:
Most of the experts reveal that "All Indians speaks 60% of English words in their common life, but they're not aware of it about English words".
For example, Indians Mostly speak Fan, Light, TV, Computer, Mobile, Phone, Movie, Music, Book, Uncle, Aunty….soon.
So, English is not difficult to learn, you just practice it, which is more than enough yo build your career.
Join Examdays Telegram
For more details about the Telegram Group, Click the Join Telegram below button.

In case of any doubt regarding Telegram, you can mail us at [email protected].