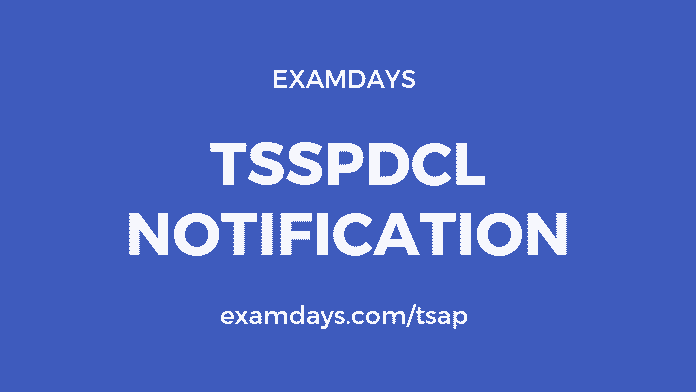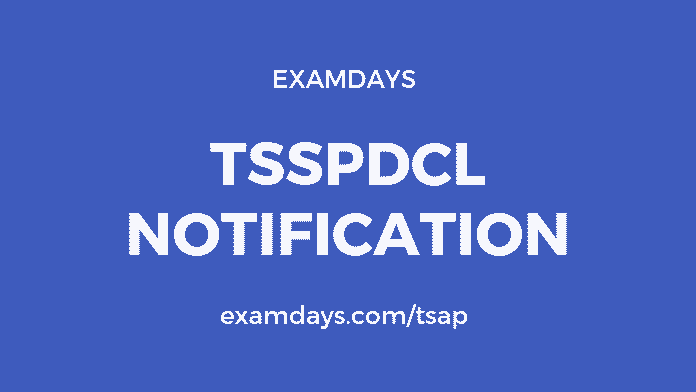 TSSPDCL Notification
TSSPDCL JLM JAO JPO Recruitment Notification 2019: Telangana State Southern Power Distribution Company Limited TSSPDCL recruitment has scheduled for the 2939 vacancies for various Junior Lineman JLM, Junior Personnel Officer JPO, and Junior Assistant Cum Operator JAO Posts, total three (3) recruitment notifications are scheduled to release in the month of October 2019 (Released on 16.10.2019).
Updated on 12.12.2019
TSSPDCL JAO Payment link is activated and 01.11.2019 onwards JAO online application form will live. Those who are waiting for the TSSPDCL JAO posts, they have to submit the application form from 01.11.2019 onwards.
TSSPDCL JPO Answer Key


TSSPDCL JLM Answer Key


TSSPDCL JAO Hall Ticket

TSSPDCL Telegram Channel & Group
Exclusive Telegram Channel & Group for

Examdays TS AP 
Aspirants 
tssouthernpower.cgg.gov.in 2019 notification
TSSPDCL Notification is scheduled for verification of TSSPDCL posts from 2.9k to 3025 vacancies (effective from 06.10.2019 onwards). The official notification is available on or after 16.10.2019,
TSSPDCL Notification 2019
Good News: The TSSPDCL JPO JAO JLM Notification is scheduled on or after 16.10.2019 (expected date) for 3025 vacancies, those who are eligible and interested they can fill the online application form today 10.10.2019 onwards. The Syllabus the available based on the post wise.
The TSSPDCL career team updated vacancies from 2939 to 3025 vacancies in entire Telangana State TS.
TSSPDCL JAO Syllabus 2019 – 500 Vacancies
TSSPDCL JPO Syllabus 2019 – 25 Vacancies
TSSPDCL JLM Syllabus 2019 – 2500 Vacancies
Tsspdcl recruitment 2019
The TSSPDCL notification date is finalised for the JLM, JAO, and JPO vacancies among 2000+ posts, We think candidates already started preparation based below Syllabus, don't wait for the notification, start early preparation.
Check out the below syllabus for JLM, JAO, and JPO posts accordingly. Prepare from basics and start over with Paper 1 and Paper 2. Check the previous papers for the TSSPDCL JAO JPO JLM question paper standard and prepare as same.
(Confirmed) As on 28.09.2019, the TSSPDCL notification for 2939 Vacancies will be scheduled to releases on 11.10.2019 (expected date), candidates have to bookmark this page for regular updates on Syllabus, Study Material, Preparation Method, exam date, selection procedure, and many more at examdays.
Download Official Paper Notice PDF

As on 23.08.2019 07:00 PM, the TSSPDCL has not yet released a notification for JLM, JAO, and JPO posts, candidates have to check this page later. For latest updates on TSSPDCL, bookmark this page/Save this page link for important alerts and information.
TSSPDCL Preparation Study Material
Candidates can fill the three various notification posts from August 2019 onwards, the Andhra Pradesh Discoms are in the row of recruitment for 2019-2020. Candidates should make use of the recruitment opportunity for government postings.
TSSPDCL Recruitment
Name of the Authority
Telangana State Southern Power Distribution Company Limited TSSPDCL
Name of the Posts
JLM, JAO, and JPO

Total Number of Posts

3025 Vacancies (confirmed) 
TSSPDCL JLM Vacancies
2,500 Posts 

(confirmed)

TSSPDCL JAO Vacancies
500 Posts 

(confirmed)

TSSPDCL JPO Vacancies
25 Posts 

(confirmed)

Qualification
Intermediate/ITI/Degree
Age Limit
18 to 35 Years & Age Relaxation Applicable
TSSPDCL Application Form Date
22.10.2019 (Confirmed)

Selection Procedure

Written Test & Document Verification

Official Website
tssouthernpower.com
TSSPDCL Online Classes Coaching in Telugu English 

TSSPDCL Eligibility
Candidates should have qualification as per the post wise; (Final Qualification details will be updated after final notification released (11.10.2019/scheduled).
For JPO Post

Candidates should have Any degree (BA/B.SC/B.Com)
Preference will be given for local candidates (Telangana).

For JAO Post

BA or BSc or B.Com qualification
Computer Application OR Office Automation (MS Office)

Computer certificate must and should have Telangana Government accreditation (Institute/University/College/Coaching Center – must have Telangana approved otherwise certificate not valid).

For JLM/Energy Assistant Post

10th Class with ITI Electrical branch/Wireman along with 2 years Inter occasional training In Electrical branch.
Age: 18-35 years (5 years age relaxation for BC/SC/ST candidates).
TSSPDCL Age Limit
Candidates should have age limit between 18 to 34 years. Age relaxation is applicable as per the reservation.
For JLM Age Limit: 18 -35 Years
For JAO Age Limit: 18-34 Years
For JPO Age Limit: 18-34 Years
Note: All the above posts have age relaxation for BC category candidates is 3 years and SC/ST Candidates have 5 years age relaxation.
TSSPDCL Application Fee
For OC Candidates should pay application fee: Rs.100/- application fee and exam fee is Rs.120/-.
For others should pay application fee Rs.100/- and exam is exempted.
TSSPDCL Qualify Marks
| | |
| --- | --- |
| Category Wise | TSSPDCL Qualify Marks |
| OC/GEN/UR Category | 40% |
| BC/OBC Category | 35% |
| SC/ST Category | 30% |
| Ex-SM Category | 30% |
| PWD Category | 30% |
TSSPDCL Selection Procedure
The eligible candidates should go for TSSPDCL Selection Procedure. The selection is purely based on exam secured marks (high top marks with reservation applicable)
Written Test for JPO JAO JLM.
Document Verification
Appointment Letters across the Telangana State.
Probation Period: 2 years, after 2 years post will be regularized.
TSSPDCL Important Dates
Commencement of Notification Date: 16.10.2019
Commencement of the Online application Date: 21.10.2019
Last date of the Application Date: 10.11.2019
TSSPDCL Hall Ticket 2019 Date: 05.12.2019
TSSPDCL JAO JPO JLM Exam Date: 15.12.2019
TSSPDCL Online Classes Coaching in Telugu English 

TSSPDCL Recruitment 2019 Apply Online
Those who are interested and eligible for the TSSPDCL JAO or JPO or JLM Posts can apply online on or before the last date of the application form.
Make the online application form fee and submit the application form online without any minor and major application errors.
Once the application form submitted, take the print out of the application form.
TSSPDCL JLM Notification PDF 2019 (Released on 16.10.2019 05:30 PM)
TSSPDCL JPO Notification PDF 2019 (Released on 16.10.2019 05:30 PM)
TSSPDCL JAO Notification PDF 2019 (Released on 16.10.2019 06:00 PM)
(Note: The final notification is not yet released, we will update the post, once the final notification releases).
TSSPDCL Exam Date
Once the TSSPDCL notification releases, The tea #Examdays has updated this post with TSSPDCL JPO JAO JLM exam dates. Further notifications and alerts, candidates should bookmark this page for the alerts.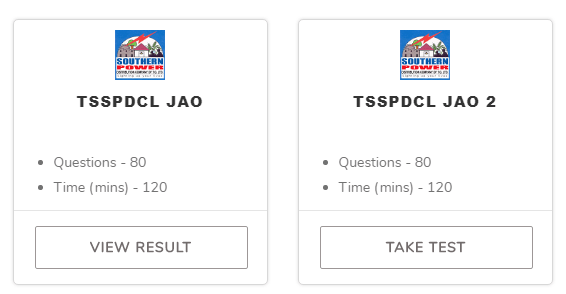 TSSPDCL Exam Date is scheduled from 15.12.2019 onwards
TSSPDCL Vacancies
Name of the Post
Qualification
Number of Posts
Junior Personnel Officer (JPO)
Degree
25 Vacancies
Junior Assistant Officer (JAO)
Degree
500 Vacancies
Junior Lineman (JLM) / Energy Assistant (EA)
ITI
2,500 Vacancies
Total Posts
3025 Vacancies
Registration Candidates will get Free Study Materials after notification

Join our Telegram channel for quick updates…link in below from
If candidates have any further questions and doubts, can use the below comment box for further clarifications on TSSPDCL JAO JPO JLM posts.
టి‌ఎస్‌ఎస్‌పి‌డి‌సి‌ఎల్ జే‌ఎల్‌ఎం, జే‌పి‌ఓ, జే‌ఏ‌ఓ నోటిఫికేషన్ ఆగష్టు 23 వ తేదీన విడుదల కావలిసింది కానీ సాంకేతిక కారణాల వల్ల tsspdcl.cgg.gov.in  వెబ్సైట్ ఇంకా అప్లోడ్ లోనే ఉండిపోయింది, నోటిఫికేషన్, అప్లికేషన్ update అయ్యిన తరువాత (Expected date October 16th, 2019.), official website మనకి అందుబాటులోనికి వస్తుంది. తదుపరి సమాచారం ఇక్కడ  పోస్ట్ చేయబడుతుంది. TSSPDCL Notification out on 16th October 2019. Further questions, comment below.
TSSPDCL Online Classes Coaching in Telugu English