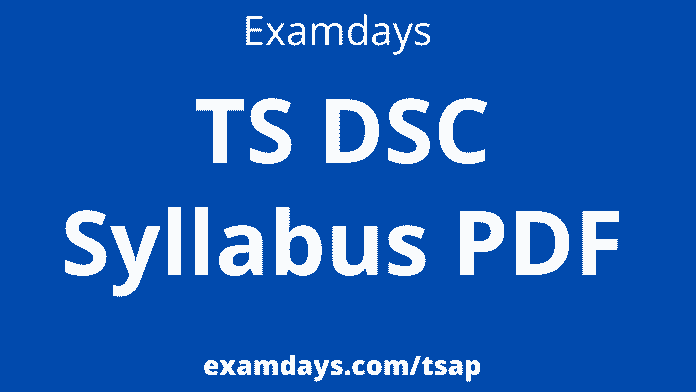 TS DSC TRT SGT Syllabus 2023: The Telangana State District Selection Commission TS DSC recruitment board has scheduled to release School Assistant SA, Secondary Grade Teacher SGT, Language Pandit LP, and Physical Education Teacher PET posts. Eligible candidates can submit the online application before the last date. In that Secondary grade Teacher's syllabus was listed below for candidates' examination preparation purposes.
For those who are looking for the TS TRT SGT syllabus in Telugu, we have uploaded the SGT syllabus in English and Telugu medium for the candidate's examination quick reference purposes. If candidates have any questions related to the TRT SGT syllabus, they can use the below comment box for quick reference purposes.
Are you looking for the DSC SGT Syllabus right?
If Yes.!!!
Then, we have mentioned the syllabus with exam pattern.!!!
Exam pattern is very important for every SGT aspirant;
Go with the exam pattern in English and Telugu medium for a better understanding of the regional language.!!!
TS TRT SGT Syllabus 2023
Subject
Syllabus
Max Questions
Max Marks
General Knowledge & Current Affairs
Last six months current affairs and last 1 year GK applicable.
20
10
Perspectives in Education
Related subject syllabus
20
10
Language-I
(Indian Languages)
The syllabus for Language I & II shall be based on
Proficiency in the language,
Elements of language,
Communication & Comprehension abilities-standard up to Secondary Level (X Class)
18
9
Language –II
(English)
Telangana State syllabus from classes I to VIII with difficulty standard as well as linkages up to class X level
18
9
content
Mathematics
18
9
Science
18
9
Social Studies
18
9
Teaching Methodology
D.Ed Telangana Syllabus
30
15
Total
160
80
TS DSC SGT Exam Important Points
SGT Exam Duration – 2 hours 30 minutes (150 minutes).
SGT Means – Secondary Grade Teacher Post.
SGT exam pattern has the below class wise syllabus; this information was very helpful for exam preparation.
Environmental Studies (EVS) (Classes I – V)
General Science Classes VI & VII)
Physical Science & Bio-Science (Class VIII)
Social Studies includes Social Studies Content of Environmental Studies (EVS) (Classes I – V)
Social Studies (Classes VI-VIII)
TS DSC Syllabus in Telugu
We have given the TRT SGT syllabus in Telugu medium for Telugu medicam candidates, those who are registered for the exam in Telugu mediu, they can check the below Telugu SGT syllabus and prepare for the exam in regional medium.
Subject
Syllabus
Max Questions
Max Marks
జనరల్ నాలెడ్జ్ & కరెంట్ అఫైర్స్
గత ఆరు నెలల కరెంట్ అఫైర్స్ మరియు గత 1 సంవత్సరం GK వర్తిస్తుంది.
20
10
విద్యలో దృక్కోణాలు
సంబంధిత సబ్జెక్ట్ సిలబస్
20
10
భాష-IN
(భారతీయ భాషలు)
భాష I & II కోసం సిలబస్ ఆధారపడి ఉంటుంది
భాషలో ప్రావీణ్యం,
భాష యొక్క మూలకాలు,
కమ్యూనికేషన్ & కాంప్రహెన్షన్ సామర్థ్యాలు-సెకండరీ స్థాయి (X క్లాస్) వరకు ప్రామాణికం
18
9
భాష -II
(ఆంగ్ల)
I నుండి VIII తరగతుల వరకు తెలంగాణ రాష్ట్ర సిలబస్ కష్టతరమైన ప్రమాణంతో పాటు X తరగతి స్థాయి వరకు అనుసంధానం
18
9
విషయము
గణితం
18
9
సైన్స్
18
9
సామాజిక అధ్యయనాలు
18
9
టీచింగ్ మెథడాలజీ
D.Ed తెలంగాణ సిలబస్
30
15
Total
160
80