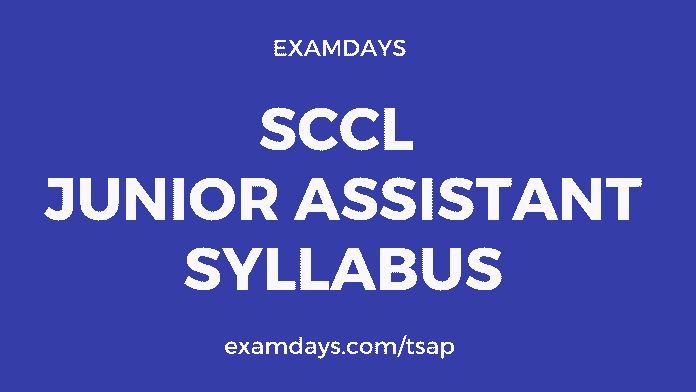 SCCL Junior Assistant Syllabus: Singareni Collieries Company Limited has scheduled to releases the SCCL Junior Assistant recruitment notification soon to fill the various vacancies in the Junior Assistant Level. Candidates must apply online before the notification online application form deadline.
Candidates have to submit the online application form, need to check the notifications, syllabus, exam date, eligibility, age limit, and other important information. We have listed some of the important information regarding the sccl junior assistant syllabus pdf download document. We will upload the complete sccl junior assistant syllabus pdf copy once it is available officially.
The SCCL Junior Assistant Syllabus were listed below for the candidates looking for the SCCL Syllabus pdf. There is no need to wait for the SCCL JA notification, read the SCCL syllabus below and start the exam preparation accordingly.
Apply SCCL JA Notification Jobs
SCCL Junior Assistant Syllabus
| | | |
| --- | --- | --- |
| Section Wise | No Of Questions | No Of Marks |
| General Studies | 15 | 15 |
| Current Affairs | 20 | 20 |
| History, Culture & Heritage of India and TS | 15 | 15 |
| Arithmetic Aptitude & Reasoning | 25 | 25 |
| English | 20 | 20 |
| Computer Basics | 25 | 25 |
| Total | 120 | 120 |
SCCL Junior Assistant Syllabus
Download the complete SCCL Junior Assistant Syllabus pdf document, the pdf document available after the official announcement from the SCCL recruitment board. The Examdays TSAP team shares further details on the SCCL JA Syllabus pdf and exam pattern.
Total Number of Questions: 120 Q's
Total Number of Marks = 120 Marks
Exam Duration: 2 Hours (120 Minutes)
Negative Marking = 0.25 Marks (Not Confirmed)
Singareni junior assistant syllabus
SCCL Junior Assistant Syllabus: General Studies
Constitution of India
Human rights
Indian Constitution Features
State Policy
Electoral Reforms of India
Panchayat Raj
RTI Act 2005
Indian Polity and Constitution
Citizenship
Parliamentary System in India
Indian Law
SCCL Junior Assistant Syllabus: Current Affairs
Bilatral, regional, and global groupings
International Orgs
International relations
International trade and treaties
Polity and Governance
National Security
Judiciary
Indian Art, Cultural, and Heritage
Social Studies
Social Justice
Plan / Policy
Defense
SCCL Junior Assistant Syllabus: History, Culture, Heritage
Art and Culture of Telangana
History of Telangana
Kingdoms related to TS
Telangana Festicals
Indian Culture – An Introduction
Indian Languages and Literature
Spread of Indian Culture abroad
Indian Climate
Festivals
Mining history of India
Characteristics of Indian culture
Indian Art and Architecture.
SCCL Junior Assistant Syllabus: Quantitative Aptitude
Number System
Ratio and Proportions
Time and Distance
Bar Graphs
Decimals & Fractions
Mixtures & Allegations
Pipes & Cisterns
Boats and Streams
Problems on Ages
Averages
Problems on Trains
Mensuration
HCF & LCM
Ratio and Proportions
Also Logarithms
Probability
Volume & Surface Area
Line Graphs
Simplification
Permutation & Combination
Percentages
Time and Work
Simple and Compound Interest
Profit and Loss
Pie Charts
Heights & Distances Partnership
SCCL Previous Papers PDF Download
SCCL Junior Assistant Syllabus
SCCL Junior Assistant Syllabus : General English
Antonyms & Synonyms
Comprehension
Theme detection
Vocabulary
Sentence Correction
Sentence Rearrangement
Idioms and Phrases
Error Correction
Word Formation
Passage Completion
Verb and examples
Unseen Passages
Idioms & Phrases
Passage Correction
Fill in the Blanks
Sentence Completion
SCCL Junior Assistant Syllabus: Reasoning (Verbal & Non-Verbal)
Number System along with Ranking
Verbal Series and Non-Verbal Series
Blood Relations
Coding & Decoding
Analogies with examples
Embedded and Mirror Figures
Arithmetical Reasoning
Cubes and Dice problems.
Clocks and Calendars
Syllogism
Alphabetic Series
Judgment & Arrangements
Miscellaneous
SCCL Junior Assistant Notification – Apply Online
SCCL Previous Papers PDF Download
SCCL Junior Assistant Syllabus has given in above; candidates have to check to prepare for the Junior Assistant exam, this syllabus is final for the JA post, and further questions and answers list is given below for the candidate's reference purpose.
SCCL Junior Assistant Syllabus PDF Download
How to download SCCL junior assistant syllabus pdf?
We have uploaded the PDF copy once the SCCL Career Board confirms the syllabus.
SCCL Junior Assistant Exam is in Online or Offline?
This is Not finalized but it may be Online this time.
Is there any negative mark in the SCCL Junior Assistant Exam?
Yes, There will be a 0.25 negative mark in the exam.
If candidates have any specific questions related to the SCCL Junior Assistant Syllabus, Vacancies, notification, they can use the below comment section for the quick response form Examdays team.