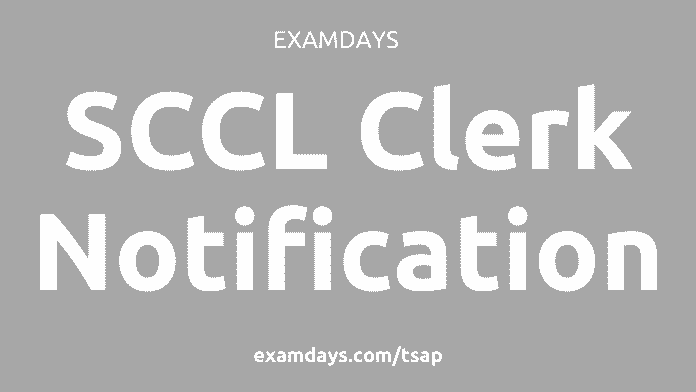 SCCL Clerk Notification 2022: Singareni Collieries Company SCCL recruitment board has scheduled to release the clerk notification to fill the more than 177 vacancies for FY 2022-23. Eligible candidates can check the detailed notification details. SCCL invites the online application form eligible candidates on or before the last date.
For SCCL Clerk notification 2022, candidates can check the detailed notification, eligibility, age limit, application link, exam date, exam pattern, application fee, syllabus, selection criteria, and several vacancies.
SCCL upcoming notification 2022
June 20th, 2022 Update: SCCL Clerk Notification is scheduled for release in June 2022. Candidates looking for the Clerk notification have to check the new notification from the SCCL authority for many vacancies. The details are listed for the candidate's reference purpose.
క్లర్క్ నోటిఫికేషన్ కోసం చూస్తున్న అభ్యర్థులు భారీ సంఖ్యలో ఖాళీల కోసం SCCL అధికారం నుండి కొత్త నోటిఫికేషన్‌ను తనిఖీ చేయాలి. అభ్యర్థుల సూచన ప్రయోజనం కోసం వివరాలు జాబితా చేయబడ్డాయి.
SCCL Junior Assistant Post Notification
SCCL Clerk Notification 2022
SCCL క్లర్క్ నోటిఫికేషన్ 2022: సింగరేణి కాలరీస్ కంపెనీ SCCL రిక్రూట్‌మెంట్ బోర్డు FY 2022-23 కోసం 155 కంటే ఎక్కువ ఖాళీలను భర్తీ చేయడానికి క్లర్క్ నోటిఫికేషన్‌ను విడుదల చేయడానికి షెడ్యూల్ చేసింది. అర్హత గల అభ్యర్థులు వివరణాత్మక నోటిఫికేషన్ వివరాలను తనిఖీ చేయవచ్చు. SCCL ఆన్‌లైన్ దరఖాస్తు ఫారమ్ అర్హత గల అభ్యర్థులను చివరి తేదీ లేదా అంతకు ముందు ఆహ్వానిస్తుంది.
| | |
| --- | --- |
| Name of the Authority | SCCL Recruitment Board |
| Post Name | External Clerk Posts |
| Number of Posts | 177 Vacancies |
| Qualification | SSC/10th/Inter |
| Age Limit | 18 to 35 years |
| Online Application Date | 20.06.2022 |
| Last date for application | 10.07.2022 |
| Selection Procedure | Written Test |
| Official Website | scclmines.com |
Singareni Clerk Notification 2022
Candidates should check the clerk and junior assistant notification on the official link www.scclmines.com 2022. This exam scheme and notification are available on the Singareni jobs notification 2022 in Telangana. Also, check the scclmines recruitment 2022 and another page for the online application form.
Educational Qualifications
For External Clerk Post: Bachelor of Degree in any discipline and 6 months certificate or Diploma or degree course in computer applications / Information Technology.
Computer / Information technology as one of the subjects in their Bachelor of Degree
Local Category – 95% of Jobs reserved
Non Local – 5% of jobs reserved
Local Category Means
Candidates should be from these districts are preferred for local;
Khammam
Warangal
Karimnagar
Adilabad
Current 16 Districts in the districts in the state of Telangana;
Asifabad – Komarambheem
Macherial
Peddapally
Jayashankhakar – Bhoopalapally
Mulugu
Adilabad
Nirmal
Jagityal
Karimnagar
Rajanna Sicilia
Kothagudem – Badradri.
Khammam
Mahabubabad
Jangaon
Warangal Rural
Warangal Urban
Unreserved (Open for all)
Candidates belongs to all districts of Telangana State
—————-Other Posts ————
Candidates should have 10th class / Intermediate from any recognized board
Only Indian nationals can apply
Local candidates prefer
Andhra Pradesh State candidates can apply, but nonlocal reservations apply.
Age Limit: Candidates should have 18 to 30 years (Confirmed) as per the notification date wise. Age relaxation is applicable as per the reservation wise.
5 years for OBC candidates (confirmed)
5 years for SC / ST candidates (confirmed)
3 years for Ex-Serviceman candidates
Selection Procedure
Written Test
Document / Certificate Verification
Medical tests
SCCL Clerk Salary
Selected candidates are eligible for the monthly salary as per the SCCL norms and regulations;
SCCL Salary Singareni Salary Slip Download
Important Dates
SCCL Clerk 2022 Notification Date: 16.06.2022
SCCL Clerk Online Application Link Date: 20.06.2022 onwards
SCCL Clerk Online Application Last Date: 10.07.2022
SCCL Clerk 2022 Exam Date: Available Soon
SCCL Clerk (External) Offical Note (as of 16.06.2022)
SCCL Clerk Online Application 2022
Eligible candidates can visit the official website scclmines.com, navigate to the notifications tab and click on the "Clerk 2022 Apply Link" to check the detailed notification and submit the basic details and make the application fee (if any) and then submit the complete online application form.
అర్హతగల అభ్యర్థులు అధికారిక వెబ్‌సైట్ scclmines.comని సందర్శించి, నోటిఫికేషన్‌ల ట్యాబ్‌కు నావిగేట్ చేసి, వివరణాత్మక నోటిఫికేషన్‌ను తనిఖీ చేయడానికి మరియు ప్రాథమిక వివరాలను సమర్పించడానికి మరియు దరఖాస్తు రుసుమును (ఏదైనా ఉంటే) సమర్పించడానికి "క్లార్క్ 2022 వర్తించు లింక్"పై క్లిక్ చేసి, ఆపై పూర్తిని సమర్పించవచ్చు. ఆన్‌లైన్ దరఖాస్తు ఫారమ్.
Once the application form is submitted, take the printout for reference.
SCCL Clerk Notification 2022 PDF
SCCL New Notification Discussion Video Link
For More Information on the SCCL Recruitment for June / July Month 2022, Use the below link – SCCL Recruitment Jobs 2022
SCCL Clerk 2022 Notification Released Date?
The expected date for the notification for the Clerk post is 16th June 2022
SCCL Clerk post official website?
scclmines.com
SCCL Clerk 2022 Vacancies?
The expected vacancies are 177 posts.
SCCL Clerical Posts online application Last date?
10th July 2022
SCCL upcoming notification 2022?
SCCL is scheduled to release the Clerk / Junior Assistant notification.
Singareni clerk post notification 2022?
Expected vacancies are 177 posts.
Telangana Singareni jobs notifications 2022?
Telangana www.scclmines.com jobs 2022 are available on the official website as per the schedule.
TS Singareni notification 2022?
TS singareni clerk notification 2022 is released in June last week; the details are available on this page soon.