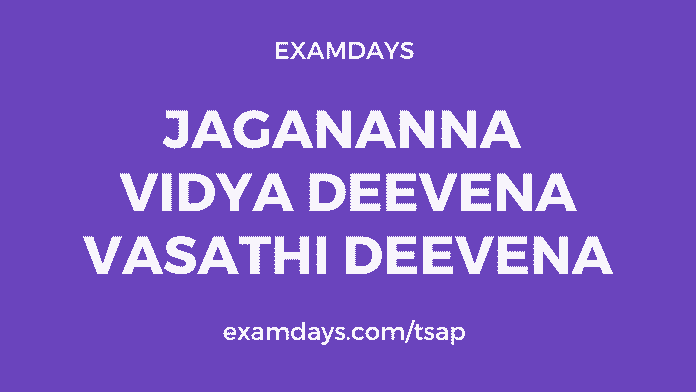 Jagananna vidya kanuka status: Andhra Pradesh State Welfare department has scheduled releases the Beneficiary list for the navasakam apcfss Jangan Anna Vasathi Deevena and Jagan Anna Vidya Deevena to provide the 100% free FEE Reimbursement and Year Rs.20,000/- maintenance charges for the students, Those who are studying in the Andhra Pradesh and eligible for the AP Vidya and Vasathi deevena schemes directly get the yearly payment into their bank account on the stipulated time.
Andhra Pradesh State Intermediate, Degree, Engineering, Medical Students have to check the Scholarship, Tuition fee, Hostel fee, another fee for College. The Vidya Deewena Scheme has provided complete payment information for the course enrolled students.
From 05.09.2020 onwards, the Jagananna Vidya Kanuka Scheme will begin for the registered students, those who are eligible have to check out the Jagananna Vidya kanuka status from 5th Sept 2020 onwards.
Students can get the Scholarship and payment status on the Jagananna vidya kanuka status official link, and also download the Jagananna vidya deevena list.
From 28.04.2020 onwards, the complete payment details are available ONLINE, if the student finds any discrepancy then immediately escalate/contact the college management.
AP Students can check the details of application status here: www.ysr navashakam.ap.gov.in
Complete 100% Fee reimbursement (RTF)
Under Vasathi Deevena Rs.20,000/- will ve credited all eligible candidates.
Jagananna Vidya Deevena & Vasathi Deveena Latest 2020 Info
11.01.2021 Update: Jagananna Vidya Deevena the Last Date is scheduled and check the recently submitted scholarship and fee reimbursement application form.
Jagan Anna Vidya Kanuka will begin from 5th September 2020 onwards, those who are waiting for the Scheme, have to check the status from 05.09.2020 onwards.
Jagananna vidya kanuka status will be available for all students, if not available then contact the appropriate college admissions and scholarship department.
YSR Jagan Anna Vidya Deewena Scheme is implemented from 28.04.2020 onwards.
Scholarship, Tuition Fee, Hostel Fee, Course Fee, all details Online Payment displayed on the Scheme portal, verify before the last date.
AP Students can refer to the status of the payment for the education tuition fee and Scholarship amount status.
Use the below links for the Scholarship payment status verification and Tuition fee and other college fee information.
Hostel students can check the Hostel payment amount released / Approved status from AP Govt.
YSR Jagananna Vidya Deevena to be released on 24.02.2020.
YSR Jagananna Vasathi Deevena scheme released dated 24.02.2020.
Eligible candidates will receive the Fee reimbursement and regular scholarship payment to their individual bank account from today onwards.
Jagananna Vidya Deevena
The Jagananna vidya and vasathi deevena are for the Poor students who are qualified in the eligibility criteria; the scheme is mainly targeted for SC, ST, BC, EBC, Minority, Kapu, and Physically Handicapped candidates. Those who are studying a degree, graduation (professional like B.E/B.Tech/M.Tech), Post Graduation courses are eligible for the Vidya and vasathi deevena.
Check Latest AP Govt Jobs 2020
జగన్ అన్న విద్యా దీవెన వసతి దీవెన పదకం
ఆంధ్రప్రదేశ్ రాష్టం లో చదువుకునే విద్యార్లకు ఫైనాన్షియల్ గా అండగా ఉండడానికి విద్యా దీవెన మరియు వసతి దీవెన పధకం అందుబాటులోకి వై‌ఎస్‌ఆర్‌సి‌పి పార్టీ ముఖ్యమంత్రి అందుబాటులోకి తీసుకొచ్చారు. అర్హులైన విద్యార్దులు ఏ‌పి రాష్టానికి సంబందించిన నవశకం official website లో రిజిస్ట్రేషన్ చేసుకోవాలి. 100% ఫీ రీయంబర్స్మెంట్ వస్తుంది, ఫీజు ఎంతైనా సరే ఈ స్కీమ్ ఉంది పూర్తి ఫీజు వచ్చేస్తుంది.
హాస్టల్ వసతి కోసం ఎదురు చూసే వారు కూడా రిజిస్ట్రేషన్ ఫామ్ లో వసతి ఆప్షన్ ని సెలెక్ట్ చేసుకోవాలి, వసతి కోసం ఏడాదికి రూ.20,000 విద్యార్ది బ్యాంక్ అక్కౌంట్ కి క్రెడిట్ చేయబడతాయి.
అర్హులైన విద్యార్దులు మాత్రమే నవశకం website లో రిజిస్ట్రేషన్ చేసుకోగలరు. రిజిస్ట్రేషన్ అయిన తర్వాత 10 రోజుల తరవాత రిజిస్ట్రేషన్ స్టేటస్ చూసుకోవాలి.
ఈ అవకాశాన్ని ఏ విద్యార్ది కూడా వదులుకోవద్దు, విద్యార్డుల కోసం పూర్తి అర్హత సమాచారం ఈ క్రింద ఇవ్వబడింది.
If you did not receiv jaganannaammavodi status check CHECK HERE
navasakam apcfss
| | |
| --- | --- |
| Name of the Authority | Andhra Pradesh State Welfare Department |
| Scheme Name | Vidya Deevena & Vasathi Deevena |
| Eligibility | to SC, ST, BC, minorities, Kapu, EBC, & PH |
| Fee Reimbursement | 100% Fee |
| Maintenance Support | Rs.20,000/- per year |
| Budget Allocated | Rs.4,962 Crore |
| Scheme Year (Academic Year) | 2020-21 year |
| Will Begin from | 05.09.2020 onwards. |
| Official Website | navasakam.apcfss.in |
Download Current Affairs in Telugu PDF
Jagananna vidya deevena eligibility
Family income should not cross the Rs.2,50,000/- per annum (2.5 lakhs)
The family should not have more than 10 acres MAGANI or 25 acres of METTA land
Candidates from BC, SC, ST, EBC, Kapu, Minority, PH are eligible.
No Income limit for Sanitary employees for their children.
Students should enroll in the Affiliated and Accredited State Colleges or Universities (anyone – either Private or Public).
Day Scholar Students, College Attach Hostels (CAH), Departmental Attach Hostel (DAH) (any).
A student should have a minimum of 75% attendance.
Student and their family members should not have CAR or other Four Wheeler Vehicles.
Distance education students are ineligible.
A family should not have more than 1500 square yards of land in the city (residential or commercial). (In municipal areas owning less than 1500 sft of built up area).
Anyone of Government employees in family members is not eligible.
Pensioners' parents are not eligible.
Family should not have 4 wheeler vehicle.
No family should pay Income tax.
Mode of Reimbursement
Jagananna Vidya Deevena: 100% fee reimbursement credited to the college bank account.
Jagananna Vasathi Deevena: Rs. 20,000/- payment credited to a student bank account.
Jagananna Vasathi Deevena Pathakam
For ITI students: Rs.10,000/- per year.
For Polytechnic Students: Rs.15,000/- per year.
For Other Courses: Rs.20,000/- per year.
Eligible Courses
B.Tech,
B.Pharmacy,
ITI
Polytechnic
M.Tech,
M.Pharmacy,
MBA,
MCA,
B.Ed
And Other Degree/PG Courses
Jagananna Vidya Deevena Scheme Application Form
The student college admission department will be submitted the application on the jnanabhumi official website.
Students no need to register themself but, students can check the status of the application form for the Vasathi Deevena Scheme payment process.
Check Latest AP Govt Jobs 2020
jagananna vasathi deevena payment status
Those who are eligible for the Vidya and Vasathi Deevena scheme, the student should check out the college wise data eligibility. Check Status
Eligibility In-eligibility details are available in the following link.
Change the area code in the link for the status info: https://navasakam1.apcfss.in/NavasakamJVDEligibleReport.do?key=GetEligiblePdf&sec_code=10790742 (Change Area Code).
If you did not receive Amma void payment CHECK HERE
Jagananna Vidya Deevena Scheme Status
Important Note: Above link is getting error sometimes, due to server issues and merit list is updation is under process.
Jagananna vidya deevena list
The Jagananna vidya deevena list will be available after approval from district wise officer and the complete data will be stored on the navasakam website students can download it form it,
Eligible candidates should check the Area wise Status information, each area code cover certain Colleges in the Andhra Pradesh State.
First, students should know the College Area Code and click the below official link for the final status confirmation.
College Wise Jagananna Vidya & vasathi Deeven Scheme Status.
Fee Reiumbursement Survey Form – Download PDF
Student Eligibility
Must and should have 75% attendance to release the student scholarship.
Day Scholar students, Students in College Attached Hostel (CAH) & Department Attached Hostel (DAH).
In-Eligibility
Studying in Private/Deemed Universities
Pursuing Corresponding/Distance Education Courses.
Admitted under Management /Spot quota.
Jagananna vidya kanuka status
Eligible students can use the above link for the status of the AP Jagananna vidya deevena scheme. The Jagananna vidya kanuka status information will be available on September 2020 onwards, the details will be shared on the official website.
vidya deevena scheme
YSR Vidya Deevena Helpline
Those who have questions and doubts related to JVD and JSD scheme, they have to escalate the issues to [email protected]
Download Current Affairs in Telugu PDF
jagananna vidya deevena scheme
If student have any questions and doubt on the scheme, use the below frequently asked questions and get to know the answers. If you still have questions, then comment below.
How much Hostel fee will be paid by AP Government.?
Yearly Rs.20,000/-
When Jagananna vidya kanuka status available?
Complete payment and scholarship details are available on the navasakam official webiste.
My college has more than govt quota payment, Can I get 100% fee reimbursement.?
Yes, AP govt will pay 100% fee reimbursement, no need to pay from student pocket.
How to check the status of the Hostel payment.?
Use the official website navasakam and get the details.
What is the Jagannna Vidya deevena website -1.?
navasakam 1.apcfss.in
What is the official Jagannna Vidya deevena?
navasakam 2.apcfss.in
What is the Jagannna Vidya deevena 3rd link?
navasakam 3.apcfss.in
Is EAMCET qualified stud nets are eligible or not.?
Yes, eligible.
Doing B.Tech after completion of Diploma, Can I eligible for JVD scheme.?
Yes, B.Tech after diploma are eligible.
In my family, both Me and My brother joined in B.Tech after inter, Can We eligible.?
Yes, both students are eligible for the JVD.