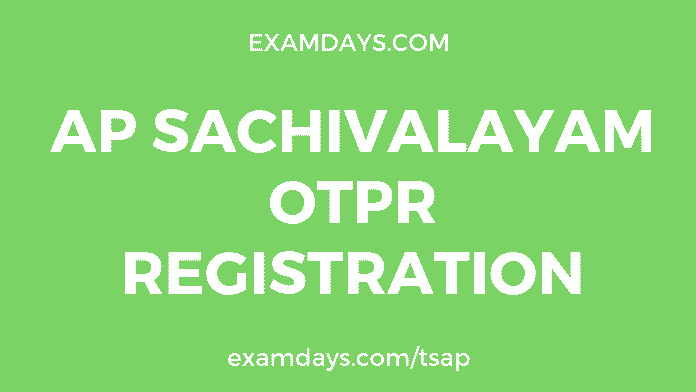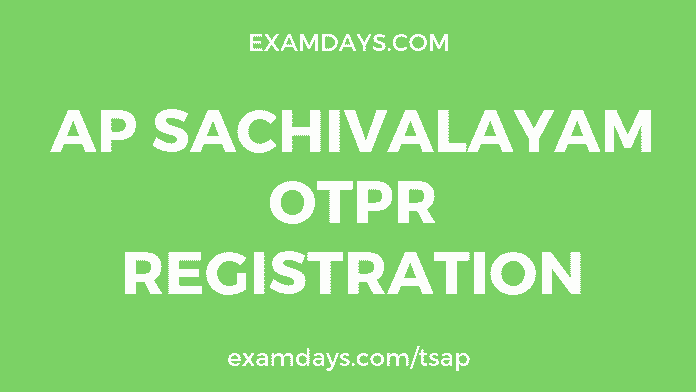 AP Sachivalayam OTPR Registration
AP Sachivalayam OTPR Registration 2021: Andhra Pradesh Sachivalayam has scheduled to releases on July 2021 (tentative) to fill the Grama and Ward 18,048 vacancies for the 2021-2022 year. those who are interested and eligible can register for the online application form on or before the last date of the application form.
Candidates can submit the online application form on or before the last date 31.01.2020. After submission of the online application form should take the printout for future reference.
Check your application once again, if any minor mistakes then correct it immediately, it will reflect the main application form and also in the hall ticket.
Sachivalayam OTPR Registration
July 2021 Update

: Sachivalayam OTPR registration and modification will be released in the month of July 2021.
Sachivalayam OTPR registration open for the candidates, those who are did minor mistakes in the application form, correct the details.
Sachivalayam new registration will be held in next year for the new openings.
ఏ‌పి సచివాలయం ఓ‌టి‌పి‌ఆర్ రిజిస్ట్రేషన్ 2021
ఆంధ్రప్రదేశ్ రాష్టా సచివాలయం రెండోవా నోటిఫికేషన్ 2021 కావున అబ్యర్డులు ఎవరతే సచివాలయం నోటిఫికేషన్ కోసం ఎదురు చూస్తునారో, పరీక్ష కోసం preparation ని సన్నద్దo చేసుకోవాలి. పాత నోటిఫికేషన్ పద్దతి ప్రకారం మాత్రమే ఎసరి కూడా సెలెక్షన్స్ ఉంటాయి. కొత్తగా ఏమి నిర్ణయం లేదు. మొత్తంగా 15 నుండి 18 వేలు వరకు పోస్టులను విడుదల చేస్తారు.
In this article, we guide you, how to register for the AP Sachivalayam Online Time Personal Registration OTPR application form
AP Sachivalayam OTPR Registration
Name of the Authority
Andhra Pradesh Sachivalayam
Name of the Posts
Grama and Ward Posts
Number of Posts
16,208 increased to 18,048 Vacancies
Qualification
10th/Intermediate/Degree/Engg/Pharmacy
/B.Sc/BZC/Civil/Mech/
Polytechnic/Diploma/Agriculture
Age Limit
18 to 42 Years
Selection Procedure
Written Test & Document Verification
Official Website
gramasachivalayam.ap.gov.in
wardsachivalayam.ap.gov.in
AP Sachivalayam OTPR edit
జనవరి 11 2020 తేదీ నుండి ఆన్లైన్ లో రిజిస్ట్రేషన్ అందుబాటులో ఉంట్టుంది. రిజిస్ట్రేషన్ కి చివరి తేదీ 31 జనవరి 2020.
AP Sachivalayam OTPR Registration
Andhra Pradesh Sachivalayam Candidates can follow the below OTPR registration metho, once the OTPR registration is completed, then the final step is the payment step to pay online by using a Credit/credit card or internet banking and another payment method.
Instruction#1:
Candidates access the AP Sachivalayam official website for the OTPR registration – Registration Here.
Important Note: APPSC OTR and AP Sachivalayama OTPR registrations are not the same, both are different. If you already have APPSC OTR ID then you have created OTPR in Sachivalayam too. BOTH ARE DIFFERENT.
Instruction#2: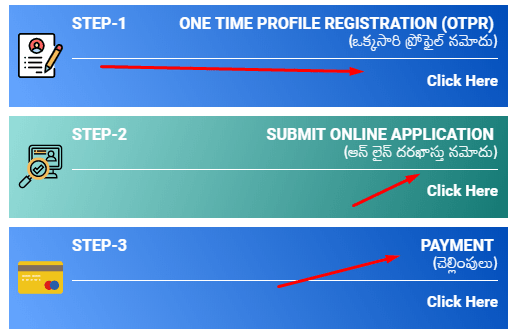 Now, on the main screen, there are three steps: These are the three steps are very important for the Sachivalayam application submission process; candidates should fill the Sachivalayam OTPR registration carefully without any mistakes, other candidates have to pay additional Rs.100/- for edit/modify the OTPR application form later.
So, fill the application with concentration without any mistakes; the application procedure has given step by step process.
Step-1: One Time Profile Registration OTPR
Step-2: Submit Online Application
Step-3: Payment
Step-1: One Time Profile Registration OTPR
In this screen, candidates should register his/her profile
Sachivalayama OTPR registration compulsory before application procedure.
After submission of the OTPR application form, candidates get OTPR Unique ID.
OTPR ID is important for all the application submission in further steps.
Follow the step-2 application screen instructions and fill the application form accordingly.
Name of Applicant
Date of Birth
Gender
Aadhar Card Number
AP Sachivalayam OTPR Edit Option
Important Note:
If an Aadhar card not available, don't worry cam submit the application form with other Govt valid ID cards too, Use any one of the available Govt ID lists, like say Voter ID; must and should take the scanned copy for upload document/.
Mobile Number (used number only for OTP)
Photo & Signature Upload
For Photo and signature upload, refer to the below photo and signature dimensions and size (50KB).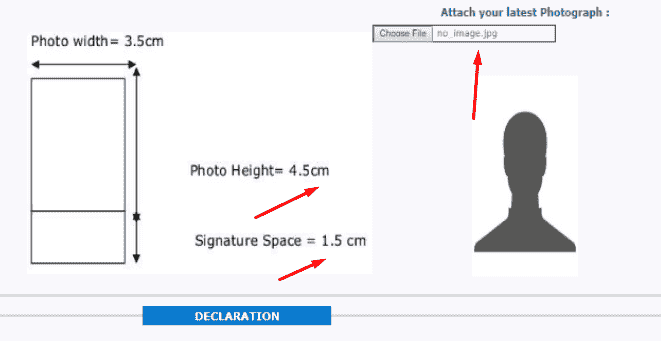 Click on Upload Documents and Proceed Next
On the next screen;
Email ID
religion
Marital Status
Employee details.
PWD details
Address Details
Educational Details. (4th Class to 10th Class including local district).
Examination District Choices (3 choices).
Click on the Accept Above Declaration – Preview.
In the preview form, if all the details correctly then click on the SUBMIT button if not click on the EDIT button for the change/modify details. After submission of application, You will get a Registration ID (As shown in below Image).


Step-2: Submit Online Application
In this step, Select the post category as per the eligibility (There are three (3) categories and choose anyone)
Candidates can submit multiple posts too, but remember each category has its own examination, which means, there are three examinations in the future. If you applied for three category posts, you have to give three exams.
log in with OTPR ID and you will redirect to Post Details Page, (Non-local and local option available here).
Here, Candidates can submit the 4 post preferences ( Preference wise only). Then click on the preview and submit the application. Note down the Application ID for stage-2.
Important Note:
Candidates can apply either 1 category or Can apply three categories (as per your choice and preparation and with your confidence).
Step-3: Payment
In this step; log in with OTPR and pay the payment as per candidates' reservation wise. Once the payment is done successfully, then your application is submitted successfully. Take a printout of the application form for future reference purposes.
AP Sachivalayam Helpline Numbers
If candidates have any payment issues or application form not submitted issues, don't hesitate to contact the Sachivalayam team in the below numbers.
For General Queries
9121296051, 9121296052, 9121296053, 9121296054, 9121296055
For Technical Queries
9121148061, 9121148062, 9121148063
If Candidates have any further questions and doubts, use the below comment box for clarifications on the application form and payment problems.
When Ap Sachivalayam Notification 202 released.?
The AP Sachivalayam notification released date is 10.01.2020 (tentative).
How many posts in the AP Sachiavalayam 2020 Notification.?
Expected vacancies from 15,971 to 18,971 Vacancies
Where to Register for the AP Sachivalayam OTPR.?
gramasachivalayam.ap.gov.in official website
What is the AP Sachivalayamn Selection procedure.?
Written Test & Certificate Verification. (No Interviews).
What is the Eligibility of AP Sachivalayam Posts.?
It is based on Post wise, candidates should refer to the post notification.
What are the AP Sachivalayam helpline numbers.?
9121296051, 9121296052, 9121296053, 9121296054, 9121296055