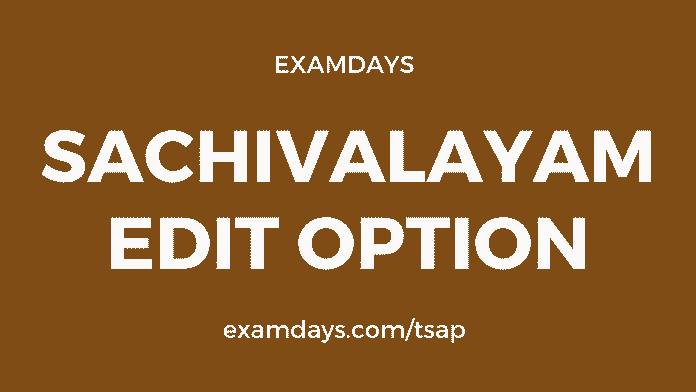 AP Sachivalayam OTPR Edit Option
AP Sachivalayam OTPR Edit Option: Andhra Pradesh State various departments have released Grama and Ward Sachivalayam posts to fill the 16,207 Vacancies and those who have applied for the Grama and Ward three category posts can submit the online application form before the last date.
If anyone submitted Sachivalayam OTPR application form with mistakes and wants to edit the application form, then candidates have to wait for them until the application date is completed. For mistake correction, candidates have to pay Rs.100/- per complete application or ZERO rupees (fee is not yet decided by Sachivalayam yet, it was expected application fee).
AP Grama Sachivalayam Edit Option
2022 Edit Update: Candidates can edit the minor mistakes in the application form by using edit option from today onwards.
Upload service details for selection preference. Details are given below.
Those who are done common mistakes in the OTPR application at the time of job application submission, they may get an official link to modify their minor or major mistakes soon. Candidates have to wait certain days for the link active process. Right now, the link not yet activated.
Sachivalayam edit option is NOT official announced this year (2020), it was availed in 2019 year.
It was not confirmed by the Sachivalayam official sources.
If No edit optionis available then NO NEED WORRY about, because, the candidates details correction / modify available at the time of certificate verification time.
ఆంధ్రప్రదేశ్ సచివాలయం ఎడిట్ ఆప్షన్ విడుదల
సచివాలయం గ్రామా మరియు వార్డ్ అభ్యర్థులు ఎప్పుడు అప్లికేషన్ ఫారం తప్పులను సవరించుకోవచ్చును. మరొక్కసారి అప్లికేషన్ పూర్తి గ చెక్ చేసి మరల సబ్మిట్ చేయండి.
ఈ అవకాశాన్ని ఉపయోగించుకోండి, మరల మరల తప్పులతో అప్లికేషన్ సబ్మిట్ చేస్తే రిజెక్ట్ అవుతుంది.
జాగ్రత్తగా అప్లికేషన్ ఫారం ని రెండు మూడు సార్లు చెక్ చేసి అప్పుడు నెమ్మదిగా సబ్మిట్ చేయండి, తొందర వద్దు.
తొందర పటు మీ అప్లికేషన్ రిజెక్ట్ అయ్యే అవకాశాలు ఉన్నాయ్.
మరింత సహాయానికి మమల్ని సంప్రదించండి.
AP Sachivalayam Edit Option

Available after completion of Last Date
AP Sachivalayam OTPR Edit Option
Name of the Authority
Andhra Pradesh Sachivalayam
Name of the Posts
Grama and Ward Posts
Number of Posts
16,207 Vacancies
Qualification
10th/Intermediate/Degree/Engg/Pharmacy
/B.Sc/BZC/Civil/Mech/
Polytechnic/Diploma/Agriculture
Age Limit
18to 42 Years
Selection Procedure
Written Exam
Official Website
gramasachivalayam.ap.gov.in
wardsachivalayam.ap.gov.in
AP Sachivalayam OTPR Edit Option
To edit the Sachivalayam Grama OR Ward online application form, his/her must and should have Sachivalayam OTPR ready to modify the application form. The Sachivalayam edit option is available now.
Both Grama and Ward Sachivalayam candidates can use the below Same link for both online application forms edit, make sure that, you have to resubmit the application form without any error, further questions write to us for clarifications.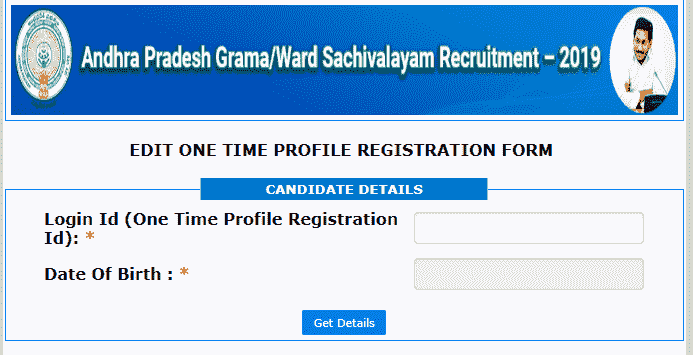 Candidates can make use of the AP Sachivalayam edit option for edit / modify the complete details as in the Sachivalayam Website.
Upload Qualification Certificates Who Applied for Multiple Posts
Those who are applied for the multiple posts, can edit and upload the qualification certificates here – Upload/Modify Here
Update Local GO 104: If you have issues with Local and Non-local category options, update here, further details candidates can update here.
AP Sachivalayam Complains OR Query
Use the below complaints form to ask the eligible questions and application submission-related questions in the below listed official link.
AP Sachivalayam Edit Application Form

AP Sachivalayam has activated the application form edit as per the category wise, now candidates can edit the completed application form for their minor and major mistakes in the application form.

Category – I Posts
1. Panchayat Secretary (Grade-V)
2. Mahila Police and Women & Child Welfare Assistant / Ward Women & Weaker SectionsProtection Secretary (Female)
3. Welfare & Education Assistant
4. Ward Administrative Secretary
Category – II Posts
Group – A (Common Examination with preference)
1. Engineering Assistant (Grade-II)
2. Ward Amenities Secretary (Grade-II)
Group – B (Common Examination)
1. Village Revenue Officer (Grade-II)
2. Village Surveyor (Grade-III)
Category – III
1. Village Agriculture Assistant (Grade-II)
2. Village Horticulture Assistant
3. Village Fisheries Assistant
4. Village Sericulture Assistant
5. Panchayat Secretary (Grade-VI) Digital Assistant
6. Animal Husbandry Assistant
7. ANM/Ward Health Secretary (Grade-III) (Female)
8. Ward Planning & Regulation Secretary (Grade-II)
9. Ward welfare & Development secretary (Grade-II)
10. Ward Education & Data Processing Secretary (Grade-II)
11. Ward Sanitation & Environment Secretary (Grade-II)
If any complaints about AP Sachivalayam, use the below link for that.
There was a payment error, candidates who are facing these issues, have to refresh the pages and do it again. If already payment deducted but the application, not a success, then payment will be refunded in 7 days.

Mobile OTP Errors
We already tested with application OTP but unable to receive the MObile OTP for edit purposes, as per information, there is a lot of traffic on servers and it crashed and there will be a technical issue as of now.
Upload Service details on the Sachivalayam Website on or before the link expire – Upload Here
AP Sachivalayam Complains Form
If candidates have any further questions and doubts, use the below comment box for clarifications.
How to Edit the Sachivalayam Application form.?
Login and proceed with screen instructions.
How to edit the DOB in the Sachivalayam application form.?
Follow the above screen instructions.
Is Aadhar Card is required for the Sachivalayam registration.?
Yes, it is required for the application registration.
How to take application printout.?
After submission of the application, click on the printout option and take the system print.