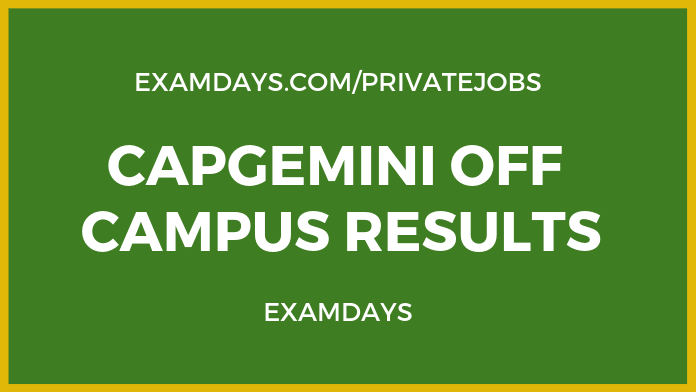 Capgemini Results 2022: The Capgemini MNS Scheduled number Off Campus drive across India. earlier the last date of online application, and many of them attended for written examination and followed by the Capgemini interview process. Capgemini off campus Recruitment notification last dates were completed. Those who have completed the Capgemini recruitment procedure, now candidates can check the final Capgemini results.
For Capgemini Off Campus Results 2022, Those who are attended Capgemini Interview have to download the result notification. The selection list may be available in candidates' email IDs as well as SMS. If you're not received, then contact the Capgemini HR team for the status of the Interview. The HR team will provide the confirmation via email (that you provided at the time of the recruitment process).
March 2022 Update – Those who are given the Interview in the last month, have to eye on the registered email for the next round selection procedure. Make sure, you have to be ready with the Original and 2 set of Xerox documents, in order to submit to the HR department before joining.
Capgemini Off Campus Results
Those who are waiting for the results after the Online Assessment test, have to eye on the registered email and SMS. Only shortlisted candidates will get Messages/Mail from the HR team.
Candidates must and should be ready to relocate to any location like say (in India) Mumbai/Pune/Bangalore/Chennai/Hyderabad/NCR /Kolkata), work across technology, domain, role and should be ready to work in shifts if required.
| | |
| --- | --- |
| Name of the Posts | Software Engineer/Developer/IT Support |
| Qualification | B.E/B.Tech & MCA |
| Experience Required | Freshers |
| Selection process | 3 Rounds of selection |
| Online Assessment & Interview Status | Process & Completed in Few Locations |
| Bond | 2 years' Service Agreement |
Capgemini Results 202
Those who are completed online assessment and interview at Capgemini, either check the Capgemini Career portal or check the Email for result notification.
After completion of both on online assessment and interview panel questions with HR team, after 3 or 7 days, check the mail continuously for interview results.
Capgemini will share both SELECTION and NOT SELECTION results notification emails.
How to check capgemini results
Capgemini will send the email (Domain "Capgemini" only), check the email, and verify with other candidates who already working in the company (Sometimes fraud emails also send emails, check this seriously).
No other mode is applicable for the results and offers letter.
Capgemini Selection Procedure
Online Assessment Test ( Aptitude, Communication, Programming)
Technical Interview
HR Interview
Document Verification.
If candidates have any further questions on Capgemini results (after the interview), can comment below to discuss with other candidates. New recruitment from Capgemini will be announced soon for 2022 and 2021 passouts candidates for the software engineer recruitment process, we will intimate the Capgemini recruitment drive information.
In how many days Capgemini results will be declared?
Maximum 7 days (in some cases, they took longer time), better contact the HR team for the results status.
How to check Capgemini interview status?
Contact the HR Team, and Further Details Visit Here
Capgemini pooled campus drive 2022 results?
Shortlisted candidates will get the next round of selection details.
When will Capgemini results be released?
Maximum 7 days after the online test.
After how many days Capgemini results will be declared?
Maximum 7 days.
Does Capgemini send a rejection email after the interview?
Mostly No, But candidates have a right to check the status of interview results at HR by Email.
Capgemini interview process 2022 for experienced?
Candidates have to prepare for both Technical and HR discussions.
How to check the Capgemini offer letter in the portal?
Contact the Capgemini HR desk via email at [email protected]
Capgemini interview process for experienced in India?
Is based on the previous company project and work culture questions are asked.
Workstyle report Capgemini means?
It is available in the 5th round selection, which is AI auto-generated email.