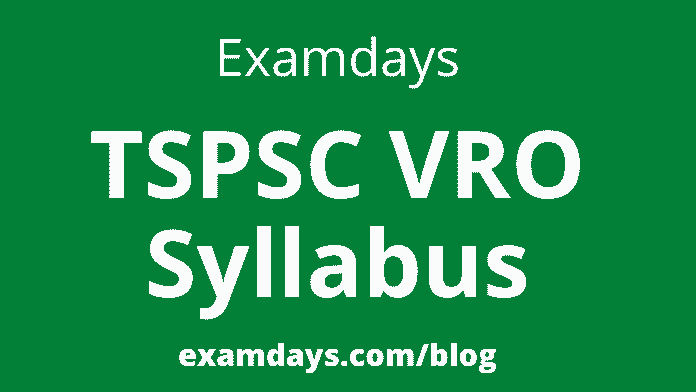 TSPSC VRO Syllabus: Telangana State Public Service Commission (TSPSC) updated Telangana VRO Syllabus as per the New Standard levels. As per the Telangana TSPSC Mentors review, the Telangana VRO exam syllabus was updated after four years of Telangana formation day. Syllabus for ts VRO in Telugu pdf.
For TSPSC VRO Syllabus, we received many requests to update Telangana VRO Syllabus Village Revenue Officer. The TSPSC may be reviewed all requests and information from board members, and finally, they change a little bit in Telangana VRO Syllabus.
TSPSC VRO Syllabus
VRO syllabus material in Telugu pdf is updated as per the latest exam pattern and syllabus-wise. Those who are interested in preparing for the VRO posts in the TS state, have to check out the exam syllabus and other related information.
Also, we are trying to upload the ts vro previous question papers along with syllabus, so that candidates have to refer these page for the future exam prep purpose.
Number of Posts: 700 Posts
Applications Received: 7 Lakhs
Competition of Each Post: 1000 Members per 1 post.
Languages Opt: English, Telugu and Urdu.
Number of Questions: 150 Questions
Number of Marks: 150 Marks
Exam Duration: 150 minutes (2 Hours 30 minutes)
Mode examination: Offline / Online
Type of Exam: Objective
Negative Mark: No
VRO Syllabus in Telangana 2022
Those who are preparing for the Telangana VRO examination have to undergo the complete syllabus and check the VRO Syllabus standard and make sure that, if you're not aware anything please feel free and asks in the below comment section. Our Examdays Team members will revert for further questions and queries on tspsc VRO syllabus.
Application to be made available on the Commission's WEBSITE (www.tspsc.gov.in) to the post of Village Revenue Officer in the Revenue Department in the state of Telangana.
TS VRO Exam Pattern
| | | |
| --- | --- | --- |
| Paper Name | Marks | Questions |
| General Knowledge | 75 | 75 |
| Secretarial Abilities | 75 | 75 |
| Total | 150 | 150 |
Exam Duration – 150 minutes
Question Paper medium – English and Telugu
Exam Questions Type – Objective
VRO Syllabus TS 2022 in Telugu
VRO syllabus in Telugu is available for the telugu medium candidates, if you are Telangana state have to attend the exam in telugu medium, then opt the Telugu while exam registration time. Same medium question paper will be assigned to you in the exam.
Paper: General Knowledge and Secretarial Abilities General Knowledge:
Current affairs: International, National, Regional
General Science: science in everyday life and Environmental Issues and Disaster Management.
Geography and Economy of India and Telangana.
Indian Constitution – Salient Features, Indian Political System , Government, Panchayat Raj and Rural Development
Modern Indian History with a focus on Indian National Movement.
History of Telangana and Telangana Movement.
Society, Culture, Heritage, Arts and Literature of Telangana.
Policies of Telangana State.
Ethics, Sensitivity to Gender and weaker sections, social awareness
1) ప్రస్తుత వ్యవహారాలు: అంతర్జాతీయ, జాతీయ, ప్రాంతీయ
2) జనరల్ సైన్స్: సైన్స్ ఇన్ ఎవైడే లైఫ్ అండ్ ఎన్విరాన్మెంటల్ ఇష్యూస్ అండ్ డిజాస్టర్ మేనేజ్మెంట్.
3) భారతదేశం మరియు తెలంగాణ యొక్క భౌగోళిక మరియు ఆర్థిక వ్యవస్థ.
4) భారత రాజ్యాంగం – ప్రధాన అంశాలు, భారత రాజకీయ వ్యవస్థ, ప్రభుత్వం, పంచాయితీ రాజ్ మరియు గ్రామీణాభివృద్ధి
5) ఇండియన్ నేషనల్ ఉద్యమంపై దృష్టి కేంద్రీకరించిన ఆధునిక భారతీయ చరిత్ర.
6) తెలంగాణ మరియు తెలంగాణ ఉద్యమం చరిత్ర.
7) సొసైటీ, కల్చర్, హెరిటేజ్, ఆర్ట్స్ అండ్ లిటరేచర్ ఆఫ్ తెలంగాణ.
8) తెలంగాణ రాష్ట్ర విధానాలు.
9) ఎథిక్స్, లింగం మరియు బలహీన విభాగాలకు సున్నితత్వం, సామాజిక అవగాహన.
Secretarial Abilities:
Basic English (8th Standard)
Mental Ability. (verbal and non-verbal).
Logical Reasoning
Numerical abilities
Arithmetical abilities.
1) బేసిక్ ఇంగ్లీష్ (8 వ ప్రామాణిక)
2) మెంటల్ ఎబిలిటీ. (శబ్ద మరియు అశాబ్దిక).
3) లాజికల్ రీజనింగ్
4) సంఖ్యా సామర్ధ్యాలు
5) అంకగణిత సామర్ధ్యాలు.