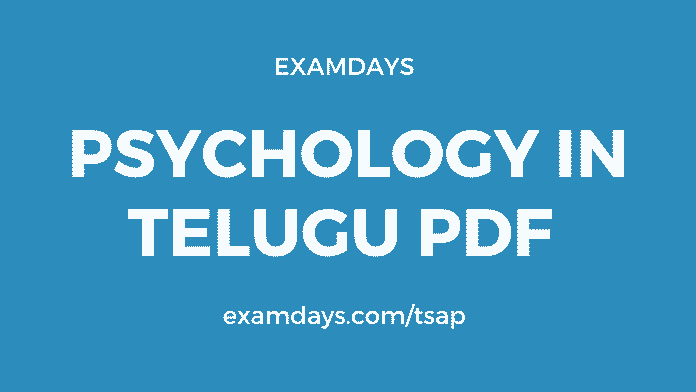 Psychology Telugu Book
Andhra Pradesh (A.P.) and Telangana State (T.S.) examinations have a certain syllabus with Psychology section part, Psychology is easy and score section in the examination, every exam has 2-5 question on Psychology concept, Candidates should download the Psychology book and prepare for this important section.
The Psychology book available in Telugu medium pdf book. Download and prepare for the exam.
ఆంధ్రప్రదేశ్ మరియు తెలంగాణ రాష్టం లో ఏ‌పి‌పి‌ఎస్‌సి/టి‌ఎస్‌పి‌ఎస్‌సి నిర్వహించే టి‌ఈ‌టి మరియు డి‌ఎస్‌సి పరీక్షలలో సైకాలజీ సెక్షన్ నుండి 2-5 ప్రశ్నలు తప్పనిసరిగా అడుగుతారు. సైకాలజీ అనేది చాలా సింపుల్ అండ్ మార్కులు సాదించుకునే సబ్జెక్టు గా చెప్పుకోవచ్చును.
కావున అభ్యర్డులు సైకాలజీ పి‌డి‌ఎఫ్ బుక్ డౌన్లోడ్ చేసుకొని టి‌ఈ‌టి మరియు డి‌ఎస్‌సి పరీక్షకు సిద్దం కావాలి.