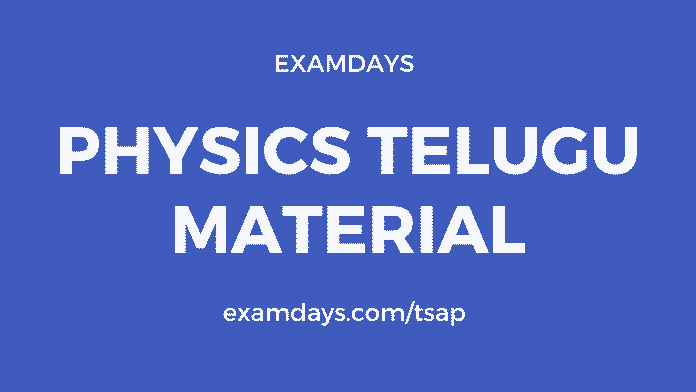 Physics Telugu Material
Andhra Pradesh and Telangana State exams are conducting various examinations throughout the years of exams. Every TS AP syllabus consists of Physics as one of the important topics. Every TSPSC or APPSC examination has 2-4 marks from the Physics subject. Candidates should give importance to Physics and prepare for the exam accordingly.
ఆంధ్రప్రదేశ్ మరియు తెలంగాణ రాష్టాలు నిర్వహించే పరీక్షల నుండి ఫిజిక్స్ కి (బౌదిక శాస్త్రం) చాలా ముఖ్యమైన పాత్ర ఇవ్వబడింది. ప్రతి పరీక్ష నుండి 2-4 ప్రశ్నలు అడిగే అవకాశాలు ఉన్నాయి. కావున అభ్యర్డులు బౌదిక శాస్రం కి తగిన ప్రాధాన్యత ఇవ్వాలి.
Physics Telugu Material PDF
క్రింద ఇవ్వబడిన బౌదిక శస్రా (ఫిజిక్స్) బుక్స్ ని డౌన్లోడ్ చేసుకొని (ముఖ్యమైన్వి మాత్రమే) పరీక్షకి సిద్దం కావాలి.
Further study materials are available on this page for the candidates reference purpsoe, the details are listed out for the candidates pdf download and reference purpose.