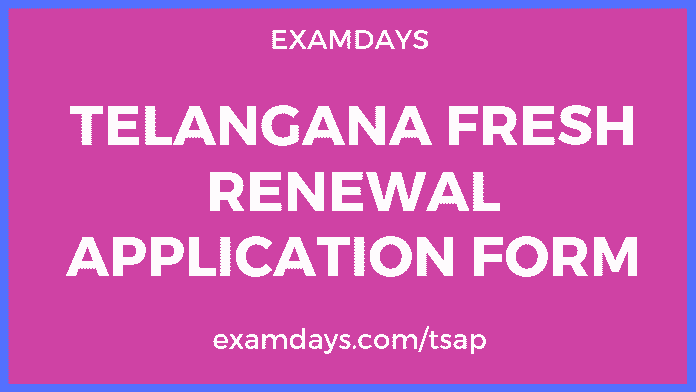 TS ePass: Telangana State Scholarship TS ePass department inviting online applications from eligible candidates from the State of Telangana for Postmatric Scholarships For Fresh Registration FY 2021-22 and 2022-23 and Post matric Scholarships For Renewal Registration on or before the date. Those who are eligible for the Post matric Scholarship can apply the online before last date and those who already availing of scholarships can renewal the applications before the last date.
For TS ePass Online application was to be ended soon. Those who have not applied yet can apply them as soon as possible. The complete application procedure is available in this post below. Students can aware of this last date of the online TS ePass form. Students can download the Fresh and renewal form for fresh applications.
TS ePass
For TS ePass registration for the academic year is available for the new and extended online application purpose. Those who are still not applied then submit the online scholarship form before the last date. The detailed information was available below details.
TS ePass Scholarship 2022 and Ts ePass Telangana registration as well as status information is available online for both Pre and Post scholarship candidates. Eligible candidates have to provide sufficient details while registering for new registrations. The details are available online for new and renewal registrations.
తెలంగాణ ప్రాంతలో చదువుతూ మీ చదువుకై స్కాలర్షిప్ మరియు ఫీజుల కోసం గవర్నమెంట్ నుండి సహాయం పొందాలనుకుట్టునరా!!!, అయితే మీరూ తెలంగాణ రాష్టా ePass లో మీ యొక్క విశ్వవిద్యాలయం లేదా కళాశాల యొక్క మరియు మీ పూర్తి చదువుకి సంబందించిన పూర్తి సమాచారం ePass వెబ్సైట్ లో ఉచితంగా రిజిస్ట్రేషన్ చేసుకోవాలి, రిజిస్ట్రేషన్ చేసుకునే ముందు కళాశాలలో అడ్మినిస్ట్రేషన్ డిపార్ట్మెంట్ లో తగిన సమాచారాన్ని తీసుకొని మాత్రమే ePass లో రిజిస్టర్ చేయాలి. అలా చేసిన తర్వాత, అప్లికేషన్ ఫామ్ ని ప్రింటౌట్ తీసుకొని, తగిన అకడెమిక్ డాక్యుమెంట్స్ అన్నీ జత చేసి కాలేజీ అడ్మిన్ డిపార్ట్మెంట్ లో సబ్మిట్ చేయాలి.
అంటే కాకుండా, మీ యొక్క TS ePass స్కాలర్షిప్ మరియు ఫీ రీయంబర్స్మెంట్ పూర్తి సమాచారం ఎప్పటికప్పుడు TS ePass వెబ్సైట్ లో తెలుసుకోవాలి. అయితే ఇక్కడ కొన్ని విషయాలు తెలుసుకోవాలి.
ఫీ రీయంబర్స్మెంట్ మాత్రం కాలేజీ కి వెళ్తుంది
స్కాలర్షిప్ మాత్రం విద్యార్ది బ్యాంక్ అక్కౌంట్ కి వస్తుంది.
అయితే ఈ స్కాలర్షిప్ నెలకొసరి లేదా కోర్సు సెమిస్టర్ ఒక్కసారి మాత్రమే వస్తుంది, ఆ విషయాలు మాత్రం కళాశాల అడ్మిన్ డిపార్ట్మెంట్ లో అడిగి తెలుసుకోవలసి ఉంట్టుంది.
కొన్ని ముక్యమైన ప్రశ్నలు మరియు వాటి సందనలు.!!!
ప్రశ్న1: నేను ఇంత వరకు ఫీ మరియు స్కాలర్షిప్ కి TS ePass లో రిజిస్టర్ చేసుకోలేదు, కానీ ఇప్పటికే చివరి తేదీ అయిపోయినది, ఏమి చేయాలి ఇప్పుడు?
సమాదనం: హైదరాబాద్ మసబ్ టాంక్ లో ఉన్న ఆఫీసు కి వెళ్ళి ఒక request లెటర్ ఇవ్వండి, అలా 50 మంది విద్యార్దులు ఇచ్చినచో, రిజిస్టర్ లింక్ మరలా ఓపెన్ చేసేదరు కానీ అదికూడా తగిన సమయకి మాత్రమే సుమా!.
ప్రశ్న2: నేను నా స్కాలర్షిప్ అమృఊ ఫీ ని రేనేవల్ చేయలేదు, ఎలా చేయాలి.
సమాదనం: ఇచ్చిన లింకులను ఉపయోగిస్తూ రేనేవల్ ని చేసి మరలా ఆ డాక్యుమెంట్స్ ని కళాశాలలో సబ్మిట్ చేయాలి.
ముక్య గమనిక: స్కాలర్షిప్ విషయం కంగారూ పడనవసరం లేదు, కింద ఇచ్చిన కొమ్మెఙ్క్త్ సెక్షన్ లో ప్రశ్నలు అద్గినచో మేము వాటికి తగిన పరిష్కారాన్ని సూచిచెదము.
Telangana ePass renewal last date for the online scholarship form submission, the details were listed for the students. The complete information was available for the ts scholarship last date 2022-23, 2021-22, and 2020-21.
Candidates can apply for the Post metric scholarship before the link expire, As an earlier year, the team again activated the scholarship renewal link for the pending students, Those who are still not renewal their earlier ePass scholarship application can submit the form before the last date. ts scholarship last date 2020-2021 is still available for the nonsubmission students.
TS ePass Scholarship 2022
TS ePass Scholarship 2021 Latest Info
March 2022 Update: TS ePass Status verification and other important links are available for the Scholarship.

Postmatric Scholarships Fresh Application
Postmatric Scholarships Renewal Application

No further requests and queries are not available for the renewal applications, it is the last chance for the students, who are not yet done with their renewal application.
Scholarship renewal TS last date is completed by this month, Students submit it and renewal form before the last date.
TS ePass registrations are closing Soon, candidates can register and renewal as soon as possible.
As per the latest info: The PMU official unaware of the TS ePass date extension.
What we (Examdays TSAP) suggest, Join in Telegram Group for Retweet to KTR Twitter handle account to get a response from Govt officials. Minimum 1000 retweets required.
For this we required 1000 students in the Telegram group then We (Examdays) can start Tweet to KTR sir.
Share the telegram Link to friends and make them ready for retweet, then it works, otherwise, we cannot help.
విద్యార్డుల నుండి సరియైన response లేకపోతే తేదీ పొడగింపు ఉండదు. కావున, మీ classmates మరియు స్నేహితుల ట్విటర్ అక్కౌంట్స్ నుండి retweet ఉండాలి.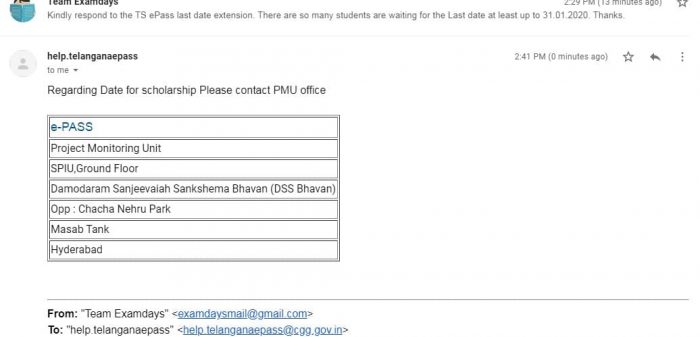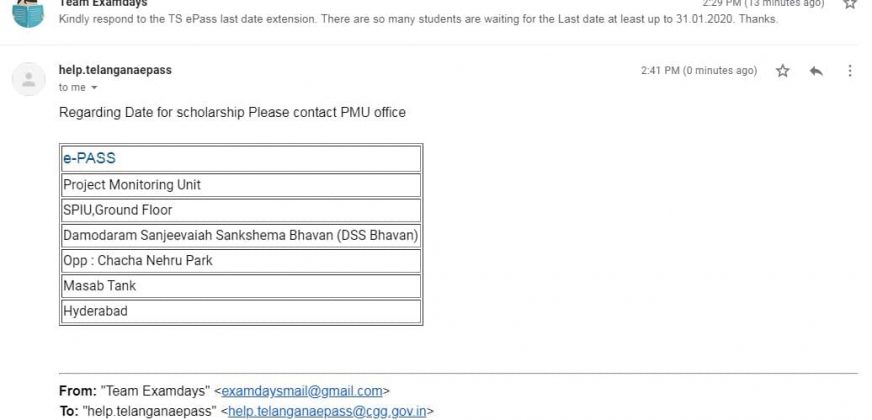 Email received from TS ePass Scholarship department.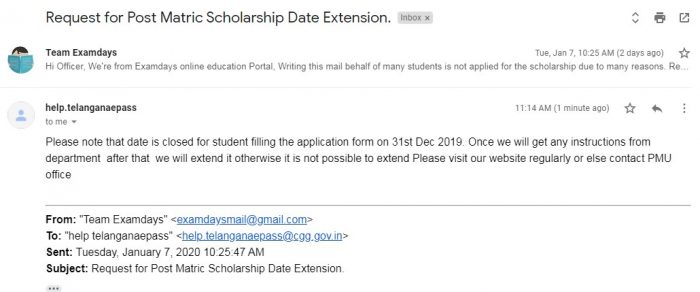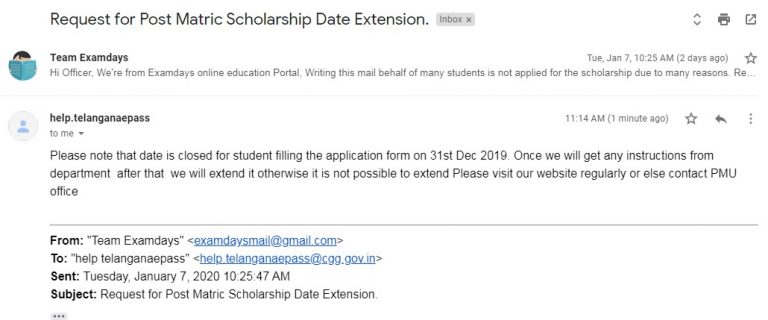 Join in Telegram Group and Decide a Date to Visit TS ePass for Date Extension – ONLY REQUEST THEM & Provide the Valid Reasons to them.
Note: TS ePass Telegram Group created as per many students' requests, don't make Spam and other things – Strictly for TS ePass related issues discussions only.
TS Prematric Scholarships SC/ST/BC/Disabled Fresh Registration (2020-21 and 2021-22)
TS Prematric Scholarships SC/ST/BC/Disabled Renewal Registration (2020-21 and 2021-22)
Other State Scheme Fresh Student Registration
TS ePass Renewal 2022-23 Last Date
| | |
| --- | --- |
| Authority Name | Telangana State e Scholarship |
| TS ePass Scholarship Type | Pre – Matric & Post – Matric Scholarship |
| TS ePass Covered | Fee Reimbursement & Scholarship |
| TS ePass Eligibility | 10th for Intermediate/Intermediate for UG Courses/UG for PG Course |
| Scholarship State | Telangana |
| ePass Renewal 2020 last date | Submit the application before last date |
| Age Limit | No Age Limit |
| Official Website | telanganaepass.cgg.gov.in |
| Years Covered | 2020-21 and 2021-22 Academic Year |
Those who eligible for Telangana ePass Scholarships, they have to utilize the Government funds for college fee, Library fee, and other academic books fee. The Telangana government will aid the financial support to both Telangana and Andhra Pradesh candidates. Check the below appropriate application and apply before the last date.
ePass Telangana
ePass Telangana scholarships are now available for both Postmatric fresh and renewal applications for both new and already availing students. The Telangana Government already started to provide financial aid to both local and non-local candidates as per ePass Telangana rules and regulations. TS ePass scholarship renewal.
TS ePass Application Form
| | |
| --- | --- |
| Fresh Student Registrations (2021-22 and 2020-21) (Other State Students) | Apply |
| Andhra Pradesh State Students Registration | Apply |
| TS Postmatric Scholarships Fresh Registration | Registration |
| TS Postmatric Scholarships Renewal Registration | Renewal Link |
| TS Postmatric Print Application | Print |
| TS Postmatric Application Status | Status |
ts epass scholarship 2020-21
TS ePass Status
Those who applied for TS ePass various scholarships in Telangana State (TS) have to check the ePass status online by visiting TS ePass status link – Check the Status of application Check Status. If candidates feel any difficulty to check the ePass status can comment below with valid questions and doubts. Our team will assist you soon.
TS ePass Scholarship
ePass scholarship students check the official blog for regular updates on Postmatric scholarships for fresh and renewal online applications. The below online applications are open for registration until the last date. All eligible candidates apply for the ePass scholarship before the last date.
TS ePass Application Number
Andhra Pradesh State Government opens for various scholarships and inviting online form AP state candidates, One of AP ePass listed overseas scholarships for foreign status students under Ambedkar Overseas Vidya Nidhi for Spring Season. Skill Upgradation(Coaching for GRE, TOFEL, GMAT, IELTS) Registrations are now open.
TS ePass Overseas Scholarship – Click Here
Ambedkar Overseas Vidhya Nidhi Online Now
Those how facing any difficulties on online applications for fresh, renewal and checking ePass status can comment below with valid questions and doubts.
TS ePass Corporate College Admissions
Telangana ePass corporate college admissions process is started in TS ePass, eligible students can fill the admissions under the corporate admission application window.
TS e Kuber Status 2021
Those who are waiting for the TS eKuber 2021, they can check the complete details as here – Check eKuber Status
TS ePass renewal last date
Many TS ePass students have not submitted applications, candidates can check the official ePass website and submit the scholarship registration before the deadline.
Submit the TS ePass form for epass ts renewal application last date
TS Scholarship Renewal Last Date
For Engineering college scholarship and fee reimbursement application deadlines are fixed, JNTU students also submit the scholarship form before the link expires. Later there is no chance for the application form extension at any cost.
How to Renewal TS ePass Application Form.?
Those who are eligible for the TS Scholarship form for renewal, submit the application accordingly.
Should I keep the TS ePass application form print.?
Yes, Students should keep the application for future reference.
I missed the TS ePass Scholarship Application Registration, What Can I do now.?
As per TS ePass guidelines, If any students missed for the application registration, He/She should Visit the PMU Office, Masab Tank, Hyderabad and submit the application equest letter.
Is there any WhatsApp/Telegram Group for Scholarship.?
Yes, We have Telegram Group for the Students, there you can ask/advice/discuss with other TS ePass Students – Join Here
How to request for the TS ePass Date extension.?
We advise to visit the PMU office and Submit the request letter for the same.
If candidates still have any questions or doubts regarding TS ePass, candidates have to use the below comment box for solutions and also read the comments for any looking information will be found. Earlier, few of candidates have faced certain problems and issues while applying TS ePass Scholarship 2021, it will helps you before registration of TS ePass.