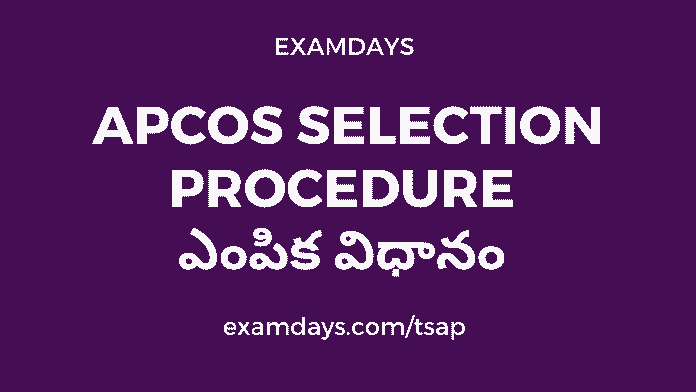 APCOS Selection Procedure 2021: Andhra Pradesh AP Corporation for Outsourced Services APCOS selection procedure is purely based on academic marks. The highest marks candidates will be on the merit list for the document verification process as per the applied post-wise. Merit list is prepared as per the candidate's academic marks and reservation wise.
For APCOS Selection Procedure 2021, check the eligibility wise first and then submit the online application form. The details are applicable as per the post wise. After submission, candidates will get the registration reference number.
APCOS Selection Procedure
ఆంధ్ర ప్రదేశ్ ఔట్ సౌర్కింగ్ ఉద్యగాలకు ఆన్లైన్ అప్లికేషన్ ఫామ్ అందుబాటులోకి వచ్చేసింది, అర్హత గల అభ్యర్డులు తమకు నచ్చిన పోస్టుకు ఆన్లైన్ అప్లికేషన్ ఫామ్ ఫిల్ చేయాలి. డిసెంబర్ 15వ తేదీ వరకు (చివరి తేదీ) ఆన్లైన్ లో సబ్మిట్ చేయాలి.
Experience candidates would have added advantage to the selection procedure if they submitted the experience certificate from a previous organization/company.
| | |
| --- | --- |
| Name of the Authority | AP Corporation for Outsourced Services APCOS |
| Post Name | Various Posts |
| Number of Posts | As per Requirement |
| Qualification | 10th/12th/Degree/Graduation |
| Age Limit | 18 to 40 Years |
| Selection Procedure | Interview |
| Official Website | apcos.ap.gov.in |
Registration candidates should aware of the selection procedure if anyone has questions on the APCOS selection procedure, they verify the below in detail.
AP Outsourcing Registration Link
Those who have applied for the APCOS vacancies as per the District wise, those candidates can check the detailed information on the selection procedure for APCOS outsourcing various posts.
Once the Candidates application form was received, the candidate's selection procedure was followed as per the below step by step procedure;
Academic Marks Consideration
Caste Reservation
Post Applied
Post Vacancies
District Wise Vacancies
Experience (if any)
Merit List Preparation
Document Verification
Selection List.
AP Outsourcing Services
Lower level desk job services
Middle level jobs
Office Assistant Level
Temporary level posts
List of Document Required
Educational documents
SSC memo compulsory for all candidates for DOB verification
Aadhar Card
Pan Card (if any)
Voter ID card
Caste Certificate for reservation candidates
Residence Certificate
APCOS application form print (registration number)
4 recent passport size photos
Experience Document (if any)
If any other documents
మరిత సమాచారం కోసం అబ్యర్డులు కింద ఇవ్వబడిన కామెంట్ బాక్స్ లో తమ ప్రశ్నలు అడగలరు.
Further questions and doubts, use the below comment section for clarifications from Examdays TSAP team.