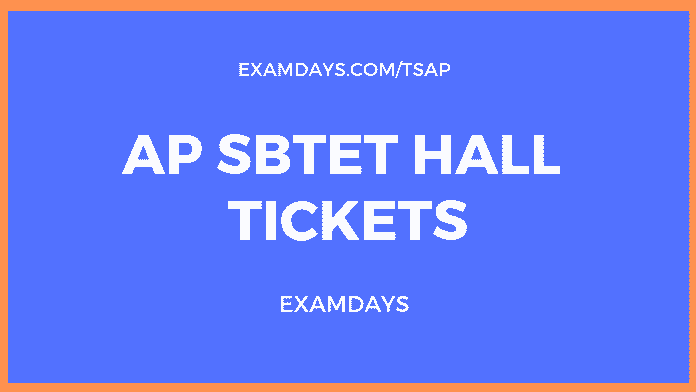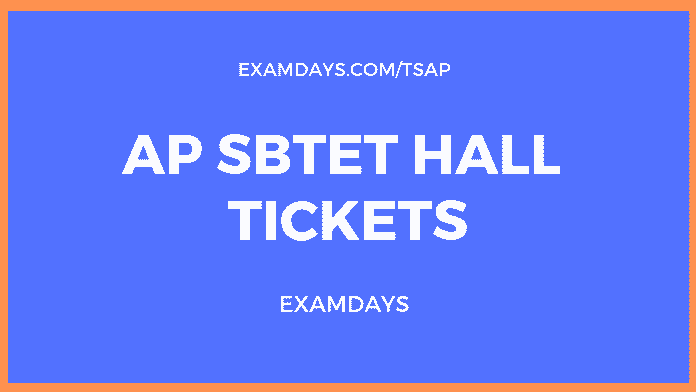 AP SBTET Hall Tickets
AP SBTET Hall Ticket Released: State Board of  Technical Education & Training SBTET released AP SBTET Oct/Nov 2019 time table for the theory practical examination 2019, AP SBTET examination is conducted this month onwards. Candidates can download AP SBTET time table from official website sbtetap.gov.in.
The SBTET time table for both regular / supply examinations from March /April 2019, all diploma candidates can download the given SBTET time tables for Engineering and Pharmacy courses. The AP SBTET semester examinations like  C09, C-14, ER-91, and C-16 schemes. The SBTET backlog/supply and regular examinations are conducted.
Updated on 28.10.2019
The following TS SBTET Hall tickets 2019 are released and available for download purpose.
TS SBTET DIPLOMA C-18 HALL TICKETS 2019
TS SBTET DIPLOMA C-16, C16S HALL TICKETS 2019
AP SBTET Hall Tickets
| | |
| --- | --- |
| Name of the Board | State Board of Technical Education & Training Andhra Pradesh |
| Name of the Course | AP SBTET Diploma |
| Course Date & Year | March / April 2019 |
| AP SBTET Semester | C16, C14, and C09 |
| Course Mode | Regular /  Supply |
| Course Name | Diploma Polytechnic |
| Academic Session | 2018-2019 |
| Starting date of Examination | 25th March 2019 |
| Official Website | sbtetap.gov.in |
3 YEAR DIPLOMA COURSES TIME TABLE FOR WRITTEN EXAMINATION
Diploma in Automobile Engineering
Diploma in Architectural Assistantship
Diploma in Hotel Management and Catering Technology
Diploma in Information Technology
Diploma in Mechanical Engineering
Diploma in Metallurgical Engineering
Diploma in Mining Engineering
Diploma in Petro Chemical Technology
Diploma in Petroleum Technology
Diploma in Refrigeration and Air-Conditioning
Diploma in Textile Technology
Diploma in Applied Electronics and Instrumentation Engineering
Diploma in Diploma in Bio-Medical
Diploma in Civil Engineering
Diploma in Chemical Engineering
Diploma in Computer Engineering
Diploma in Electronics and Communication Engineering
Diploma in Electrical & Electronics Engineering
Diploma in Garment Technology
AP SBTET REGULAR EXAM TIME TABLE
A/ AA/ AEI/C/ CM/CCP/ EC/EE/ GT/ HMCT/ IT/ M/ MNG/PET/PCT/ RAC/ CHST V Semester (C-16)
BM – VI Semester (C-16)
AP SBTET REGULAR AND SUPPLEMENTARY EXAM TIME TABLE
A/ AA/ AEI/C/ CM/CCP/ EC/EE/ GT/ HMCT/ IT/ M/ MNG/PET/PCT/ RAC/CH/CHOT/ CHPC/ CHPP/ CHST/ MET/ TT/BM. I Year, IV semester (C-16)
PH —I &II Year (ER-91)
AP SBTET SUPPLEMENTARY EXAM FOR BACKLOG TIME TABLE
A/ AA/ AEI/C/ CM/CCP/ EC/EE/ GT/ HMCT/ IT/ M/ MNG/PET/PCT/RAC/CH/CHOT/ CHPC/ CHPP/ CHST/ MET/ TT/BM. – III semester (C-16)
BM – V Semester (C-16)
A/ AA/ AEI/C/ CM/CCP/ EC/EE/ GT/ HMCT/ IT/ M/ MNG/PET/PCT/RAC/CH/CHOT/ CHPC/ CHPP/ CHST/ MET/ TT/BM – I Year, III and IV Semester. (C-14)
A/AEI/C/ CM/CCP/ EC/EE/ GT / IT/ M/ MNG/PET/PCT/ RAC/ BM – V Semester (C-14).
AA/ AEI/C/ CM/CCP/ EC/EE/ GT/ HMCT/ IT/M/ MNG/PET/PCT/RAC/ CHST /BM – VI Sem (C-14)
CH/CHOT/ CHPC/ CHPP / MET/ TT – VII Sem (C-14 )
A/ AA/ AEI/C/ CM/CCP /EC/EE/GT/ HMCT/IT/M/ PET/RAC/ MNG/BM/CHST /CH/CHOT/ CHPC/ CHPP/ MET/ TT – I Year, III, IV Semester (C-09 )
A/ AA/ AEI/C/ CM/CCP /EC/EE/GT/ HMCT/IT/M/ PET/RAC/ MNG/BM/CHST- VI Semester (C-09)
CH/CHOT/ CHPC/ CHPP / MET/ TT. VII Semester (C-09)
BM – V Semester (C-09)
AP SBTET Exam Fee
For whole exam fee: Rs.450/-
For whole part for pharmacy exam fee: Rs.675/-
Additional fee for pass certificate: Rs.600/-
Late fee (penalty): Rs.400/-
Tatkal Scheme: Rs.3,000/-
Assessment fee: Rs.550/-
Condonation fee: Rs.600/-
TS SBTET DIPLOMA C-18 HALL TICKETS 2019
TS SBTET DIPLOMA C-16, C16S HALL TICKETS 2019
Download AP SBTET Hall Tickets
Download AP SBTET March April 2019 Time Table PDF