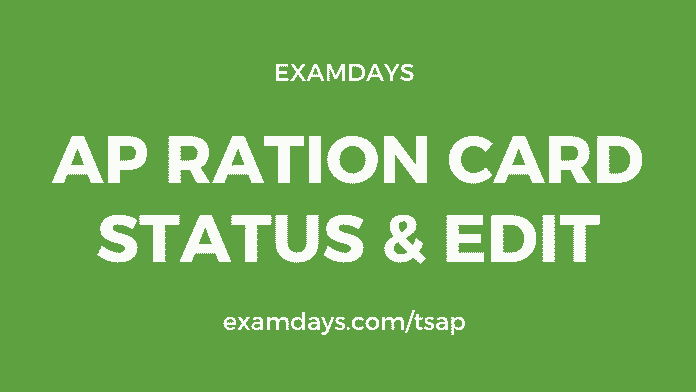 AP Ration Status 2021: Andhra Pradesh AP State Civil Department has canceled 1.47 crore ration cards in the state and providing new ration cards from May 2021 onwards to avail the YSR CP Part benefits along with the "Sanna Biyyam" Scheme in ration shops across the AP State.
The canceled ration card is no more to valid in the ration card after 15.02.2020 onwards, the new AP Ration card is available from 15th FEB 2020, and AP Volunteers supply their new ration card at Doorstep on 15.02.2020 onwards. from Today onwards AP Ration Card status is available and also existing and new ration cardholder can receive at Sachivalayam office and door delivery.
AP Ration Card Status 2021
The new ration cards are scheduled to approve as per the estimated date, In this month AP State has approve more than 1 lakh new ration rice cards and same distributed to all applicants.
Grama Sachivalayam rice card status is available for the new registered candidates, those who are applied for new rice card, check the status, and get the ration from the appropriate ration shop. Check the details of the AP ration card status.
AP State scheduled to releases the New ration cards around 1,04, 796 (Rice Cards), and 88,220 cards already approved.
If payment Rs.1000/- still not received then inquiry in the ration dealer to collect the payment from the postal office or not.
As per New orders from AP Govt, each and every eligible candidate gets below benefits during the COVID 19 (Corano Virus) lockdown.
AP Ration Card Status verification 2020 available.
Eligible candidates get Rs.1,000/- from AP Govt (direct bank transfer) + Ration utilities from ration shop (inquiry more with Grama/Ward Volunteers).
AP Ration Card Status
If anyone did not receive a new ration card by 15th FEB then, those applicants can visit the Village/Mandal/Taluka level Sachivalayam offices and collect the NEW Ration card from the Volunteers or officials.
The AP ration card status details are listed for the candidates who registered earlier.
ఏ‌పి రేషన్ కార్డ్ స్టేటస్ 2021
ఆంధ్రప్రదేశ్ రాష్టం నూతంగా విడుదల చేస్తున్న రేషన్ కార్డులను ఈ నెల నుండి అందుబాటులోకి తెన్నున్నది, కావున అర్హులైన అబ్యర్డులు తమ గ్రామ వాలంటీర్ నుండి 15వ తేదీన వారి క్ఘెతుల మీదగా అందుకొన్నూనారు, ఒక వేల కొత్త రేషన్ కార్డ్ రానిచో దగ్గర్లో ఉన్న గ్రామ సచివాలయం లో ఫిర్యాదు చేసి కొత్త రేషన్ కార్డ్ పొందాలి.
AP Ration Card Search
కొత్తగా ఇస్తున్న రేషన్ కార్డులో, యజమాని ఫోటో తో పాటు, మొత్తం ఫ్యామిలి మెంబర్స్ కి సంబందించిన ఫోటోస్ ఉంట్టుంది, మరియు వల్ల డీటైల్స్ అన్నీ పొందుపర్చాయి.
నూతన రేషన్ కార్డ్ నమూనా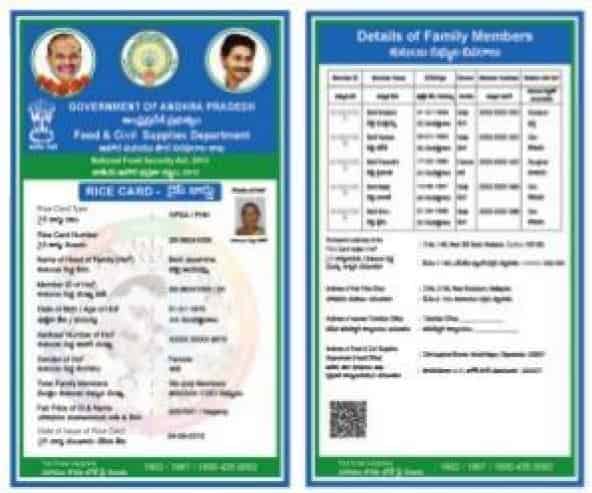 What's New in Ration Card 2021
In Andhra Pradesh New ration card, applicants have their family owner photo with details (Name, Age, Profession).
Old ration card can supply for New ration card food only (Old shop only).
A total of 1.47 new ration cards are available for the distribution.
Food Civil Supply of new ration card under "Food Security Bill -2013".
Applicants get monthly "Sannabiyyam" along with regular items from Ration Shops.
AP Ration Card Edit Online
| | |
| --- | --- |
| Name of the Authority | Andhra Pradesh Civil Supply Department |
| Card Name | Ration Card |
| Beneficiaries | Andhra Pradesh Residents |
| Food Items | Rice, Kerocine, Barly, Suger, Cooking Oil,..etc |
| Ration Card State | Andhra Pradesh |
| AP Ration Card Status | Available |
| Official Website | epdsap.ap.gov.in/epdsAP/epds |
AP Ration Card Status Enquiry 2021
Applicants can check the detailed information for the AP Ration card 2020 food items, which are updated1 and remember, every applicant can get the "Sanna Biyyam" rice items as per below stated tabular form (KGs), Applicants should inquiry the same in the Ration card shop for the additional food items.
| | | |
| --- | --- | --- |
| Food Item | Monthly Products | Cost of the Product |
| Sanna Biyyam (Rice) | 35 Kgs per Card | Rs/1/- per kg |
| Rice (Annapurna Card) | 10kg per card | Free |
| Rice to Priority/White Cards | 5kg per card | ## |
| Wheat Atta | 1kg for BPL cards | Rs.16.50/- |
| Sugar | 1kg | Rs.13.50/- |
| 1/2kg per ANP & WAP /PHH Card | Rs.10.00/- | ## |
| Reg Gram Dal | 2kg | Rs.40/- |
| DF Salt | 1kg | Rs.12/- |
| Ragi (Millet) (ATP& CTR Districts) | upto 3 kgs | Rs.1.00/- |
| Jowar | upto 3 kgs | Rs.1.00/- |
AP Ration Card Status 2021
Those who are already applied for the AP New Ration card Online/Meseva/AP Online or in other Internet Cafe or by self, they can download the Status of the Ration Card application form on the official website epdsap.ap.gov.in.
Use the login option and Status of the application and check with "Village Volunteers".
All eligible and qualified applicants can receive from Volunteers on15.02.2020 onwards.
Further inquiries and doubts clarifications from Assigned Volunteers on Sachivalayam.
If anyone did not receive a NEW ration card on 15tyh Feb then visit the Sachivalayam and collect the New Ration Card from there.
ration card status in ap
Download the AP Ration card status online and contact the nearest/Villege/Mandal/District level Grama Volunteers for the physical ration card, which helps you to get the Rs.1000/- and rations items in this COVID 19 situation.
Alternative Link for the Status Verification – Status Here
AP Spandana Ration Card status
Applicant can verify the AP ration card status from AP YSR Spandana Website also, the complete information was given in this link. Use the Aadhar card number or Ration card number for the Status Verification.
Ration card Status Link 2 – Status Check
AP Rice Card Status
Eligible applicants can use the above link to download the rice ration card status 2020.
Ration card details district
The district-wise ration card details are available on the above website, eligible candidates have to check the status of the ration card and get it from the nearest Sachivalayam office (copy).
Ration card check AP
The status of the ration card 2020 is available from 15th FEB 2020 onwards, the complete status information is uploaded on the official website and get the final status and download the ration card print from the online.
AP New Ration Card Status
Refer the spandana.ap.gov.in navasakam/rationcardstatus link for the exact ration card status and get the additional benefits from the AP govt. Also, the complete information is available at epds.ap.gov.in link.
new ration card status ts 2021
The New ration card status 2020 is available at epds.ap.gov.in link. and further details can verify at https//www.spandana.ap.gov.in/navasakam/ration card status.aspx
ap new ration card application form 2021
Download the new ration card apply ap 2020 verification in the praja sachivalayam ap in. Apply the new ration card application form ap.
How to Check the AP Ration Card Status 2020.?
Applicants, Now visit the official website epdsap.ap.gov.in and check the latest status of the application form.
What is the official website of AP Civil Suppliers.?
epdsap.ap.gov.in
When New AP Ration Card Released Date 2021.?
from 15.02.2020 onwards.
How to Collect the AP New Ration Card 2021.?
No need to go anywhere, the Grama Volunteers will distribute the New cards at doorstep, In case you not received visit the Grama Sachivalayam, office.
How many ration cards are in AP State by 2021 year.?
It's around 1.47 crore ration cards.
What are the AP Ration Card help Line Numbers.?
Applicants can touch with the Customer Care/Support team by using 1909 / 1967 / 1800 425 0082 numbers and also use the Email ID [email protected]
How to get AP ration card status?

Follow the download procedure and if not available enquiry in the Sachivalayam office.