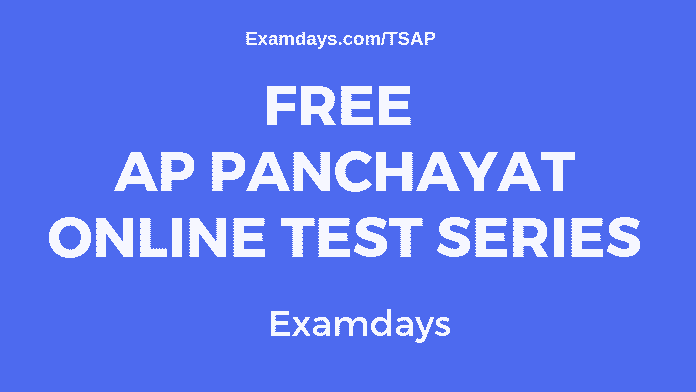 AP Panchayat Secretary Free Online Test: Earlier Andhra Pradesh State Public Commission APPSC released a notification for AP Panchayat Secretary for 1051 vacancies and the examination to be held.
Those who are applied for the AP Panchayat Secretary exam can attempt our Free Online Test in Telugu Medium. The examination has 150 questions with 1 mark for the correct answer and 0.33 negative mark wrong answer, and each question has 1 minute of time to evaluate.
AP Panchayat Mock Test
1 క్రింది వాక్యాలను పరిశీలించండి. ఎ. జిప్సమ్ అధికంగా లభించే ప్రదేశం రాజస్థాన్ బి. మాంగనీసును అధికంగా ఉత్పత్తి చేయు రాష్ట్రం ఒడిషా సి. మైకాని అధికంగా ఉత్పత్తి చేయు రాష్ట్రం గుజరాత్ సరైనది (వి) ఎంచుకోండి
Answer: ఎ, బి మాత్రమే సరియైనవి
2 2011 జనాభా లెక్కల ప్రకారం భారతదేశంలో గల కుటుంబాల సంఖ్య
Answer: 246692667
3 క్రింది వానిలో పశ్చిమ గోదావరి జిల్లాకు సంబంధించిన సరైన వాక్యం
Answer: అధిక అక్షరాస్యతా రేటు గల జిల్లా
4 ఆంధ్రప్రదేశ్ లో ప్రకృతి విపత్తులకు అత్యధికంగా లోనయ్యే భూభాగం ఎంత శాతం?
Answer: 44%
5 ఇండియాలో కేంద్రంలో విపత్తులకు సంబంధించిన అన్ని విషయాలకు సంబంధించిన కేంద్ర మంత్రిత్వం
Answer: గృహ మంత్రిత్వము
6 కింది వ్యాసంలో ఏది పంచాయతీ రాజ్కు సంబంధించినది?
Answer: ఆర్టికల్ 243
7 భారతదేశంలో పంచాయితీ రాజ్ వ్యవస్థను తీసుకురావడానికి ప్రధాన ఉద్దేశం ఏమిటి?
Answer: సాధారణ ప్రజానీకానికి రాజకీయ శక్తి యొక్క అధికారీకరణ
8 73 వ రాజ్యాంగ సవరణ ద్వారా ఏ షెడ్యూల్ను రాజ్యాంగంలోకి చేర్చారు?
Answer: 11 వ
9 "గ్రామసభ" గురించి ఏ ప్రకటన సరైనది కాదు?
Answer: దాని అధికారాలు కేంద్ర ప్రభుత్వం నిర్ణయించబడ్డాయి
10 పంచాయితీ రాజ్ గురించి ఏ ప్రకటన నిజం?
Answer: రాష్ట్ర ఎన్నికల కమిషన్ మార్గదర్శకత్వంలో పంచాయతీ రాజ్ సంస్థల ఎన్నికలు నిర్వహిస్తారు.
Direct Link for Free Grand AP Panchayat Online Test in Telugu

PREMIUM GRAND 3 TESTS
Liked above Free Panchayat test, then comment your marks in the below comment box, Let compare other candidates performance marks.