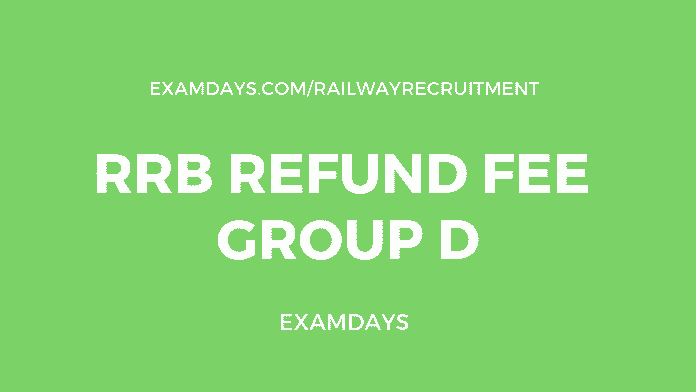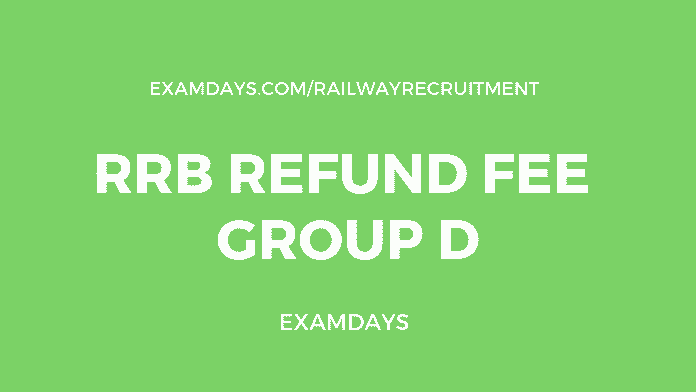 RRB Refund Fee Group D Link: Railway Recruitment Board RRB initiated fee refund for Group D candidates, the refund bank details correction and refund status information link activated from March 25th, 2019 onwards.
Those who are applied for Group D earlier and waiting for the refund can check their updated bank details (RRB Group D bank details correction required). Once the correction is done under RRB candidate's individual account, based on those bank detail RRB recruitment board will begin with refund payment after verification of bank details.
November 2021 Notice: Final notice for the refund payment, check if you are not received a refund from RRB.
RRB

Group D

Refund Fee
| | |
| --- | --- |
| Name of the Authority | Railway Recruitment Board RRB |
| Name of the Posts | Group D |
| RRB Group D Refund Status | Initiated |
| RRB Refund Payment | Rs.250/- and Rs.390/- |
| RRB Refund Status | Available Check |
| Official Website | indianrailways.gov.in |
RRB Group D Previous Year Papers PDF
If candidates are not received Group D refund payment yet, we advised verifying the bank details as per the RRB Zone wise only. There is no central RRB link for refund information.
Refund will be made as per RRB Zone wise only for the candidates where he/she has applied for earlier, if candidates forgot for RRB Zone (Where it applied), verify once and apply for the refund from applied RRB Zone only.
There are 16 RRB Zones are initiated for the RRB Group D payment process, Candidates can apply as per RRB Zone wise and select the payment method for bank transfer only.
Those who are received payment will get an SMS confirmation for registered Mobile. Check your SMS for payment received status and also check the RRB Group D refund status. Every link is available for the candidates until they get the payment into a provided bank
RRB Group D All papers 2018 pdf
RRB Refund Questions and Answers
We (Examdays) received ed number of emails for the RRB refund questions, queries, and doubts. We are listing all the questions and answers, so that other candidates get benefited from the below questions and answers.
If still candidates have any questions, can ask the questions in below comment box directly. Our team members will help as soon as possible.
I was receiving an unexpected error while submitting the refund application form, what I do.?
Solution:
The unexpected error is common for browser tolerance, try to clear the browser history and cache and then try in a fresh browser, then you can submit the successful refund application. we suggest using Google Chrome for the refund application form.
When the RPF refund process will begin.?
Solution:
Railway Protection Force (RPF) is not yet declared or released any notification regarding RPF refund status, try to check after some time.
Can I get RRB payment to PayTM account.?
Solution:
No, Candidates will receive the payment only to bank transfer. RRB does not have any mobile through payment option yet.
Can I get RRB Refund in any one of the Family Member Account.?
Solution:
We suggest go for the candidate's account, so that it helps for RRB without any discrepancy on Refund transfer.
I filled two refund applications on the same account, Can I receive refund payment or not.?
Solution:
Yes, you can get but remember. If candidates fill more than one application, RRB will face duplicates in their database system. it may impact on miss the refund payment, but RRB will delete duplicates and transfer the single payment.
I filled application form without my name, can I get payment.?
Solution:
Yes, You will get paid but not sure.
Hello, Exam days team, I have applied for Bilaspur RRB zone, can I get payment from Bilaspur zone or any other zone.?
Solution:
Dear Srivastav, you will get payment from Bilaspur RRB zone only.
Sir, I have Union Bank account and I gave same, is it necessary to fill with SBI bank sccount.?
Solution:
Hi Ankita, There is no such information for necessary for SBI. RRB refund will transfer for any bank account. Your Union bank will get paid. All the best.
Hello Team Examdays, I have filled Rs.250/- refund application, but my income certificate has more than Rs,50,000/-, can I get refund or not.?
Solution
There is no such a rule for income certificate yet, any reserved candidate is eligible for refund payment. all the best Jenny.
Sir, is there any problem to fill the refund application for Rs.250/- and document upload for the nonreserved candidate.?
Solution:
Hi Shekhar, as per RRB notice, all reserved candidates will eligible for refund payment Rs.250/- and no issues for you. Yu will get paid.
How to update bank details in Patna Zone.?
Solution:
Just use the PATNA RRB Zone refund link and follow the instructions and fill all the details (wherever it required).
How to modify the bank account details and personal details.?
Solution:
Candidates have to follow the Zone wise instructions and modify/update the bank details as well as personal details for refund payment process.
I have filled two refund applications, can I get payment or not.?
Solution
Yes you will get paid, but don't fill the application, again and again, it leads to duplicate accounts.
I have filled application correctly and updated when I get my payment.?
Solution
Hello Sruthi, You have to wait a couple of weeks for refund payment.
How I fill the application for refund.?
Solution:
Just follow the instructions for RRB Zone wise, Login the account and click on the refund payment and fill the application accordingly.
I have filled two forms, with my name and another one my brother name. What to do now, pls help.?
Solution:
Hello Sukhdev, Don't worry about it, RRB will pay candidates to account only.
RRB Group D Zone Wise Refund Link
If candidates have any RRB refund questions and doubts, can comment below.