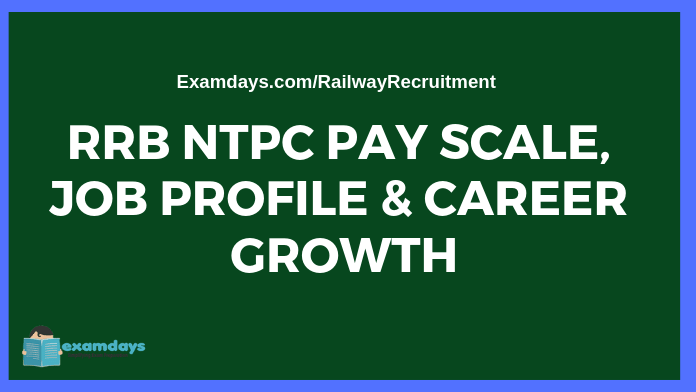 RRB NTPC Pay Scale 2019
RRB NTPC Pay Scale 2019: Railway Recruitment Board RRB released an RRB NTPC Notification for Non Technical vacancies total 1,30,000 posts for 2019 -20 financial year, those who are applied for NTPC and other various posts, candidates has to check the complete RRB NTPC Pay Scale for 2019 -20 new 7th pay commission. The pay scale of NTPC will be different from previous NTPC pay scale, this time 7th pay scale has been introduced.
Candidates have to check the 7th pay commission and the salary will differ by comparing previous years of NTPC.
RRB level 1 Post Salary
| | |
| --- | --- |
| Name of the Authority | Railway Recruitment Board (RRB) |
| Name of the Examination | RRB NTPC 2019 |
| Name of the Post | NTPC, Pharma Medical Staff, and Others |
| Number of Posts | 1,30,000 |
| RRB NTPC Applications Begin | 28.02.2019 Onwards |
| Official Website | rrcb.gov.in |

Download RRB ntpc previous question Paper
RRB NTPC PayScale Job Profile & Career Growth
Total Net Pay ( After all Deductions ): Rs 22,550/- for Grade Pay Rs.4,200/- and Rs 18,912/- for Grade Pay Rs.2,800/- as per the 7th Pay Commission.
Name of the Post

Job Description

Pay Band

Grade Pay

Career Growth

Commercial Apprentice
1. Multi-skilled supervisors in various commercial branches
2. Posted as Commercial Supervisor / Goods Supervisor / Commercial Inspector / Parcel Supervisor
9300-34800
4200
1. Passenger Guard
2. Express Guard
3. Section Controller
4. Chief Controller
Traffic Assistant
To take care of the traffic signal
5200-20200
2800
Senior Traffic Assistant
Senior Time Keeper
1. Works in sync with the entire railway network
2. To keep records of time regarding movements of the train
5200-20200
2800
Head of Senior Time Keeper
Assistant Station Master
 1. To take care of the running of trains
2. To operate the signals
3. To take care of passengers boarding / de-boarding the trains
4. To ensure passengers do not face any problem
5. To look after the overall maintenance and cleanliness of the station
5200-20200
2800
1. Station Master (SM)
2. Station Superintendent (SS)
3. Assistant Operations Manager
4.Divisional Operations Manager
Junior Accounts Assistant cum Typist
1. To take care of accounts
2. To keep track of transactions, expenditures, claim settlements.
3. To make accounts-related reports
4. To manage and compile budgets as per the rules
5.To check financial irregularities
5200-20200
2800
1. Accounts Assistant
2. Junior Accounts Officer
3. Senior Accounts officer
4. Deputy Chief Accounts officer
5. Additional finance advisor
6. Chief Accounts officer
7.Chief Accounts officer/Financial adviser
Senior Clerk cum Typist
1. Clerical works at different departments
2. To supervise junior clerks
5200-20200
2800
1. Chief Trains Clerk
2. Goods Guard
3.Assistant Station Master.
Traffic Apprentice
1. To take care of train operations
2.Posted as Traffic Supervisors or Traffic Inspectors
9300-34800
4200
    Up to the position of Divisional Operations Manager
Goods Guard
1. To monitor the functioning of the vehicle
2. To conduct checks for loose ends in the trains
3.To identify and address minor issues while train is moving
4.To ensure brake continuity, etc.
5200-20200
2800
1. Passenger Guard
2. Express Guard
3. Section Controller
4. Chief Controller
Enquiry Cum Reservation Clerk
1. To help passengers plan their travel
2. To issue tickets for passengers
3.To respond to inquiries regarding tickets
5200-20200
2800
Head of Reservation Clerk
Further information on RRB NTPC posts will be updated soon.