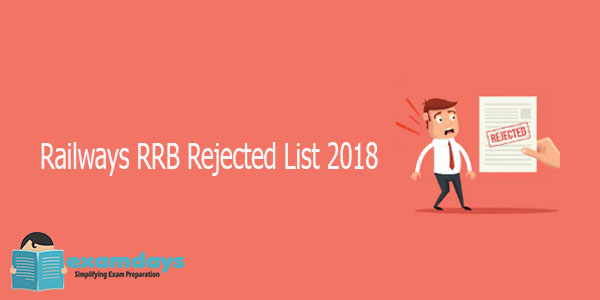 Railway Recruitment Board RRB released a Railways RRB Rejection list 2018 zone wise, those who are applied earlier for RRB ALP 2018 and RRB group D 2018 and those candidates applications are accepted and few of them rejected earlier. As per official news, the 1 crore applications have been rejected and Application fee is to be refunded.
If your application got rejected then your application fee will be refunded of the same account, where you paid the fee from an account at the time of RRB Application submitted.
Why Railways RRB Application Rejected 2018
RRB railways clearly mentioned earlier, when candidates application submission process. Most of the candidate has followed RRB rules and regulations and those who are unfollowed rules or may be submitted online/offline application with below errors, which cause the RRB Applications are rejected. The below-rejected codes /descriptions have given. If your application is rejected then there is a chance of anyone below reason.
There is no signature below pasted photograph
The left thumb impression given is not clear & Smudged/ not given
Place/Dae is not recorded on the application form
Applicant has not passed the requisite qualification at the time of filling the application
The application has filed up multiple posts in one application form
The application is received after closing date & time of notification
The declaration is recorded in ENglish (Capital Letters)/ Decaration is blank
Candidate photo missing in application form / Photo not clear
signature at the bottom of the application & personal data form is not recorded
Sample signature (3 each in Hindi & English) is not given / Different signature
Application form is filled before/after the date of application
Not eligible being post advertised of different category
Not eligible for being the post of advertising of a different category
Signature recorded in English Capital Letters
Relevent examnations fee is the form of OPO/DDs is not attached/ Less fee
Also Check:
What Next – If RRB Application Rejected – Fee Refund
If your Railways RRB Application got rejected then no need worry, candidate application fee is refunded under the same bank where your application fee remitted. The fee will e refunded of the same bank of the amount remitted.
Present status, there is no chance of corrections or modifications of Railway RRB. If in future RRB may be or may not be release corrections of modification notice for rejected candidate list 2018. Let see what happen next.
Check RRB ALP and Group D Application Status in below link: