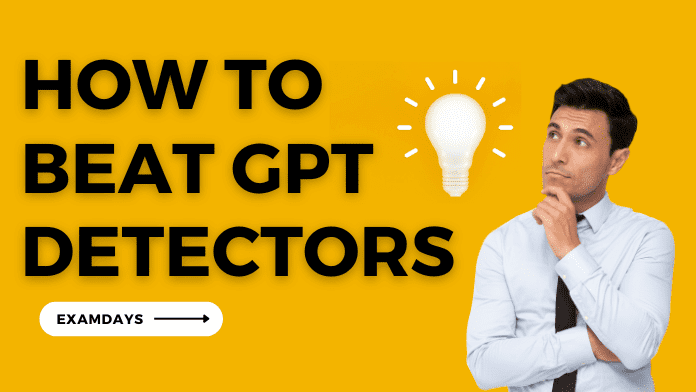 Are you worried about the GPT detectors producing the quality and best content in the content marketing industry?? If yes.!!!, then this article is most suitable for you to avoid such content AI detection. Follow the below tactics to avoid the GPT detectors and success in Content Industry.
World of content writers should be aware of some important and valuable data before writing about the "New way content writing style". We know that AI and GPT detections play a vital role in producing various content sources within seconds; in this scenario, human content writers are tense regarding AI detection.
Essential tactics and suggestions for Content Writers to avoid the GPT and AI detectors.
How to Beat GPT Detectors
So, as a Content Writer, I understand that we need to change the style of content writing as earlier does;
Importantly, we must remember that our content will be unique and pass the plagiarism free and no AI GPT detection test.
So, what are the real tactics to pass in such a case? As we know, there are no shortcuts to bypass such bot content detections.
This article explores "How GPT detection work" and the scenarios behind it.
How to GPT Detection Work?
Here, We are going to learn about "How GPT is analyzing the content" GPT has used the following strategies and tactics to detect the content;
In order to avoid the flags by GPT detectors, make sure that content should be simple and easy to understand concepts without using contradicting words and sentences. The audience should like written content without any non-related words and sentences.
How Human Hand Written Content Looks;
We already have specific knowledge about "How human content looks like" and what steps we have taken to escape from GPT detectors.
If you are referring to any research articles or documents, make sure to mention the source (in the form of NAME or URL links), which helps the USERS know the proper communication channel to get accurate information. Also, the article will gain knowledge.
GPT Detection Based
Repetition Words & Sentences.
Grammar mistakes & improper paragraph structure.
Repetition of sentence formation
Usage of negative words (don't /Can't).
Unnecessary hidden emotion content.
Human Like Content
It is simple & very easy to understand.
Never use difficult words.
Avoid repeating words and sentence formation.
Always mention the source (best practices).
The article's focus should be concluded.
How to avoid GPT detectors
If you are still looking for information about how to avoid the GPT detectors and being flagged by the GPT detectors, follow the above bullet points in order to avoid GPT detection.
We tested the above proper data and structured phrases and produced unique content. These proper channels make Chat GPT best practices and live results.
Final Words
Always use human-like content and avoid repetitious words and mention the source links. Once you implement such a scenario, you will not be flagged by GPT detectors. And you will gain more users (like human-like content).