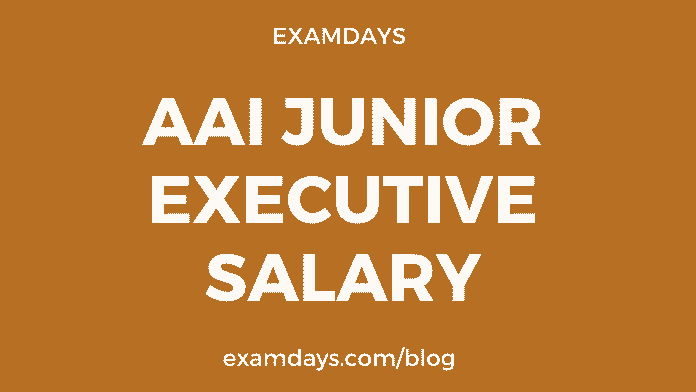 AAI JE Salary 2023: Airport Authority of India AAI recruiting for various posts in the Airport Authority, the various posts are announced like Junior Executive and Manager in various departments. Those who are preparing for the AAI JE and ATC exam have to check the Salary information for the AAT ATC Salary Slip.
for AAI Junior Executive Salary, candidates can check the detailed pay scale information and salary as per the AAI rules and norms. The monthly salary details are listed for the candidate's reference purpose. The AAI ATC Salary Slip information was given in below for the AAI aspirant's reference purpose. The details are;
एयरपोर्ट अथॉरिटी ऑफ इंडिया एएआई ने एयरपोर्ट अथॉरिटी में विभिन्न पदों के लिए भर्ती निकाली है, विभिन्न विभागों में जूनियर एक्जीक्यूटिव और मैनेजर जैसे विभिन्न पदों की घोषणा की गई है। जो लोग एएआई जेई और एटीसी परीक्षा की तैयारी कर रहे हैं, उन्हें एएटी एटीसी वेतन पर्ची के लिए वेतन जानकारी की जांच करनी होगी।
एएआई जूनियर कार्यकारी वेतन के लिए, उम्मीदवार एएआई नियमों और मानदंडों के अनुसार विस्तृत वेतनमान की जानकारी और वेतन की जांच कर सकते हैं। मासिक वेतन विवरण उम्मीदवार के संदर्भ उद्देश्य के लिए सूचीबद्ध हैं। एएआई उम्मीदवार के संदर्भ उद्देश्य के लिए एएआई एटीसी वेतन पर्ची की जानकारी नीचे दी गई है। विवरण हैं;
AAI Junior Executive Salary 2023
The AAi JE salary 2023 is varied and updated by the AAI recruitment team as per the yearly wise / pay scale; the details and updated pay scale will be available on the AAI recruitment board.
AAi Junior Executive (JE) Salary Scale 1 (E1) is Rs.40,000-/ – 3% – 1,40,000/- CTC is Rs.12 lacs per annum.,
AAI Manager Salary (E3) Salary Scale is Rs. 60,000/- – 3% – 1,80,000/- – CTC Rs.18 lacs per annum.
एएआई जेई वेतन 2023 वार्षिक वार / वेतनमान के अनुसार एएआई भर्ती टीम द्वारा विविध और अद्यतन किया गया है; विवरण और अद्यतन वेतनमान एएआई भर्ती बोर्ड पर उपलब्ध होगा।
एएआई जूनियर एक्जीक्यूटिव (जेई) वेतनमान 1 (ई1) रु.40,000-/- 3% – 1,40,000/- सीटीसी रु.12 लाख प्रति वर्ष है।
AAI प्रबंधक वेतन (E3) वेतनमान रु. 60,000/- – 3% – 1,80,000/- – सीटीसी 18 लाख रुपये प्रति वर्ष।
Apart from the above salary, selected candidates get additional allowances as per below;
House Rent Allowances (HRA)
Dearness Allowances (DA)
CPF
Gratuity
Social Security Schemes
Medical benefits
Perks @35% of Basic pay
The yearly salary will be approximately 12 lakhs is handed over to candidates as per the AAI pay matrix guidelines.
AAI Junior Executive Electronics Salary
AAI Junior Executive Electricals Salary
AAI Junior Executive Civil Salary
AAI Junior Executive Architecture Salary
AAI JE Service Bond
Selected candidates have to sign the AAI bond, which is written up to 3 years of service in the AAI department and it cost 7 Lakhs (Seven Lakhs). The 3 years period will count after the posting from training sessions.
AAI Junior Executive Promotion
Look at the below AAI Career and promotion chain, which exactly goes with the career part, which starts from Junior Executive to Executive Director position as per the experience matter (years Wise).
Junior Executive -> Assistant Manager -> Manager -> Senior Manager -> Assistant General Manager -> Deputy General Manager -> Joint General Manager -> General Manager -> Executive Director.
AAI JE ATC in Hand Salary
AAI JE ATC's hand salary ranges from Rs.40,000/- to Rs.1,40,000/- as per the experience. Remember, the salary is completely excluded from the HRA and DA.
AAI Junior Executive Salary
Is there any bond in the AAI ATC Post?
Yes, there will be a Bond that is up to 3 years.
What is AAI ATC Salary in hand? (aai je salary)
It is 40k to 1.4L per month once the training is completed.
Is good to go with AAI after Engineering?
Yes, it has a bright future go head.
AAI ATC executive Salary 2023?
Salary Range from Rs.40,000-/ – 3% – 1,40,000/- CTC is Rs.12Lakhs
Join Examdays Telegram
For more details about the Telegram Group, Click the Join Telegram below button.

In case of any doubt regarding Telegram, you can mail us at [email protected].